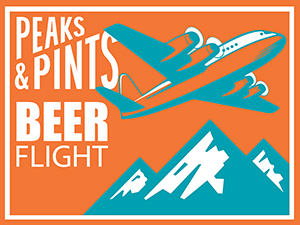 Barley and hops get most of the credit for giving beer its flavor, but yeast plays an essential role too, creating the alcohol and carbonation through the process of fermentation. Yeast is everywhere — on our bodies, in our food, floating in the very air we breathe. One of the earliest domesticated organisms, the single-celled eukaryotic fungi helped transform humanity when ancient people learned to bake bread — and more importantly, brew beer. When you go to purchase a sour beer in today's beer world, you're either buying a kettle sour or a traditional sour/wild ale. Because the Seattle Seahawks are playing in the wild-card round of the playoffs today, Peaks and Pints focuses today's beer flight on wild ales — sour beers that are made by intentionally allowing wild yeast strains or bacteria into the brew. This means noncommercial yeast strains are allowed to proliferate in the developing beer; some dedicated sour brewers employ a large, flat, pan-like device called a "coolship" to harvest wild yeast. ("Coolship" is the English tweaking of the Dutch original, "koelschip.") The Hawks play at 1:40 p.m. today, but Craft Beer Crosscut 1.5.20: Flight of Wild Card Ales plays all day.
Craft Beer Crosscut 1.5.20: Flight of Wild Card Ales
Boneyard Funky Bunch
6% ABV
Bonyard Beer offers a funky bunch of wild and sour flavors fermented in French oak foeders using Boneyard's proprietary culture, Lactobacillus and a blend of Brettanomyces. A secondary fermentation on fresh raspberries creates a complex, yet well-rounded wild ale. The berries are there, but light. This is a surprisingly nice sour with a little pucker, wood and balanced acidity.
Garden Path The Prime Barrel Age
7.2% ABV, 17 IBU
Garden Path Fermentation's owners come from the famous Jester King Brewery in Texas — and the ciders, meads, and beers they've been producing since opening in 2018 have not been a disappointment. They incorporate only ingredients they can get locally, whether it's the native yeast, the Skagit malt, the hops they can find locally. Garden Path Fermentation's The Prime Barrel Age is a carefully curated blend of several different renditions of native yeast fermented, mature barrel-aged beer. The aroma leads with funk, Brett and wood, with white grape, grass, lemon zest, and wet earth supporting. Taste is more wood tannin centric, surprisingly malty yet springy with grass, flowers, citrus, and Brett.
Logsdon Spontane Blanc
7.7% ABV
Logsdon Farmhouse Ales Spontane Blanc is a spontaneous fermented American wild ale brewed with Sauvignon Blanc grapes. On the nose, we get a sharpness from the fruit that increases our perception of the sourness beyond that level, mouthwatering and intense, still funky, still obviously made with aged hops, but with a bit of a different fermentation complexion. It's not overly fruity — fermented down to dry and with full respect given to the base beer. It has a pronounced mineral profile with the oak. Some classic lambic funk arrives as it warms up, with a white cranberry tang.
Culmination Native Oregonism
7.95% ABV
In 1994, Tomas and April Sluiter left their bakery jobs in Grand Rapids, Michigan, and hit the road. In the summer of 2000, they discovered Portland, Oregon. In January 2017, seven years after Tomas left Old Market Pub brewery and almost two years after attempting to open his brewery in Portland's Goose Hollow neighborhood, he and April opened Culmination Brewing in Northeast Portland's Bindery Annex building. Native Oregonism celebrates all Oregon has to offer by using malt from Mecca Grade Estate, hops from Goschie Farms, water from the Bull Run Watershed, Oregon wildflower honey and yeast, bacteria, and aromatic botanicals from the mountain wild of Central Oregon. This is what beer might taste like if Flanders was actually 4,700 feet in the High Cascades. A wild ale brewed with The Ale Apothecary, Culmination Brewing's Native Oregonism is brewed with fir, ponderosa, and spruce in the mix to rave reviews.
Ale Apothecary Carpe Diem Manana
9% ABV
The Ale Apothecary's Carpe Diem Manana, or CDM, is a departure from their "standard" line of ales that age for over a year in barrels as this beer is packaged within just a few months of brewing. It's hoppy, but Arney uses hops to inhibit bacteria from producing too much acid, and allowing him to serve the beer in a younger state, retaining a balance between acid, bitterness, and malt without tasting like an IPA. It hits the nose with leafy hops with a nice wild acidity and buggy strangeness. The flavor is succulent and juicy but buggy wild, a little woody, a little floral juicy hoppy, with light medicinal esters. Interesting with notes of umami and hops and wild microbial funk.
---