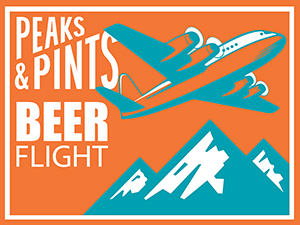 Known as the "Super Cascade," Centennial hops share similar aromatic qualities of Cascade without any of the same genetics in the pedigree. Centennial hops were first bred in 1974 as a cross between many different strains including Brewers Gold, Fuggle, East Kent Golding and Bavarian hops. The name comes from the Washington state Centennial Celebration, which occurred in 1989, just before the public release of Centennial hops in 1990. Centennial is a great dual-purpose hop and can be used successfully for both bittering and aroma. Enjoy five craft beers brewed with Centennial hops in our Craft Beer Crosscut 1.3.20: Flight of Super Cascade.
Craft Beer Crosscut 1.3.20: Flight of Super Cascade
Kulshan Tree-dimensional IPA
6.8% ABV
Kulshan Brewing collaborated with Peaks & Pines on the Tacoma craft beer lodge's house beer, Tree-dimensional-IPA. Paying homage to the outdoor enthusiasts who join Peaks daily in Tacoma's Proctor District, Tree-dimension IPA is the perfect beer to toast the powder, currents or trails, as well as revealing the sprains. Tree-dimensional IPA, or Tree-D, continues Peaks & Pints' love affair with old school piney IPAs, this time brewed with Simcoe, Idaho 7, CTZ, Centennial, and whole leaf Cascade in the hop back for all the pine and citrus, plus creamy mouthfeel and bitter finish.
Sierra Nevada 40th Hoppy Anniversary Ale
6% ABV, 65 IBU
Hop-forward beers weren't popular when Ken Grossman began brewing in 1980. But, he loved them, and he knew that if he was going to open Sierra Nevada Brewing, he'd better make something distinctive. It's been 40 years since then, and he's still brewing what he loves. Sierra Nevada's 40th Hoppy Anniversary Ale showcases the bold flavors and aromas of a classic West Coast IPA that Centennial, Cascade and Cluster hops bring: intense pine and citrus with a deep gold color and slight caramel sweetness.
Bellevue Double Red IPA
8.3% ABV, 66 IBU
Bellevue's first, locally owned craft brewery, Bellevue Brewing Co., opened their doors in 2012. The brewery's Double Red IPA is brewed with fresh Centennial hops with a little Bravo thrown in to applause. The malt bill of 2-Row Pale, Caramel and Munich 60 for a full-flavored malt and caramel taste balancing the tropical notes from the hops.
Fremont Space Danger!
7% ABV
NASA's Human Research Program has organized hazards astronauts will encounter on a continual basis into five classifications: radiation, isolation, distance from Earth, lack of gravity and the mechanical closed environment. Fremont Brewing's Human Research Program has organized pleasures people will encounter while drinking their new Space Danger! IPA: peach, pineapple, citrus, slight woody aroma, and floral sweetness, thanks to Centennial, Simcoe and Sabro hops.
Three Magnets More Reverb
6.6% ABV
As a general rule, you don't want reverb tails ringing over into a singer's next phrase. Excess reverb "wash," as it's referred to, can cause your mix to sound muddy and the lyrics indistinct. Another general rule, you could brew Centennial hops for the 60 minute bittering, but you will loose most of its best quality — aroma. Three Magnets Brewing found the perfect Centennial mix in their throw-back IPA, More Reverb, with tons of grapefruit and pine with a dry malt profile that lingers on the palate.
---