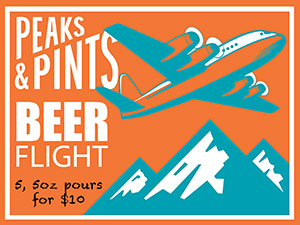 The phrase "everything but the kitchen sink" comes from World War Two when everything possible was used to contribute to the war effort — all metal was used for the U.S arsenal. The only objects left out were porcelain kitchen sinks. Does anyone still have a porcelain sink? Anyway, "everything but the kitchen sink" can also apply to brewing craft beer. How do you think black wheat beer became a thing? Or an imperial American lager? How about a cherry rauchbier? Spiced Belgian India brown ale anyone? There are craft beers floating around that makes us believe the brewers threw everything but the kitchen sink into the recipe. Some of the best beers started out as shots in the dark, with brewers throwing together recipes they weren't sure would work. So, leave the dirty dishes in the kitchen sink and head to Peaks and Pints to try five beers we think brewers tossed in everything but the kitchen sink: Craft Beer Crosscut 1.24.18: A Flight of Everything But The Kitchen Sink.
21st Amendment Not Your Cup of Tea
9% ABV, 24 IBU
The 21st Amendment Brewery has launched a new series of beers called Tales from the Kettle, and the first release is Not Your Cup of Tea, a Scottish-style ale brewed with black tea. Each new beer in the series will come from an employee home-brew competition judged by members of the San Francisco Brewers Guild. Team "Slainté to the Queen" — 21st Amendment's graphic designer, a server at its pub, its Chicago sales rep and one of its maintenance technicians — is this year's winner and they tell their tale through a one-of-a-kind, exceptional Scottish-style ale brewed with black tea they call "Not Your Cup of Tea." We can't taste the black tea so much but we can taste caramel, molasses, earth, slight cocoa, touch of plum, little prune, plenty of peat smoke with additions of charcoal and everything else but the kitchen sink. It hides the 9 percent ABV well.
Breakside Beachcomber
9.2% ABV, 25 IBU
Portland's Breakside Brewery has tiki on the brain. Its strong golden ale Beachcomber with fresh ginger and Belgian yeast strains ages 11 months in Caribbean rum barrels, developing rich notes of coconut, molasses and burnt sugar. Breakside thought the flavors pointed so clearly toward tiki cocktails that the brewers decided to make a cocktail beer out of it, aging the beer on vanilla bean, toasted almond. a bit of lime zest and everything else but the kitchen sink. Mahalo!
Stillwater Fear Of Ghosts
6% ABV, 45 IBU
You can fear ghosts. Who doesn't? But, don't feature the smoked sour ale. Stillwater Artisanal's Fear of Ghosts is a smoked, sour farmhouse wheat ale. That's all that needs to be said. OK, it tastes of big tart lemon, lime, green apple, pear, pineapple, pear, melon, white wine, orange zest, peppercorn, hay, straw, grass, sea salt, wheat, cracker, light leathery funk/wood smoke and herbal/yeast earthiness. Seriously, expect an around nice complexity, robustness and balance of fruity/funky/spicy/acidic yeast and light-moderate pale/smoked malt flavors and everything else but the kitchen sink.
Other Half/Stillwater Artisanal Rockstar Farmer
4.5% ABV, 55 IBU
This "Farmhouse Session India Pale Ale" is a collaboration between small, Brooklyn-based Other Half Brewing, which has developed a cult following for its balanced-yet-hop-forward IPAs and imperial IPAs, and Stillwater Artisanal, a gypsy brewery that tends to throw style guidelines out the window. That partly explains the jumble of buzzwords on the label, including "farmhouse," "session" and "IPA." Stillwater and Other Half's joint project uses multiple strains of Brettanomyces yeast, a combination yielding aromas of peaches and pineapples, as well as a more general light funk. It obviously started as a dry saison; the grassiness and earthiness are noticeable. Then, the group hug threw everything but the kitchen sink in for a more pronounced hoppiness and citrus-peel bitterness, as well as more stone fruit and tangy funk in the finish.
Reuben's Bits and Bobs
7% ABV, 50 IBU
"Bits and Bobs" is a British idiom that means the same as "odds and ends," which means "bits and pieces, remnants, leftovers." A "bit" was a coin (three-penny bit) and a "bob" was a shilling or 12 pence. To Reuben's Brews in Seattle, Bits and Bobs is a rotating season IPA in which head brewer James McDermet and crew scour their notes from the past 12 months, inventory the ingredients at the brewery then build a new Bits and Bobs IPA. The 2018 version is a fruity IPA, with overripe fruit notes and a juicy body thanks to Azacca, Strata and Citra hops and a new whirlpool technique they first tried in 2017 to extract more flavor from the hops but while minimizing bitterness. A predominantly pale malt bill with a touch of Vienna malt provides balance.
---