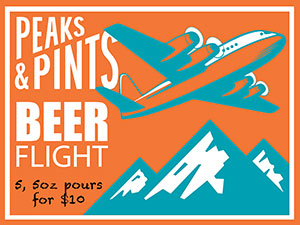 Put down the cupcake, and release the lever on the soft serve. National Glazed Doughnut Day is finally upon us and you bet your bottom dollar we're going to be celebrating at Peaks and Pints. Indeed. The one. The only. The classically glazed doughnut is a go-to for the morning masses — because it's very sweet. Here is where OUR true selves shine through: there is nothing much better than a glazed doughnut, and there is not much better than an IPA. Put the two together and we have the Holy Grail. The combination of craft beer and sweet doughnuts is a decadent way to explore how beer and food interact. Be it through acidity, alcohol, effervescence or hoppy bitterness, beer slices through oils and fats to refresh the palate in preparation for the next bite. In celebration of National Glazed Doughnut Day Peaks and Pints pairs five IPAs with glazed doughnut holes in our Craft Beer Crosscut 1.12.18: A Flight of IPAs and Glazed Doughnuts.
Firestone Walker Easy Jack
4.5% ABV, 47 IBU
Firestone Walker Brewmaster Matt Brynildson traveled to Germany and spent several days in the Hallertau region, the birthplace of hops dating back more than 1,000 years. There, he hung out at small family hop farms and worked with the farmers to secure an ample supply of Mandarina Bavaria and Hull Melon — two backbone hops for Easy Jack. The German hops are blended with New Zealand varieties for a flavor and aroma that mixes tropical fruits with a distinct orange note.
Two Beers Evo IPA
6.2% ABV, 70 IBU
Doughnuts and craft beer — to many may not seem like they go hand and hand, but really they do. It is bringing two great worlds together: the world of breakfast sweets and beer. Beer's bitterness will balance out the doughnut's sugar. Two Beers' Evo IPA is hopped with Yakima Valley Simcoe, Amarillo, Galena and Centennial, then aggressively dry-hopped with Simcoe and Columbus. Citrus, tropical fruit and pine a balanced by biscuit and caramel malts. Nose is orange and tropical fruit notes with some pine and biscuit malt. It pairs well with glazed doughnuts.
Old Schoolhouse Ruud Awakening IPA
8% ABV, 75 IBU
Casey and Laura Ruud purchased the floundering Winthrop brewery in 2008, changed the name to Old Schoolhouse Brewery, cleaned it up, and quickly turned it into an award-winning gem of a brewpub. Nate and Jake Young, and their buddy Troy Anderson — longtime fans of the brewery — bought it last year with the intent of keeping it awesome. Ruud Awakening IPA, named after the brewery's previous owners, beautifully balances fruity bitterness with malty sweetness. It tastes malty, hoppy, fruity and piney, thanks to Warrior, Columbus, Simcoe, Citra and Amarillo hops.
Rogue 7 Hop IPA
7.77% ABV, 76 IBU
Rogue Ales Brewmaster John Maier brews five distinct IPAs, each a unique blend of hops grown the brewery's own hops on a 42-acre hopyard on the banks of the Willamette River in Independence, Oregon. Each year, Rogue Farms strings, stakes, trains, trims, separates, sorts, kilns, cools and bales the hops it grows before sending them to the Rogue Brewery in Newport, Oregon. Seven of the 10 hops find their way into the 13 ingredient 7 Hop IPA: Rogue Farms Dare, Risk, Maier Munich and Dare R-3 malts; Rogue Farms Liberty, Newport, Revolution, Rebel, Independent, Freedom and Alluvial hops; Pacman yeast and free-Range coastal water making a strong malted IPA with jam of orange, grapefruit, pine and caramel.
Double Mountain Molten Lava IIPA
9% ABV, 90+ IBU
Founded on St. Patrick's Day 2007, Double Mountain Brewery has a clear mission: make great beer for craft beer fans. Ever since then founder Matt Swihart has been working hard to meet this mission, focusing on uncompromising beer quality. These unfiltered and long-aged beers deliver maximum flavor and character — definitely quality beers that people love to drink. Doughnuts are both rich and sweet and not subtle when it comes to flavor. So this isn't the time for a delicate beer. To stand up to the mouth-coating and sugary confections, you're going to need a bold beverage. Molten Lava is Swihart's most aggressive IPA, yet it somehow manages a considerable balance.  Orange, pineapple, and fruited pine trip over themselves trying to push their way through the starting gate.  Once on the run, the assertiveness evens out into juicy citrus and remains light on the tongue.
---