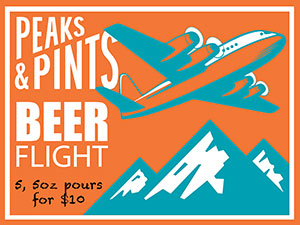 In May of 1989, John Maier arrived in the small Oregon coastal town of Newport just in time to create Rogue Ales brew #1. Twenty-eight yeas and more than 20,000 brews later, Maier still rides his bike daily over the Yaquina Bay Bridge to the brewery where he continues to create innovative brews that have garnered international acclaim. One of the pioneers in the craft-brewing world, Rogue consistently puts out award-winning beers year after year, winning gold in national and international competitions. One of the founding principals of Rogue is to remain a one-off, small in size but large-in-reputation unique source of creatively inspired beers, and to be local and international, all at the same time. Today, Peaks and Pints presents Craft Beer Crosscut 1.13.18: A Flight of Rogue Ales.
Rogue Hazelnut Brown Nectar
5.6% ABV, 33 IBU
Oregon produces nearly 99 percent of all American hazelnuts. It's the official state nut. It also boasts 230 craft breweries. Naturally, these local goodies make their way into a few beers around the Beaver State, including Rogue Ales' Hazelnut Brown Nectar. At 1993's American Homebrewers Association convention, Rogue Brewmaster John Maier tasted a brown ale with an unusual twist. His pal Chris Studach had added hazelnuts, an addition that later inspired the Oregon brewery to create the rich, malty, and medal-winning Hazelnut Brown Nectar. Its aroma is hazelnut, strong toasted malts, caramel and chocolate. Flavor opens very mild and thin, developing sweet hazelnut notes mixed with some toasted malt.
Rogue Dead Guy Ale
6.8% ABV, 40 IBU
Dead Guy Ale has been around for a while, and to many people, it's the standard that all American-made maibocks are held to. Dead Guy Ale incorporates Rogue's proprietary Pacman yeast, and features Pearl and Sterling hops for a robust take on the classic German beer. Although the beer's missing the style's bread crust, the present flavors are harmonious: Bread with toasted edges runs over the tongue before orange notes pop up. Hefty bitterness chases the swallow while peppery alcohol prickles the sip front to back.
Rogue Double Chocolate Stout
8.8% ABV, 68 IBU
Rogue Double Chocolate Stout, which debuted for Valentine's Day in 2001, is an oatmeal chocolate chip cookie and a chocolate truffle together in a bed that had been strewn with hops. Now imagine the imperial version. Rogue's Double Chocolate smells like the inside of pain au chocolat thanks to ample bittersweet Dutch chocolate. Clocking in at 8.8 percent alcohol by volume and wearing a red 750ml casing, this 2010 World Beer Championships gold medal winner is definitely a one-beer buzz.
Rogue Straight Outta Newport IPA
8.7% ABV, 73 IBU
With Straight Outta Newport IPA, the new double India pale ale by Rogue Ales, a brewery dubbed a "Revolution in Beer," Maier and company spell out in hops the joy and frustration brimming of life blue-collar coastal town. Rogue's Straight Outta Newport double IPA is crabby crabbers and sneaker waves, fishermen and big trucks, all surrounding a larger-than-life 8.7 percent alcohol by volume and 73 International Bitterness Units. Starring DextraPils, Pacman, Gold Pils Vienna, Belgian Candi Sugar and MC Munich — and backed by Mosaic, Citra, Comet and Hallertau Magnum — this depiction of the West Coast style and the city it proudly hails from is "a bold and flavorful profile, bursting with aromas of grapefruit, tangerine and orange, fruity hop notes and a juicy finish."
Rogue 7 Hop IPA
7.77% ABV, 76 IBU
Maier brews five distinct IPAs, each a unique blend of hops grown the brewery's own hops on a 42-acre hopyard on the banks of the Willamette River in Independence, Oregon. Each year, Rogue Farms strings, stakes, trains, trims, separates, sorts, kilns, cools and bales the hops it grows before sending them to the Rogue Brewery in Newport, Oregon. Seven of the 10 hops find their way into the 13 ingredient 7 Hop IPA: Rogue Farms Dare, Risk, Maier Munich and Dare R-3 malts; Rogue Farms Liberty, Newport, Revolution, Rebel, Independent, Freedom and Alluvial hops; Pacman yeast and free-Range coastal water making a strong malted IPA with jam of orange, grapefruit, pine and caramel.
---