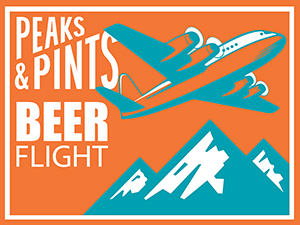 Named for a sharp hook in the Deschutes River in Central Oregon's high desert, Bend was the abyss; decades ago it was a bump on the state highway between golf resorts Black Butte Ranch and Sunriver. Lumber ruled the roost until the two large timber mills closed in 1994. Then, Californian Gary Fish opened Deschutes Brewery in downtown Bend on Bond Street, back when Bond Street was the abyss. Deschutes has since grown to become one of the United States' representative craft breweries, distributing from coast to coast and making Bend synonymous with beer in the minds of many. Deschutes Brewery is still family and employee owned, the brewery known for brewing a diverse line-up of award winning beers including the popular Fresh Squeezed IPA, Black Butte Porter, Mirror Pond Pale Ale and, the focus of Peaks and Pints' beer flight today, Craft Beer Crosscut 1.10.20: Flight of Abyss.
Craft Beer Crosscut 1.10.20: Flight of Abyss
Deschutes 2016 The Abyss
11% ABV, 80 IBU
The 2016 incarnation of Deschutes The Abyss imperial stout came in at 11 percent ABV and was brewed with black strap molasses, licorice and dry-spiced with both cherry bark and vanilla beans. In addition, 21 percent of the beer was aged in oak bourbon barrels, while 21 percent was aged in oak wine barrels and eight percent was ganged in new oak barrels sourced from Oregon. A deep, dark stout, The Abyss has almost immeasurable depth and complexity. Hints of molasses, licorice and other alluring flavors make it something not just to quaff, but contemplate.
Deschutes 2017 The Abyss
11.4% ABV, 80 IBU
The 12th edition of Deschutes' The Abyss barrel-aged imperial stout made its official debut Nov. 17, 2017, in the Deschutes pubs on Bond Street and Portland's Pearl District. As always, The Abyss is actually a mixture of several stouts. It's brewed with black strap molasses and licorice, with vanilla beans and cherry bark added. Half of the results are then barrel-aged — 21 percent in oak bourbon barrels, 21 percent in oak wine barrels, and the remainder in brand-new Oregon oak barrels. The 2017 imperial stout contains flavors of chocolate, licorice, coffee, molasses, vanilla, cherries and wood.
Deschutes 2018 The Abyss
11% ABV, 74 IBU
The 13th edition of Deschutes The Abyss made its official debut Nov. 10, 2018. Last year's The Abyss is a deep, dark imperial stout that uses Pale, Black, Chocolate, Black Barley, Roasted Barley, and Wheat malts alongside Millennium, Nugget, Styrian, and German Northern Brewer hops. The beer also incorporates blackstrap molasses, brewer's licorice, vanilla beans, and cherry bark, before it's aged for 12 months in bourbon, new Oregon oak barrels for flavors of coffee, molasses, plum, hint of licorice and a little boozy chocolate.
Deschutes 2019 The Abyss
11.2% AVB
The 14th edition of Deschutes's The Abyss is a deep, dark, barrel-aged imperial stout that follows the same recipes, for the most part, since its first release in 2006. It leads with strong black licorice, in both the aroma and the flavor. The brewery uses brewer's licorice, which provides more of a spice flavor like fennel, rather than the sticky sweet flavor of the candy. Aside from the forward flavor of the licorice, there's also an underlying vanilla bean and molasses flavor.
---