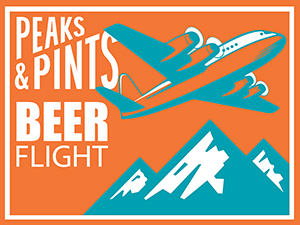 Whether you're a skim, two-percent, or whole milk drinker, Jan. 11 is a day to celebrate anything and everything milk. It's National Milk Day and, of course, Peaks and Pints celebrates with a flight of milk stouts, which we call Craft Beer Crosscut 1.11.20: Flight For National Milk Day.
Milk stouts originated in Europe in the 1800s. The style emphasizes a malty sweetness with hints of chocolate and caramel. They are sometimes called cream stouts or sweet stouts. Brewers intensified the dark, chocolaty malt body with lactose, the sugar in cow's milk, hence why they're more often called milk stouts. Brewer's yeast can't ferment lactose into alcohol, so it hangs around to give you a rich mouthfeel and a soft, creamy sweetness, balancing out the bitter and roasted qualities typical of its cousin stouts. It makes sense. Heating milk to very high temperatures, which also has the effect of caramelizing some of the milk's sugar, makes evaporated milk. That sugar is the same lactose found in milk stout, and is subjected to similarly high temperatures during the brewing process. We also detected an interesting tang, and we can't help but wonder if this is attributable to the lactose as well, as lactose will ferment into lactic acid in the right conditions. Whatever. Done right, you can be extraordinary, like the five milk stouts in today's beer.
Craft Beer Crosscut 1.11.20: Flight For National Milk Day
Two Beers Orange Chocolate Stout
7.3% ABV
Remember Russel Stover's famously delicious chocolate-coated orange jelly strings? Two Beers Brewing presents this milk stout version of the candy. Charmingly creamy, seductively rich, this stout is an arranged love affair between Theo Chocolate cacao nibs and orange peel that became entangled in a dark, roast stout. Expect semi-sweet dark flavor that's roasty with a minimal sweetness, slight orange and notes of bittersweet earthy cocoa.
Belching Beaver Viva La Beaver!
7.5% ABV, 28 IBU
Kick your peanut butter fix up a notch with Belching Beaver Brewing's Viva La Beaver, which was formerly named Mexican Chocolate Peanut Butter Stout, and prior, Viva La Beaver and Living La Beaver Loca. Whatever the name, this Mexican imperial milk stout has notes of creamy peanut butter, cinnamon, roasted coffee, thick chocolate, cookie dough, fudge, brownie batter, cappuccino, toffee and dark roasted malts upfront, we get a little vanilla on the mid-palate. This decadent milk stout is the definition of dessert beer.
Perennial Fantastic Voyage
8.8% ABV
St. Louis brewery Perennial Artisan Ales has spent their time bringing fresh and new ideas to the world of craft beer while still respecting classic traditions. And with owner and head brewer Phil Wymore (formerly of Goose Island and Half Acre) at the helm, the results have been extraordinary. Perennial brewer Jim Leabig wanted to drink a German chocolate cake, so he brewed Fantastic Voyage — a harmonic melange of coconut and imperial milk stout. Loads of coconut, lactose and black malt balance each other to provide flavors reminiscent of chocolate covered coconut with light vanilla and a finish smooth like silk sheets. Flavor is moderate to heavy sweet, light to moderate bitter and delicious to super delicious.
Mother Earth 4Seasons Winter 2019
10.8% ABV
Formerly known as "The Four Seasons of Mother Earth," but recently shortened to simply "4Seasons" as part of a refreshed branding approach, this Mother Earth Brewing series is made up of four high-end releases timed to coincide with each equinox or solstice — spring, summer, autumn and winter. This 2019 bookend brew presents a bit differently than its series' predecessors. Rather than blending stout barrels from a variety of crops, a single crop BA stout was selected to blend with 15 percent barleywine to create a softer, caramely finish. The addition of rye malt lends a spicy sharpness rounded by caramel malts and post-fermentation additions of rich chocolate, and mint for a truly decadent experience.
Against The Grain 70K
13% ABV, 48 IBU
Against the Grain's bottles are full of attitude that jumps out at you on the shelf. Located in a former train station on Main Street in Louisville, Kentucky, this rapidly expanding brewery and restaurant brews on a 15-barrel system, in addition to brewing at Pub Dog Brewery in Maryland. It's 70K is essentially Against The Grain Brewery's 35K Milk Stout recipe doubled: double roasty, double chocolaty, double creamy, double delicious. Then, the Kentucky brewery aged it in Angel's Envy Bourbon barrels for notes of rich molasses, brown sugar, bourbon, roasted malts, dark sugars, oak and coffee with a bitter finish.
---