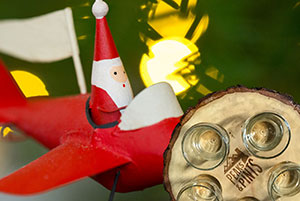 The lords have a'lept. The ladies have a'danced. The partridge has ditched the pear tree and has run away with one of the French hens. You spent months planning for Christmas Eve, but do you have any plans? Peaks and Pints has two ideas for today: See the ultimate sad sack Charlie Brown and his sad sack little Christmas tree find the holiday spirit in the Christmas classic A Charlie Brown Christmas at Tacoma Musical Playhouse at 11 a.m. followed by a holiday beer flight at Peaks and Pints. The TMP Honor Camp presents the seventh annual A Charlie Brown Christmas, adapted for the stage from the popular television show based on the "Peanuts" comic strips by Charles Schultz. Peaks and Pints will be there dancing in the aisles like Chuck's classmates, although a couple of us will stay behind to serve Christmas Beer Crosscut 12.24.19: Charlie Brown.
Christmas Beer Crosscut 12.24.19: Charlie Brown
Aslan King Moonracer
5.8% ABV, 40 IBU
King Moonracer is the winged lion who rules the Island of Misfit Toys in the Rankin-Bass TV special Rudolph the Red-Nosed Reindeer. Moonracer — including "Charlie-in-the-Box," the "Bird Fish" (a bird who swims like a fish), and others are way too disturbing to be in a kids' Christmas special. What is not disturbing is Aslan Brewing's King Moonracer winter ale. Mashed with floor-malted Maris Otter, flaked rye and a variety of classic English specialty malts, then hopped with Centennial and Simcoe, and finished off with holiday-centric spices, King Moonracer has rich notes of toffee and chocolate with a hoppy finish.
Stone Xocoveza Eggnog
8.1% ABV, 50 IBU
In 2014, San Diego homebrewer Chris Banker won Stone Brewing's American Homebrewers Association Rally with what would eventually be named Xocoveza for the Holidays and New Year. The inspiration came from Mexican hot chocolate combined with coffee. This imperial mocha stout is brewed with coffee, pasilla peppers, vanilla, cinnamon, nutmeg and a generous amount of Stone's in-house made chocolate. Today, Christmas Eve, Peaks and Pints will top off Xocoveza with eggnog. It's not just the novelty of it: For those who hanker for the rich, creamy and boozy, beer nog is one of those rare gestalts. By itself, homemade eggnog is nearly unrivaled for sheer naughtiness and holiday cheer. Yet a portion of Xocoveza adds a welcome flavor dimension while carbonation lightens the thick, noggy texture in the same way that root beer livens up an ice cream float.
Elysian Bifröst Winter Ale
8.3% ABV, 58 IBU
Strong, hoppy and smooth, Elysian Brewing's winter pale ale is named for the mythical bridge connecting the mortal world to Christmas Town, at least that's what we believe. Brewed with pale malt and small amounts of Munich and Crystal malts, then bittered with Magnum and finished with Chinook and Styrian Goldings hops. Bifröst boasts the alluringly sweet smells of caramel and orange zest. The bold, spicy, citrusy hop notes balance the full malt flavor.
HUB Abominable
7.3% ABV, 70 IBU
Peaks and Pints reports sightings of strange, beer-soaked footprints, which means Hopworks Urban Brewery's Abominable has emerged from the depths, surprising Peaks' guests with a complex floral, spicy and citrus backdrop from organic Cascade, Centennial, Chinook, and Simcoe hops. With a base of Munich and Caramel malts adding balanced sweetness, Abominable attacks Dark Matter with slightly earthy, sweet, toasty amber malt tones plus ample dank citric floral bitterness.
Uinta Rise & Pine
7.5% ABV, 85 IBU
After greeting the day, you walk into the kitchen of the stunning mountain cabin your family rented for the holidays. You grab a pint of Unita Brewing Rise & Pine, sniff the chocolate and pine resin notes, walk past the Christmas tree surrounded by presents, and grab your coat. You walk out to the porch and spend the morning relaxing in a rocking chair, sipping your dark ale loaded with juniper and pine hops while the sun rises over the picturesque mountains, waiting for the rest of the family to wake up.
---