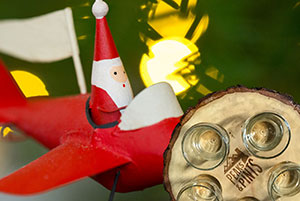 You know you're already humming "White Christmas" in your head. If you aren't, we are. The Grand Cinema screens the classical musical film White Christmas at 1:15, 3:30, 6:30 and 7 p.m. But beyond simply watching, you will be immersed in the total "The-Best-Things-Happen-When-You're-Dancing" experience — you will have the chance to sing along at the 1:15 and 6:30 p.m. screenings. Or at least you can move your lips to the words to pretend like you're singing along. That part is up to you. The beloved 1954 film brings to life the story of song-and-dance men Bob Wallace and Phil Davis (Bing Crosby and Danny Kaye), who, while romancing a sister act (Rosemary Clooney and Vera-Ellen), wind up spending Christmas in a Vermont inn rather than in sunny Florida … aw, heck, you know what it's about. Romantic mix-ups. Tap numbers. Patriotic hugs. And, of course, a lot of singing: "Where the treetops glisten and children listen/Doobie-doobie-doobie-doobie. …" Go in costume and sing! Naturally, you'll swing by Peaks and Pint before or after for the holiday beer flight we call Christmas Beer Crosscut 12.23.19: White Christmas.
Christmas Beer Crosscut 12.23.19: White Christmas
Schloss Eggenberg Samichlaus Classic
14% ABV, 20 IBU
It's THE Christmas beer, no? Brewed once a year on St. Nick's Eve and aged 10 months, Schloss Eggenberg's Samichlaus Classic is a 14-percent ABV doppelbock was the strongest lager in the world when Michael Jackson wrote of it in 1991. That's no longer the case, but it's still revered as one of the greats. It hits the nose with dark fruits, red wine, and roasted nuts. Molasses, roast malts, spices, and roast nuts flows over the tongue. This thick, almost oil like, doppelbock hides the alcohol well, but leaves a warmth.
Brasserie Dubuisson Scaldis Noel
12% ABV, 21 IBU
Brasserie Dubuisson introduced Bush de Noël in 1991 to respond to consumer demands for the ideal beer to add luster to their end-of-year celebrations. Americans know it as Scaldis Noël — a name change to avoid confusion with Busch. Its bouquet is impressive, with smooth alcohol, honey, and cracked pepper notes that all vie for attention. The flavor sinks deep into the tongue with toffee and honey sweetness, followed by raisin, plum fruitiness, peppery spice and assertive bitterness. It's so easy to drink you don't realize it's around 12 percent alcohol until you ask.
Maritime Pacific Jolly Roger Christmas Ale
9.2% ABV, 50 IBU
A Christmas beer with a pirate skull and crossbones donning the bottle? This one is for you, Jack Skellington! George and Jane Hancock founded the ma-and-pa Maritime Pacific Brewing Company in an old transmission shop in 1990 in Seattle's Ballard neighborhood. In 1997 they opened the Jolly Roger Taproom named, as they say, "in honor of our most popular holiday brew": Jolly Roger Christmas Ale. A beer fridge staple, Jolly Roger English Strong Ale combines rich malt character with a blend of fresh Northwest Chinook and Cascade hops.
Elysian Bifröst Winter Ale
8.3% ABV, 58 IBU
Strong, hoppy and smooth, Elysian Brewing's winter pale ale is named for the mythical bridge connecting the mortal world to Christmas Town, at least that's what we believe. Brewed with pale malt and small amounts of Munich and Crystal malts, then bittered with Magnum and finished with Chinook and Styrian Goldings hops. Bifröst boasts the alluringly sweet smells of caramel and orange zest. The bold, spicy, citrusy hop notes balance the full malt flavor.
HUB Abominable
7.3% ABV, 70 IBU
Peaks and Pints reports sightings of strange, beer-soaked footprints, which means Hopworks Urban Brewery's Abominable has emerged from the depths, surprising Peaks' guests with a complex floral, spicy and citrus backdrop from organic Cascade, Centennial, Chinook, and Simcoe hops. With a base of Munich and Caramel malts adding balanced sweetness, Abominable attacks Dark Matter with slightly earthy, sweet, toasty amber malt tones plus ample dank citric floral bitterness.
---