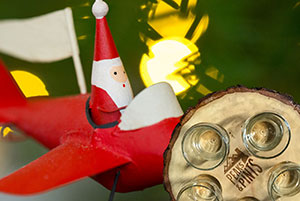 In a country with one boring-ass version of Santa Claus, it's nice to be reminded that in other countries, Santa can be freakin' scary. And thus: 2010's Finnish horror-comedy Rare Exports: A Christmas Tale, a cult favorite in which a dumb little kid discovers the sinister truth behind Christmas. In short: Santa's coming for you at 9:00 p.m. in The Grand Cinema. Then again, Eurotrash Hans Gruber is also coming for you at 11 p.m. The Grand follows Rare Exports with Die Hard, the prototype for just about every contemporary action movie, though its craft has never been repeated, nor has anyone imitated anything other than its high-concept premise. That said, try your best to ignore (or maybe forgive) the dire one-liners of Clarence Gilyard Jr. and the fact that fiery henchman Alexander Godunov dies about three times. But, don't avoid the opportunity to prefunk at Peaks and Pints with a holiday beer flight we call Christmas Beer Crosscut 12.21.19: Dark Christmas.
Christmas Beer Crosscut 12.21.19: Dark Christmas
The Lost Abbey Gnoel De Abbey
8.5% ABV
The Lost Abbey Gnoel de Abbey is a winter warmer brewed to be lighter in body while maintaining nuanced notes of oak. Beginning with aromas of freshly brewed espresso, Gnoel has hints of cocoa, vanilla and holiday spice, finishing with a crisp coffee bitterness. Holiday Brown Ale
Corsendonk Christmas Ale
8.5% ABV
In 2012, a very pregnant Jennifer Nettles of Sugarland opened up the Country Music Awards (show with a saucy song that makes no secret about her Christmas wishes: I've got your sugar if you'll show me your spice and There's no penalty for peeking early under my tree. Corsendonk Christmas Ale has all the sugar and spice Nettles needs. Brewed with Pale, Munich and Caramunich malts, plus Kent Goldings hops, this rich, dark, joyous brew has sweetish, yeasty-spicy and slightly fruity aroma of caramel, coriander, toasted coconut, some raisins and a touch of chocolate with similar tastes followed by a medium long, quite bitter, moderately yeasty-spicy and slightly roasty finish.
Delirium Noel
10% ABV, 20 IBU
In the town of Ghent sits Brouwerij Huyghe, the oldest, active brewery in that corner of Belgium. The brewery is best known for Delirium Tremens, a highly regarded Belgian strong pale ale, but they produce a wide variety of beers ranging from pilsners, witbiers, fruit ales and lagers. Huyghe's Delirium line of beers is famous for the pink elephant that adorns every label on every ceramic painted bottle. Its Noel labels are no exception. Skiing, sledding, pulling Santa's sleigh; the Pink Elephant does it all. Delirium Noel is a big, spicy beer with a lot dried fruit character and touch of alcohol to let you know that you're drinking a beer with a double-digit ABV.
Delirium Noel Bourbon Barrel Aged
11.8% ABV
Brouwerij Huyghe barrel-aged Delirium Nocturnum and Delirium Noel in Buffalo Trace Bourbon barrels for nine months then blended them for added complexity. This incredibly limited keg of Barrel Aged Delirium Noel, aka Delirium Black, hits the nose with vanilla and dark candy sugar. It flows over the tongue with bourbon, caramel, and more vanillas and dark candy sugar. It's a warm, boozy holiday sipper.
Trap Door Nut Tree Candied Nut Imperial Porter
8.5% ABV
One of the favorites at the annual Holiday Ale Festival in Portland, Trap Door Brewing's Nut Tree Candied Nut Imperial Porter is brewed with more than 200 pounds of hand roasted and candied almonds and pecans, plus cinnamon, nutmeg, clove, vanilla, and maple syrup. It has a sweet, nutty toffee flavor with strong spicy cinnamon notes, then mellows with a touch of vanilla.
Photo: original photo courtesy of 20th Century Fox
---