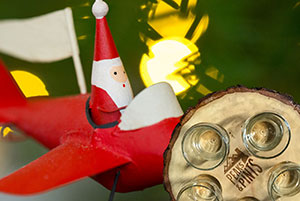 "There's children throwing snowballs / instead of throwing heads / they're busy building toys / and absolutely no one's dead!" So sang Jack Skellington in Tim Burton's bedtime story of a Christmas gone wrong, Nightmare before Christmas. Peaks and Pints adores this flick. In fact, we built today's craft beer flight around the movie, Christmas Beer Crosscut 12.22.19: Sandy Claws. Nightmare Before Christmas tells the tale of Skellington, The Pumpkin King of Halloween, who, growing bored of his seasonal work, decides to move out of his comfort zone, assuming the mantle of his physical opposite: Santa Claus, or as Skellington calls him, "Sandy Claws." Despite his best intentions, the support of an adoring Halloween Town and the love of a rag doll creation named Sally, Skellington's plans go terribly awry and almost wreck both seasons. However, because of his own insight and the love of his friends, Skellington rallies and is able to save Christmas from the villainous hands of bug monster Oogie Boogie. Anyhoo, Tacoma Arts Live presents the film at 3 p.m. inside the Theatre on the Square in downtown Tacoma, and Peaks and Pints has picked five Christmas libations for Skellington and you to enjoy before or after the flick. To kind of quote Skellington, "Forgive us, Mr. Claus. We're afraid we've made a terrible mess of your holiday."
Christmas Beer Crosscut 12.22.19: Sandy Claws
Maritime Pacific Jolly Roger Christmas Ale
9.2% ABV, 50 IBU
A Christmas beer with a pirate skull and crossbones donning the bottle? This one is for you, Jack Skellington! George and Jane Hancock founded the ma-and-pa Maritime Pacific Brewing Company in an old transmission shop in 1990 in Seattle's Ballard neighborhood. In 1997 they opened the Jolly Roger Taproom named, as they say, "in honor of our most popular holiday brew": Jolly Roger Christmas Ale. A beer fridge staple, Jolly Roger English Strong Ale combines rich malt character with a blend of fresh Northwest Chinook and Cascade hops.
Elysian Bifröst Winter Ale
8.3% ABV, 58 IBU
Strong, hoppy and smooth, Elysian Brewing's winter pale ale is named for the mythical bridge connecting the mortal world to Christmas Town, at least that's what we believe. Brewed with pale malt and small amounts of Munich and Crystal malts, then bittered with Magnum and finished with Chinook and Styrian Goldings hops. Bifröst boasts the alluringly sweet smells of caramel and orange zest. The bold, spicy, citrusy hop notes balance the full malt flavor.
Ninkasi Sleigh'r Dark Double Alt Ale
7.2% ABV, 60 IBU
Ninkasi Brewing's motivation for creating Sleigh'r was to make a beer different than other Northwest winter beers that feature big hop profiles and rich caramel flavor. Jack Skellington will tell you Ninkasi brewed it because they dig American thrash metal band Slayer. "Shades of death are all I see / Skeletons of Society / Shades of death are all I see / Fragments of what used to be / Skeletons of Society," so sings Slayer — and Skellington, too, we're sure. Any way, Ninkasi created a malt-forward yet dry, toasty and hardy beer brewed in the traditional German Alt way, only darker. First released in 2009, Sleigh'r rides roasted barley and Chocolate malts with Nugget hops balancing roasted malt, cooked sugar and a little dark fruit flavors. It's surprisingly light in body with a dry finish.
Pelican Bad Santa
7.5% ABV, 65 IBU
"I Saw Mommy Kissing Santa Claus," sung by former jockey Jimmy Boyd, takes a humorous approach to a child's shocking discovery of his mother's infidelity. The Pelican Pub & Brewery in Pacific City, Oregon, brews a beer that pairs with Mommy's merry adulterer — Bad Santa. This mysterious dark elixir is filled with complex malt flavors and aromas with toasted malt and roast character, blending seamlessly to the alluring herbal hop aroma that comes from copious amounts of Fuggle hops. Bad Santa doesn't care if Jack Skellington has been naughty or nice; he just wants Mommy.
Delirium Noel Bourbon Barrel Aged
11.8% ABV
The color palette of Nightmare before Christmas is black and white, with some pops of color here and there. Delirium Noel Bourbon Barrel Aged is fitting for this flight as the Belgian strong dark ale is also known as Delirium Black. Brouwerij Huyghe barrel-aged Delirium Nocturnum and Delirium Noel in Buffalo Trace Bourbon barrels for nine months then blended them for added complexity. This incredibly limited keg of Delirium Noel Bourbon Barrel Aged hits the nose with vanilla and dark candy sugar. It flows over the tongue with bourbon, caramel, and more vanillas and dark candy sugar. It's a warm, boozy holiday sipper.
Jack Skellington character courtesy of Disney
---