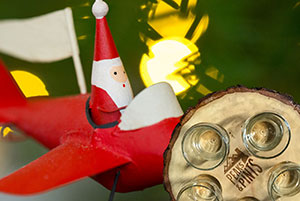 We should all pay more attention to train enthusiasts. No, listen, stop laughing. They embody both the history (choo-choo trains, cow catchers, waving handkerchiefs from the platform) and the future (mass transit, commuter rails, park and ride) of transportation.  Further study of their beliefs and practices is encouraged — try, for example the Model Train Festival, the Washington State History Museum's salute to the tracks and equipment from the Great Northern, Northern Pacific and Union Pacific railroads from the 1950s. There they (and you, should you follow our advice) will experience the museum's permanent HO-scale layout, the largest permanent train layout in this state, and the talent of many model train clubs from 10 a.m. to 5 p.m. And don't miss your chance to DRIVE THE FREIGHT TRAIN simulator! Anyhoo, stop by Peaks and Pints before or after the trains for a holiday beer flight we call Christmas Beer Crosscut 12.20.19: Model Train Festival.
Christmas Beer Crosscut 12.20.19: Model Train Festival
Corsendonk Christmas Ale
8.5% ABV
In 2012, a very pregnant Jennifer Nettles of Sugarland opened up the Country Music Awards (show with a saucy song that makes no secret about her Christmas wishes: I've got your sugar if you'll show me your spice and There's no penalty for peeking early under my tree. Corsendonk Christmas Ale has all the sugar and spice Nettles needs. Brewed with Pale, Munich and Caramunich malts, plus Kent Goldings hops, this rich, dark, joyous brew has sweetish, yeasty-spicy and slightly fruity aroma of caramel, coriander, toasted coconut, some raisins and a touch of chocolate with similar tastes followed by a medium long, quite bitter, moderately yeasty-spicy and slightly roasty finish.
Block 15 Oaked Saint Nick
9% ABV
Named after the Patron Saint of Brewers, Block 15 Brewing's Ol' Saint Nick is a generously malt-forward winter warmer featuring grist notes of toffee, cocoa, dark fruits, and caramel alongside citrusy hops and a warm, lingering finish. When the Corvallis brewery conditioned the winter warmer in oak foeders, Oaked Saint Nick arrived with a sack full of vanilla and oaky tannins.
Brasserie Dupont Avec Les Bons Voeux
9.5% ABV, 28 IBU
In January 1970, Belgian brewery Brasserie Dupont needed a gift to dole out to key clients during the holidays. Key chains just weren't going to cut it. Since the brewery produces amazing ales they thought why not gift an ale: Avec Les Bons Voeux, which translates as "with best wishes." It blew minds. Dupont eventually released it commercially, albeit in limited quantities. A saison boasting a hefty 9.5-per-cent alcohol, it pours with a hazy tint and is almost buttery-smooth in texture. There's mellow fruitiness and yeasty bread flavor at its core, with lively clove and licorice notes folded in, set against a solidly bitter backbone.
St. Bernardus Christmas Ale
10% ABV, 28 IBU
Brouwerij St Bernardus is famous for both their beers and their heritage. The brewery used to brew the famous Westvleteren beers before the monastery returned all production back to within the abbey's walls.  Their Abt 12 quad represents what Westvleteren 12 used to be before the abbey changed their yeast strain. St. Bernardus' Christmas Ale is brewery's Abt 12 offering, but gussied up with rich malt, dark dried fruit, fig, hints of anise, nutmeg, cinnamon, brown sugar … basically a fruitcake.
Maritime Pacific 2010 Jolly Roger Christmas Ale
8% ABV, 42 IBU
A Christmas beer with a pirate skull and crossbones donning the bottle? This one is for you, Jack Skellington! George and Jane Hancock founded the ma-and-pa Maritime Pacific Brewing Company in an old transmission shop in 1990 in Seattle's Ballard neighborhood. In 1997 they opened the Jolly Roger Taproom named, as they say, "in honor of our most popular holiday brew": Jolly Roger Christmas Ale. A beer fridge staple, Jolly Roger English strong ale combines rich malt character with a blend of fresh Northwest Chinook and Cascade hops.
---