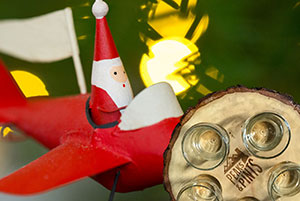 We all grew up with Charles Dickens' A Christmas Carol. Whether we read the book, watched the movies, or caught a theatrical production of the age-old story, a holiday season didn't get by us without the ghost escorting Scrooge to more Christmases of the past including a merry party thrown by Fezziwig, the merchant with whom Scrooge apprenticed as a young man. Whatever your preferred method of dosing on Dickens was, it would be an injustice, and probably land you on that weird jolly guy's naughty list, if you skipped Fezziwig Barleywine Ball at Peaks and Pints in Tacoma's Proctor District. This musical version retains none of the literary classic than might reasonably be expected, although it's also accurate to state that a key ingredient of the novel — namely, its humanist spirit — is largely present, from the jolly crowd, to the holiday barleywine beer flight Christmas Beer Crosscut 12.19.19: Fezziwig to the live bluegrass by Tacoma's Barleywine Revue. See you tonight!
Christmas Beer Crosscut 12.19.19: Fezziwig
Silver City Bourbon Barrel Old Scrooge
9.5% ABV, 26 IBU
The cats at Silver City Brewery excel in their Barrel-Aged Series, from Bourbon Barrel Aged Time Goddess Imperial Stout to Port Barrel Giant Made of Shadows. But the barleywine is the star. This holiday bourbon barrel-aged English barleywine offers up a rich aroma of toffee and sweet cherry, with a rush of warm vanilla, bourbon and caramel malt to create an immaculate fireside drinking companion.
Reuben's Three Ryes Men
12.2% AVB
This is the third vintage of Reuben's Brews' GABF-winning barrel-aged barleywine. Three Ryes Men is brewed with malted rye, flaked rye, and crystal rye and then aged in whiskey barrels where it has rested. After aging, the beer has developed flavors that according to the brewery offer a full body with malt driven caramel and chocolate notes, and layers of warming complexity.
Tacoma Water
0% ABV
Since 1913, Tacoma's primary water supply has been the unfiltered Green River. Until the Green River Filtration Facility was built in 2015, the Green River was one of the few major unfiltered surface water supplies left in the U.S. After thorough study and public input, the City decided that filtration was the best way to comply and keep the water safe, and so built the filtration facility at the Tacoma Water Headworks, near the town of Cumberland in south King County. The facility continues to provide clean, healthy water, and levels of cryptosporidium remain low in the Green River water supply.
Hair of the Dog Doggie Claws
11.5% ABV, 70 IBU
People have been making pilgrimages to Portland for Alan Sprints' beer since the dark ages — back when hazy and sour beers weren't made that way intentionally. Hair of the Dog's Doggie Claws, a holiday-themed barleywine, is brewed with Simcoe and Amarillo hops along with Organic Pilsner malt, British crystal and dark wild flower honey collected on Mt. Hood. It smells of thick, decadent caramel coupled with notes of raisins, molasses and dark fruits. First sip brings a sweet caramel-raisin infused maltiness that carries hints of dark fruits, cherry and sourdough. This is followed by a nice wave of piney, citric, herbal hop bitterness causing a nice interplay between the sweet and bitter aspects of the craft beer.
Heathen Reindeer Tears
10.6% ABV, 94 IBU
Heathen Brewing's Reindeer Tears bourbon barrel-aged American barleywine pours cloudy rosé copper with a cream-colored pillow of fine foam that reduces after a minute or so. The nose is brown sugar, burnt orange, wheat, bourbon and citrus. The Tears begins with smooth malts molasses, a bit of toffee followed by caramel. As it warms sweet dark fruity esters appear. As the Tears rolls the bourbon, booze and light spicy oak note along with blunted aged pine hops and spicy wintertime cookies cut perfectly into the thick bodacious sweetness.
---