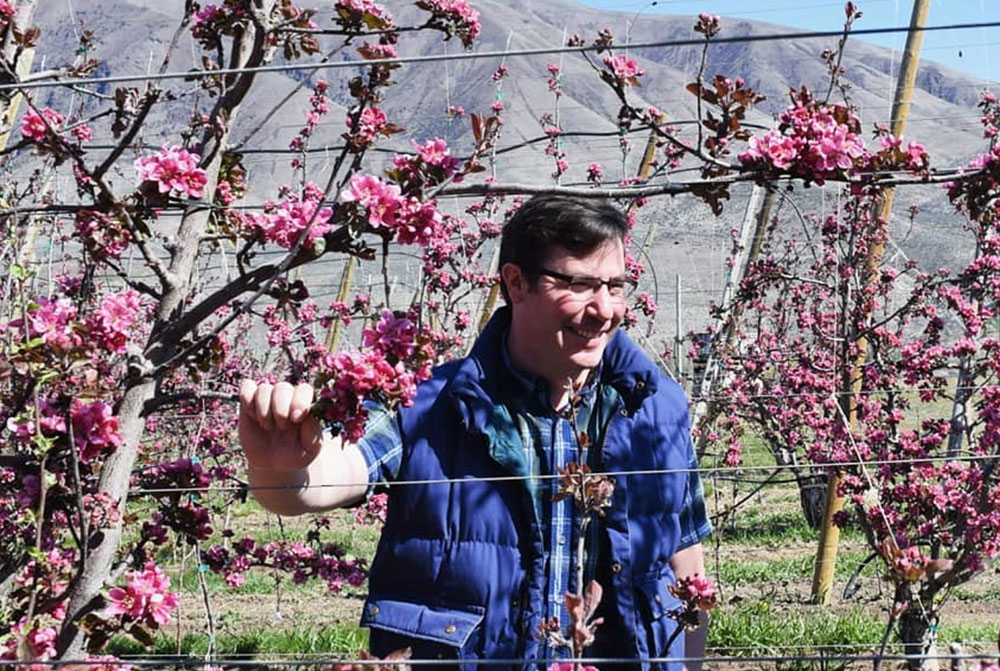 Washington Cider Week 2021: Tieton believes
Peaks & Pints Apple Press: Cider News, Reviews, and Interviews
In Europe, cider (or cidre, or sidre) is shorthand for an alcoholic beverage of fermented apples. In Britain it's dry as the humor. France likes a dash of sweet, while Spanish versions run stringent and musty. In America, George Washington's troops received rations of it. John Adams reportedly drank a tankard of it for breakfast each morning. Cider apples and their fermented juice were prevalent on American homesteads. Then Americans departed farms for cities, German immigrants introduced beer culture and the Civil War, Temperance Movement, immigration, and Prohibition resulted in hard cider going from the most popular drink in America to a special treat we drink unfermented in the fall. Although it's still far from its old place as the king of drinks, cider has regained popularity and we're celebrating Northwest Cider Association's Washington Cider Week 2021 through Sept. 19. Here are a few suggestions on how to celebrate Washington cider today. …
Press Play
>>> In July, the annual Cider Summit Seattle — the region's largest hard cider tasting festival – announced its return after a pause due to the pandemic. Unfortunately, after careful consideration based on feedback from vendors, staff, volunteers and concerned consumers, festival directors decided to cancel this year's live festival. For the second day in a row, Cider Summit is taking a second bite of the apple with new to-go tasting kits in lieu of an in-person festival. Unfortunately, again, the participation deadline has passed, but the event guide is online, as well as cidermaker short videos on YouTube.
>>> Fierce County Cider opens at 11 a.m. to support fundraising for the All Things Fun Sports' 9/11 Memorial 5K Walk/Run. Ten percent of Saturday's sales at their South Hill tap house will be donated to the Pierce County Professional Firefighters IAFF Local 726 Benevolent Fund.
[Fierce County Cider, Saturday, Sept. 11, 11 a.m. to 8 p.m., 9918 162nd St. Ct. E., Puyallup, 253.258.9973]
>>> Peaks & Pints presents an all-day, to-go flight of ciders with pineapple notes made in Washington state. Click here to live pineappley ever after. …
[Peaks & Pints, Saturday, Sept. 11, 11 a.m. to 11 p.m., 3816 N. 26th St., Basecamp Proctor, Tacoma, 253.328.5621, no cover]
Cider(ific)
SEATTLE CIDER ODYSSEY: Made with Seattle Cider's custom blend of Washington apples and a cider specific yeast, this imperial cider is bright with light acidity and plenty of fresh apple character. It's back sweetened with brown sugar to add a bit of complexity, and to punch up the juicy apple qualities. Expect a fruit forward nose, with stone fruit, apple, and cantaloupe at first sip. This 8.4-percent cider awaits in the Peaks & Pints cooler.
5-ounce Interview
In 2008, Craig Campbell and his wife, Sharon, began experimenting with making cider from dessert apples grown in their 400-acre commercial fruit orchards in Yakima, Washington. Despite naysayers who warned that cider apples required a maritime climate, Craig also planted a two-acre test orchard with 25 varieties of cider apples. Today, their two-acre experiment expanded into Cider View, a 30-acre "high-density" cider orchard. In their commercial cidery, Tieton Cider Works, their head cidermaker/operations manager of nearly 12 years Marcus Robert blends American heritage, English and French cider varietals with dessert apples to capture the best of what each variety brings to the cider: sweetness, acidity, tannin, and aroma. In celebration of the 2021 Washington Cider Week, Peaks & Pints tossed a few questions at Marcus Robert that could be answered in the time it would take to knock back 5-ounces of Tieton Bourbon Barrel Peach Cider.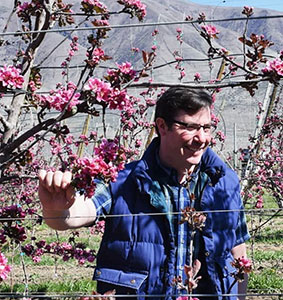 PEAKS & PINTS: What about the cidermaking process pleases you the most?
MARCUS ROBERT: Knowing that people are enjoying what we make. Everyone here works very hard to produce great ciders and believing that our customers really like what we do gives a lot of meaning to our efforts.
PEAKS & PINTS: Tell us about your new Bone Dry Cider.
MARCUS ROBERT: The recipe is Apples from local farms — pretty simple. We just finish this one drier, which brings out more refreshing acid.
PEAKS & PINTS: What advice would you give to aspiring cidermakers?
MARCUS ROBERT: Stay close to who you are. It makes producing and marketing easier when it is something you truly believe in. We are farmers from the apple capitol of the U.S. A lot of who we are at our core (pun intended) involves farming fruit.  So, making cider seems to be a natural progression for us.
[Tieton Cider Works, taproom open noon to 7 p.m. Friday and Saturday, 619 W. J St., Yakima, 509.571.1430]
---
Category:
Beer Line Blog
,
Craft Cider
,
Critical Drinking
,
Events and Festivals
,
Houses of Craft
,
In The Cooler
,
Interviews
,
New Releases
,
News and Updates
,
Shop
,
South Sound