Tournament of Beer: Northwest Porters Round One April 16
Why did Peaks and Pints invent the Tournament of Beer?
Because it's fun. Look at the excitement generated by the NCAA basketball tournament brackets. We want to create the same excitement although with way more malts.
We also hope to spark craft beer discussions using an informal, unscientific poll. Beer's ability to lubricate conversation (and dissent) has been noted since colonial times. We want people to conduct their own Beer Madnesses and do their own second-guessing, backseat driving and morning quarterbacking.
Last year, Peaks and Pints presented the Tournament of Beer: Washington State IPAs. It was a hoot. Rainy Daze Brewing's Goat Boater IPA sailed away with the trophy.
This year, 64 porters from Washington, Oregon and Idaho were selected and seeded by the public March 1-15, and now the time has come to see what porter reigns supreme. The top 64 vote getters — the cream of the malts — will compete Monday through Friday right here, through April 28. Through online voting, porter drinkers will pick daily winners until the best porter in the tri-state region is crowned.
Use the bracket below to guide you through the daily matchups or pick one up at Peaks and Pints in Tacoma's Proctor District.
The Northwest porter grand champion will be announced at the Tournament of Beer Party, April 28, at Peaks and Pints, 3816 N. 26th St., in Tacoma's Proctor District. The final two porters will battle live pouring from our Western red cedar tap log with the champion brewery receiving a permanent handle at Peaks and Pints through the spring and summer 2018.
OK, let's do a quick liver-size check, and dive into today's First Round porter battles. Vote for one porter per game. Voting for today's porter battles ends at 11:45 p.m.
Monday, April 16, First Round Northwest Porter Games
GAME 1, WASHINGTON STATE REGION
Player: Imperial Maple Porter (#5 seed)
Team: Backwoods Brewing, Carson
Player Stats: This is Backwoods Brewing's second porter nominated for the Tournament of Beer: Northwest Porters. It's first porter, Pecan Pie Porter, beat North Jetty Brewing's Semper Paratus Porter last week. Backwood's Imperial Maple Porter is brewed with real maple syrup. While maple syrup and granulated sugar both have the same sugar breakdown — 50 percent glucose, 50 percent sucrose — maple syrup has a lot going for it both beerwise and healthwise. Unlike processed sugar, maple syrup contains some antioxidant polyphenols as well. It also has a richer, deeper flavor than white sugar, which adds its own spin to mixed drinks. But, this isn't the Tournament of Maple; it's about porters, and this one has maple on the nose, followed by balanced notes of vanilla, maple and chocolate, with a subtle roast on the finish.
ABV: 7%, IBU: 20, Malts: NA
Player: RCW 70.160 (#12 seed)
Team: Three Magnets Brewing, Olympia
Player Stats: RCW 70.160 went into affect Dec. 8, 2005, prohibiting smoking in all public places and all workplaces in Washington, including restaurants and bars. Washingtonians must smoke 25 feet away from all doorways, windows and air intakes of any protected areas in order to ensure that smoke does not enter into buildings. In dense parts of the city, this essentially means the only place far enough from all doors, windows, and vents is the middle of the street. Might want to wear reflective clothing. Anyway, Three Magnets Brewing named its smoky porter after the revised code of Washington, reminding beer enthusiasts to drink it if you got it, or something. The taste is light smoke over a very solid porter base of smooth caramel, roasted coffee beans and cocoa. It's not a smoke bomb, which should scare the competition.
ABV: 7.8%, IBU: 30, Malts: NA
SCROLL DOWN TO VOTE >>>>>>>>>>>>>>>>>>>>>>>>>>>>>>>>>>>>>>>>>>>>>>>>>
GAME 2, WASHINGTON STATE REGION
Player: P-51 Porter (#4 seed)
Team: Wingman Brewers, Tacoma
Player Stats: The P-51 Porter was Wingman's first real beer recipe. "It goes back to 2008 when Derrick (Moyer) and I were home brewing," explains Wingman co-founder Ken Thoburn. "At the time, Lazy Boy Porter from Everett was my favorite beer around, so we tried to emulate that. The beer was initially made for a friend's birthday and called Nalty's Tall Order Porter since he's a tall dude and asked us to make a Porter for his birthday party. The beer went over so well with our friends that it remains the only recipe we've never changed since Wingman started … with Washington-grown barley and Moxie valley hops." The P-51 Porter is a robust and clean-finishing porter that offers rich, malty flavors that highlight hints of chocolate, coffee, nuts and smoke.
ABV: 8%. IBU: 31, Malts: Absurd amount of specialty malts
Player: R.I.P. Porter (#13 seed)
Team: Heathen Brewing, Vancouver
Player Stats: Heathen Brewing's R.I.P. is an acronym for Real Intense Porter. Well, it's more velvety smooth and well-balanced to us. Notes of coffee and chocolate take front and center in this decadent brew, which then give way to layers of roasted malts, a light sweetness and a creamy finish that's good enough to have for breakfast. Expect vanilla notes toward beginning, mild dried fruit somewhere in the mix and dry bitterness toward the end. It's luxurious, rather than extreme.
ABV: 5.2%, IBU: 46, Malts: Pale, Chocolate, Crystal 80, Carapils malted barley
SCROLL DOWN TO VOTE >>>>>>>>>>>>>>>>>>>>>>>>>>>>>>>>>>>>>>>>>>>>>>>>
GAME 3, IDAHO REGION
Player: Power House Porter (#7 seed)
Team: Sockeye Grill & Brewery, Boise
Player Stats: One of the OG's of Idaho's beery renaissance, Sockeye Brewing has been brewing since 1996. In that time, it has regularly racked up more medals than most bars have taps, many of metal for its Power House Porter. Makes sense; It's a well-constructed brew with sweet cocoa and burnt sugar balloon to the nose; a dash of toasted oats warms the aroma. Husky grains balance smooth chocolate in a chewy, round swallow with chocolate lingering like the remnants of a Hershey's Kiss.
ABV: 5.7%, IBU: 20, Malts: Idaho Pale, Chocolate, Wheat, Crystal 120L, Flaked Barley
Player: Snowboarder Porter (#7 seed)
Team: Boise Brewing, Boise
Player Stats: In East Boise, Boise Brewing sports a high-ceilinged taproom and a unique "public offering" program that lets Idaho residents with at least $1,000 purchase company stock and have voting rights on future brewery operations. The brewery's Snowboarder Porter is a lovely chocolate-themed affair, a delicious English style brown porter with big chocolate notes and just a bit of bitterness. This chocolate style porter is just the thing to warm you up after a cold day on the slopes. With hints of coffee and sweet caramel, this dark, delicious, sweet treat is a malty celebration of the classic porter style.
ABV: 5%, IBU: 20, Malts: NA
SCROLL DOWN TO VOTE >>>>>>>>>>>>>>>>>>>>>>>>>>>>>>>>>>>>>>>>>>>>>>>>
GAME 4, IDAHO REGION
Player: Guilt Belgian Coffee Porter (#2 seed)
Team: Selkirk Abbey Brewing, Post Falls
Player Stats: Rural northern Idaho might just be the furthest thing from Belgium, which makes Selkirk Abbey Brewing Co. all the more special. This is a place that takes its Belgian influence beyond aesthetics, brewing its wares on open-fire systems of the oldest-school variety. But none of that means a thing if the beers don't hold up. Meet Selkirk Abbey's Guilt Belgian Coffee Porter. It's brewed with fresh beans from Selkirk's neighbor, DOMA Coffee Roasting Company. Dark mahogany brown, medium bodied with nice creaminess and great roast at the end. The coffee in this brew is both subtle and evident — it's smooth with hints of spice and mocha, but the coffee is not overdone.
ABV: 8.3, IBU: 45, Malts: NA
Player: Big Jilm Imperial Coffee Porter (#15 seed)
Team: Post Falls Brewing, Post Falls
Player Stats: Dan Stokes and Alex Sylvain, both engineers, met as college roommates at Northern Arizona University. Their early experiments were of the brew-in-a-bag variety but turned more serious as they moved on with their careers, Sylvain in Phoenix, Stokes in Denver. And after Sylvain moved to Post Falls eight years ago, followed by Stokes, they started talking about taking their efforts commercial, based on the reception their homebrew received. In cooperation with non-brewing partner Steve Cervi-Skinner, a Coeur d'Alene doctor and old friend, they decided to take the plunge. Enter Post Falls Brewing Co. The Ween song "Big Jilm" was inspired by a car dealer named James A. Lemons who worked at the dealership owned by Dean Ween's father. We're not sure Post Falls' Big Jilm was inspired by the song, but we do know this imperial coffee porter smells a bit like what coffee ice cream might smell like if it were made with dark, bitter chocolate. Coffee leads the taste parade, backed with a bitter, roasty sweetness. The high ABV does not come through in the taste, so competitors beware.
ABV: 11%, IBU: 35, Malts: NA
VOTE BELOW >>>>>>>>>>>>>>>>>>>>>>>>>>>>>>>>>>>>>>>>>>>>>>>>>>>>>>>>>>>>>
Be sure to click the blue DONE button after selecting your favorite porters!
Tuesday, April 17 Tournament of Northwest Porters action
Game 1: Overhang Bourbon Imperial Porter, Two Beers Brewing (4700 Ohio Ave. S., Seattle) vs. Perseus Porter, Elysian Brewing (542 First Ave. S., Seattle)
Game 2: Stone Squirrel, Fremont Brewing (1050 N. 34th St., Seattle) vs. Chocolate Milk Porter, Lowercase Brewing (6235 Airport Way S., Seattle)
Game 3: Black Butte Porter, Deschutes Brewery (1044 NW Bond St., Bend) vs. Imperial Spiced Apple Porter, Oakshire Brewing (207 Madison, Eugene)
Game 4: PCT Porter, Crux Fermentation Project (50 SW Division St., Bend) vs. Backroads Vanilla Porter, Klamath Basin Brewing (1320 Main St., Klamath Falls)
LINK: Hot Damn! Yes, I want to follow Peaks and Pints on Twitter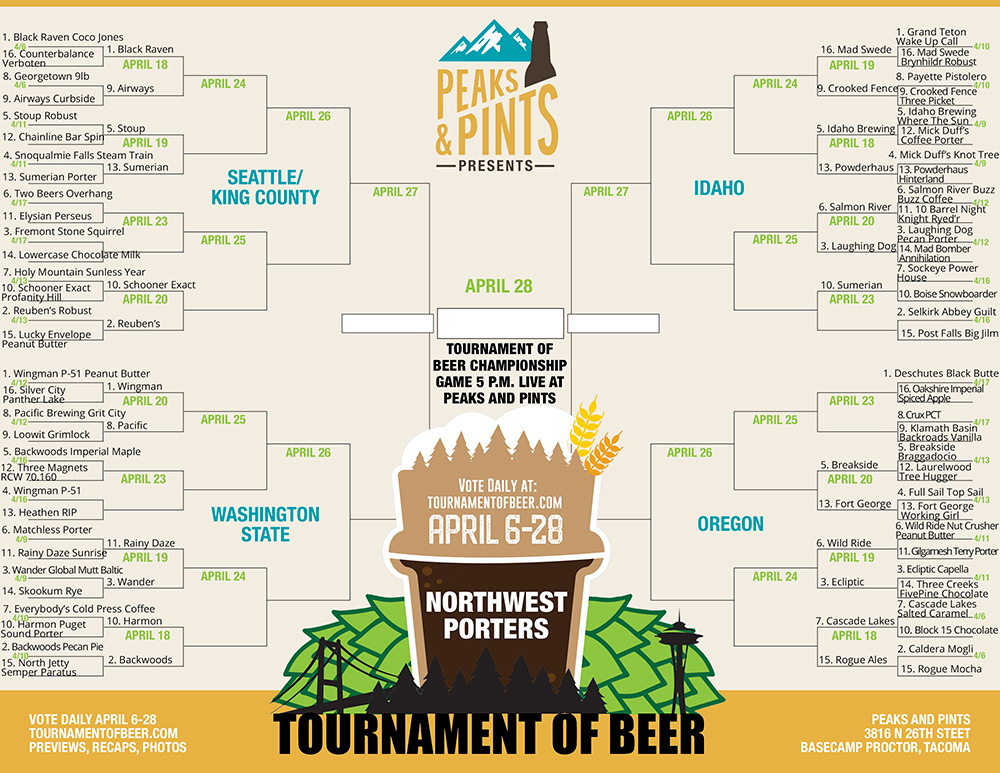 ---