Tournament of Beer: Northwest Pilsners Second Round April 22
RON SWARNER: Beginning tomorrow, we'll cut the field of 64 Northwest pilsners to the Sweet Wort 16. Then, April 25, it'll drop to eight. Saturday, April 27, we'll announce the winner of the Tournament of Beers — picked by you, of course — at our bottle shop, taproom and restaurant in Tacoma's Proctor District. On that Saturday, we'll cut the online voting at 4 p.m. and take the voting live at 5 p.m. in Peaks and Pints, handing out ballots while you enjoy the two final Northwest pilsners from our Western red cedar tap log.
PEAKS AND PINTS WEATHER GUY: My forecast calls for partly sunny, with a high near 66 along the Hamilton Mountain Loop Trail near Stevenson. Showers likely tomorrow, mainly before 11a.m., then mostly cloudy, with a high near 64. The nagging moon shines feebly with all the strength of a laptop in power-save mode. Lost $25 to bartenders again.
RON SWARNER: That's all fine and dandy, but it's Monday, April 22 and you don't have time for idle chitchat. You need to vote on the last four games of the Second Round. Vote for one Pilsner per game. Please be an honest human and vote on one device. Voting for today's pilsner battles end at 11:45 p.m.
MONDAY, APRIL 22, SECOND ROUND NORTHWEST PILSNERS GAMES
GAME 1, SEATTLE/GREATER KING COUNTY REGION
11. Two Beers Pilchuck Pilsner vs 3. Chainline Polaris Pilsner
RON SWARNER: It all makes so much more sense now. It's all been leading to the day. The beers in the wilderness. The beers on the bicycles. The dogs in T-shirts. The gnomes. The beer cans posing as phones. The crazy named craft beers. Translation: Alert the liquor board and soothe your panicky grandmother, because the cultural landscape is shifting today — quite quickly, quite dramatically. The Tournament of Beer will get a little sassy crazy brilliant badass when Two Beers Pilchuck Pilsner and Chainline Polaris Pilsner face off on the court/comedy stage. Expect laughter. Expect Facebook. The crusty old guard will be thrown for a terrified loop. Fun loving and brewing tasty craft beer? You know it. Vote.
PEAKS AND PINTS WEATHER GUY: I'm definitely going to see what clever things they do on MySpace today.
SCROLL DOWN TO VOTE >>>>>>>>>>>>>>>>>>>>>>>>>>>>>>>>>>>>>>>>>>>>>>>>>>>>>>>>>>>>>>>
GAME 2, WASHINGTON STATE REGION
12. Boundary Bay Pilsner vs 4. Kulshan Pilsner
RON SWARNER: Boundary Bay's Pilsner beat Matchless' Original Pilsner in the First Round. This can't be overlooked people. You also can't overlook it's Bellingham Beer Week, which means more people will be thinking about Bellingham's first brewery, Boundary Bay Brewery, which means more people will be wearing Boundary Bay T-shirts, and by the Transitive Property of Inequality, more people will be drinking Boundary Bay beer, especially their Bohemian-style Pilsner brewed with continental and local malt from Skagit Valley. Wait a darn tooting minute! Kulshan Brewing laughs at this math for two reasons. One, they're also from Bellingham with T-shirts, a German-style pilsner brewed with German malt and noble hops, and mathematician patrons. Second, Kulshan's Pilsner beat Silver City's Cold One Pilsner. That's impressive. Tournament of Beer statisticians gave up trying to predict this outcome. The votes will decide, obviously.
PEAKS AND PINTS WEATHER GUY: It's Pilsner vs. Pilsner, literally.
SCROLL DOWN TO VOTE >>>>>>>>>>>>>>>>>>>>>>>>>>>>>>>>>>>>>>>>>>>>>>>>>>>>>>>>>>>>>>>
GAME 3, PORTLAND/GREATER MULTNOMAH CO. REGION
7. Upright Engelberg Pilsner vs 2. Heater Allen Pils
RON SWARNER: We have heavyweight Heater Allen Pils, with its storied history and claims to fame, battling Upright Brewing's Engelberg Pilsner, a little seventh seed that could. Both pilsners are well loved, so rallying support won't be an issue. The real question is: Will Heater Allen Pils be intimidated by Upright owner Alex Ganum's lager yeast strain — a strain he's been using since his homebrewing days — or will Heater Allen Pils tighten up its strong hop character and go to work. The votes will decide.
PEAKS AND PINTS WEATHER GUY: Heater Allen Pils is ranked number one on Ratebeer.com, but Upright Engelbert Pilsner was named Beer of the Year by the Willamette Week. Portland residents relationships will no doubt crumble today.
SCROLL DOWN TO VOTE >>>>>>>>>>>>>>>>>>>>>>>>>>>>>>>>>>>>>>>>>>>>>>>>>>>>>>>>>>>>>>>>
GAME 4, OREGON REGION
1. pFriem Pilsner vs 9. Pelican Five Fin West Coast Pilsner
RON SWARNER: It's going to take all five fins to beat pFriem's Pilsner. Pelican Brewing knows it. But, they don't have to like it. After all, Five Fin — a West Coast style pilsner brewed with Centennial, Mandarina Bavaria, Sterling, and Magnum hops — grabbed gold at the Best of Craft Beer Awards and silver at the Australian International Beer Awards. And, Pelican sells a ton of Five Fin at their three Oregon Coast breweries alone, not to mention throughout the Pacific Northwest. pFriem's version is clean and refreshing with highlights of lemon zest and floral hops leading to a dry and crisp finish. They stand by it.
PEAKS AND PINTS WEATHER GUY: No doubt a traffic jam will foul up Highway 84 between the two breweries.
VOTE BELOW >>>>>>>>>>>>>>>>>>>>>>>>>>>>>>>>>>>>>>>>>>>>>>>>>>>>>>>>>>>>>>>>>>>>>>>

Tuesday, April 23 Tournament of Northwest Pilsners action …
Game 1: 9. Lucidity Pilsner, Sumerian Brewing (15510 Redmond-Woodinville Road, Woodinville) vs 13. Portage Bay Pilsner, Maritime Pacific Brewing (1111 NW Ballard Way, Seattle)
Game 2: 14. Cold Beer Pilsner, Farmstrong Brewing (110 Stewart Road, Mt Vernon) vs 10. The People's Pilsner, Brothers Cascadia Brewing (9811 NE 15th Ave., Vancouver)
Game 3: 1. Pilsner, Breakside Brewery (1570 NW 22nd Ave., Portland) vs 4. Bohemian Pilsner, Occidental Brewing (6635 N. Baltimore Ave., Portland)
Game 4: 3. Czech Pils, Buoy Beer (1 8th St., Astoria) vs 10. Czech Meowt, Sunriver Brewing (57100 Beaver Dr., Sunriver)
LINK: Tournament of Beers: Northwest Pilsners explained
LINK: Hot Damn! Yes, I want to follow Peaks and Pints Weather Guy on Twitter!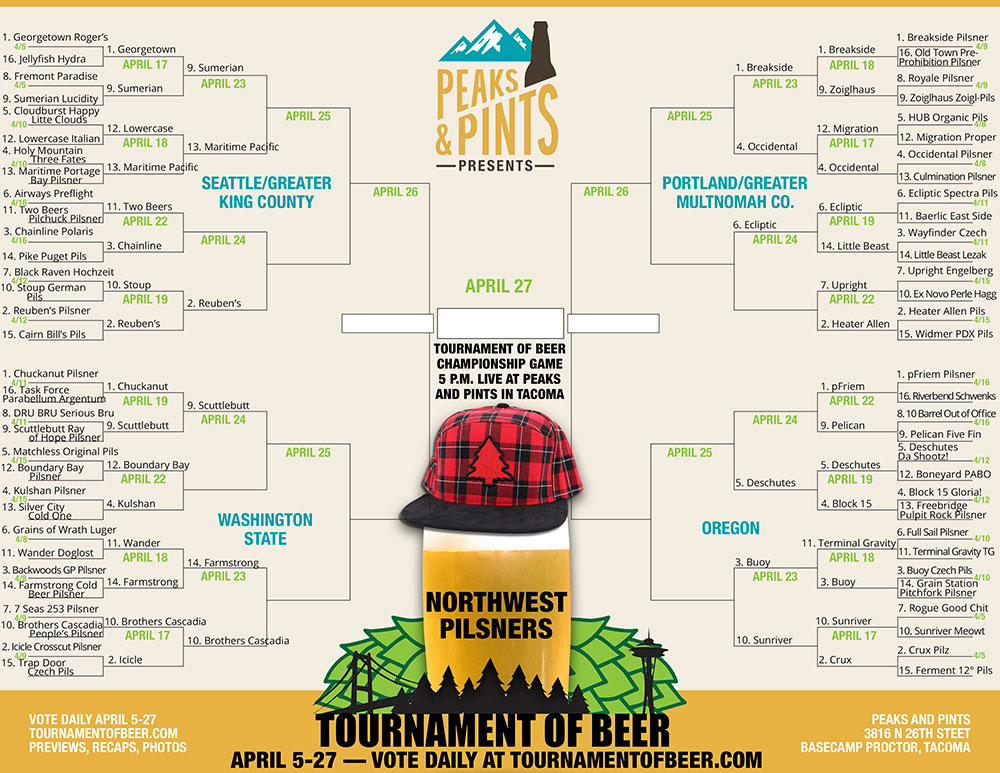 ---