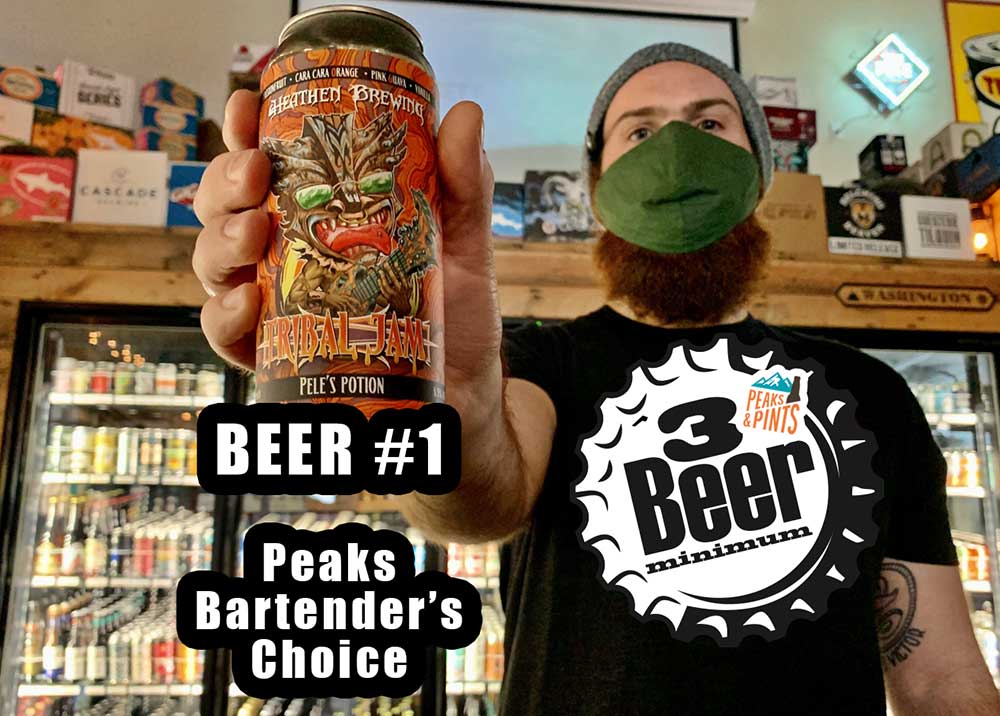 Three Beer Minimum: Our Choice, Most Popular, Your Choice
Let this be your rallying cry. Let it be your new hot-button topic, a raw naked wildfire underground grassroots crusade, your juiciest of incentive programs, your inspired call to try new craft beer.
It's a new old column called Three Beer Minimum. It's maximum fun. The rules are simple: You visit Peaks & Pints, drink the suggested Peaks bartender's choice listed below (pictured above), next drink the crowd's favorite beer purchased at Peaks yesterday, and finish with your choice from the listed three new beers to hit our 850+ cooler. Ready for Three Beer Minimum: Out Choice, Most Popular, Your Choice.
BEER ONE: Peaks bartender Matthew Usher strongly suggests you grab Heathen Brewing's Tribal Jam: Pele's Potion (6.5%). "It's a delicious smoothie sour with guava, orange, passionfruit, and vanilla notes that won't explode your cheeks."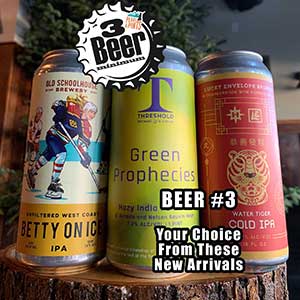 BEER TWO: The most popular beer purchased at Peaks yesterday is 450 North Brewing's It's A-Me! Cup (%ABV NA). Part of the Indiana brewery's Collector Cup Series and inspired by Super Mario Bros., this smoothie sour is conditioned on cranberry, boysenberry, sweet cherry, graham cracker, brown sugar, vanilla soft serve ice cream, and lactose. Push play!
BEER THREE: Old Schoolhouse Brewery Betty On Ice Hazy IPA (6.5%), Threshold Brewing Green Prophecies Hazy IPA double dry hopped with El Dorado and Nelson Sauvin (7.3%), and Lucky Envelope Brewing Water Tiger Cold IPA brewed with Seattle's Marketspice Berry Bush tea and juicy El Dorado hops (6.7%) arrived yesterday. Which one will mark your third beer?
All five beers await in the Peaks & Pints cooler. Cheers!
LINK: Peaks & Pints cooler inventory
---