Tacoma Strong: Monday, March 30 2020
2 Beers, 5 Love Locals, and 3 Things To Do
Peaks & Pints is closed today for much needed rest and improvements. In addition to erecting our Tournament of Beer: West Coast Flagships giant bracket above our cooler (online voting begins this Friday), we thought we'd give a few shout-outs to those in need and those offering relief due to the self-quarantining and sheltering in place, Tacoma Strong: Monday, March 30 2020. Be well!
2 TO-GO BEERS
>>>Wingman Brewers will deliver beer from 2-6 p.m. in Tacoma, as well as offer curbside pick up from 2-7 p.m. today.
View this post on Instagram
>>>Black Fleet Brewing is open 3-7 p.m. daily for crowler fills.
View this post on Instagram
5 LOCAL LOVES
We are all witness to the severity of the COVID-19 crisis and its impact on our community. While this is a challenging and scary economic time for everyone, perhaps no institutions are more vulnerable than our neighborhood bars and their bartenders. Lars and Tracy Harvey have set up Pint Defiance Tips Fund GoFundMe, earmarking raised funds for the Pint D's bartenders.
>>>Ttown Apparel is hosting a #tacomastrong T-shirt presale to help raise money for employees of businesses that have temporary closed. The Red Hot has re-released a design that was previously a 2017 staff-only hoody.
>>>Jose Cuervo will be contributing $25 Moctezuma's meals for local restaurant/bar industry employees when they present their MAST or Food Handler's permits.
View this post on Instagram
>>>Writer, artist and our friend Jen Prange reminds everyone that LeLe Restaurant is open for take-out. The Hilltop restaurant has a large office worker following, which isn't so large right now.
View this post on Instagram
>>>John James Nelson alerts 253Heart owner Steve Naccarato offers his Tacoma Strong 253Heart design for anyone promoting, well, #tacomastrong.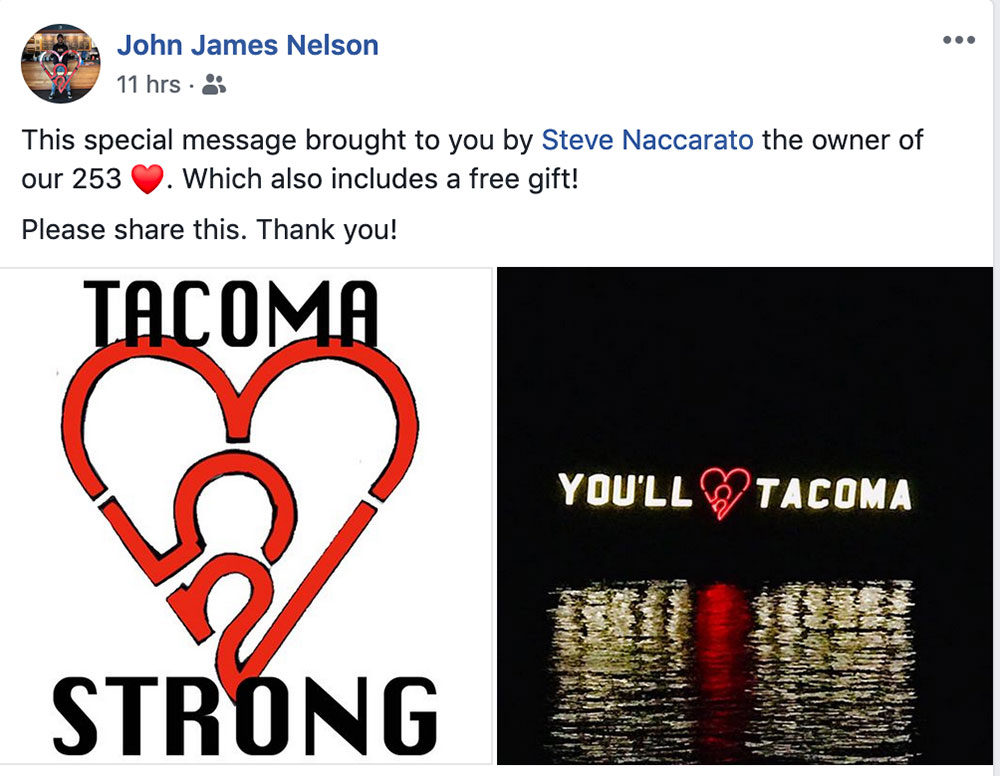 3 Things To Do
>>>The Tacoma Historical Society offers an online exhibit about Tacoma's banking history, prepared by Deb Freedman.
View this post on Instagram
>>>The Tacoma Art Museum also has an online exhibit, Creature Feature: An Online Animal Art Exhibition.
View this post on Instagram
>>>University of Puget Sound radio station KUPS is taking submissions for their zine, "The Aroma: Quaranzine" edition. They're asking for art, poems, playlists, and anything elser you have been creating during the quarantine.
View this post on Instagram
#tacomastrong #lovelocal #tacoma
---