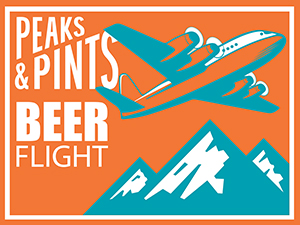 The Hawaiian Islands are known for several beverages: Kona coffee, Mai Tais, Blue Hawaiians, and pineapple juice come instantly to mind, but the Aloha State also produces delicious craft beer two blocks from the ocean in Kihei, Maui. What began in 2005 as a tiny local brewpub has grown into Maui Brewing's multi-million dollar facility that serves its craft beer well beyond the Hawaiian Islands. Now, visitors can expect brewery tours, a tasting room, a full-service restaurant and bar, a retail nook, an outdoor patio with barbecue service and the four beers on Peaks & Pints' to-go flight today, Peaks & Pints Pilot Program: Maui On the Fly.
Peaks & Pints Pilot Program: Maui On the Fly
Maui Bikini Blonde Lager
5.2% ABV, 18 IBU, can

Maui Bikini Blonde isn't a blonde ale; it's a Munich helles-type lager, made with Pilsner and Munich malts and German Hersbrucker and some American German-style hops. The result is light and drinkable but not mindless: bright and crisp with a good deal of quiet, malty heft. Although it's a little less hoppy than a pilsner, you detect lively hops as well as malt in the nose. On the palate, it enters crisp and even a little tart, and then round malty body appears. The finish is clean and dry, with a little residual malt sweetness.
Maui Coconut Hiwa Porter
6% ABV, 30 IBU, can

Brewed with hand-toasted coconut and six varieties of malted barley, Maui Coconut Hiwa Porter is a very dark, almost impenetrable, black coffee color. The aroma recalls baked coconut macaroons or, on the other end of the spectrum, coconut suntan lotion. The coconut flavor is present, but not overwhelming in the mouth, along with other roasted earthy lactose flavors.
Maui Imperial Coconut Porter
9% ABV, 32 IBU, bottle

The 2016 Great American Beer Festival Gold Medal Field Beer champion, Imperial Coconut Porter, is a deeper, more intense version of Maui Brewing's flagship Coconut Hiwa Porter. The rich, slightly sweet and malty ale utilizes seven different malts, including black and chocolate, as well as raw and toasted coconut. It pours with a dark tan head and drinks with a silky smooth, yet warming finish, plus subtle notes of cacao and coffee.
Maui Imperial Coconut Porter Dolce
9.4% ABV, 32 IBU, bottle

The meal isn't over in Italy until something sweet, or "dolce," hits the tongue. Maui Brewing agrees. Their dolce variation of Maui's Imperial Coconut Porter offers hints of vanilla, chocolate, coffee beans, roasted nuts, toffee, and toasted marshmallow.

Maui 15th Anniversary Blend
11% ABV, bottle

In January 2020, Maul Brewing celebrated 15 years of fiercely loyal dedication to "aloha 'aina" — the love of the land — with their silky smooth 15th Anniversary Blend of Imperial Porter, Imperial Stout, Barleywine, and Imperial Brown aged for 12 months in bourbon, Cognac, brandy, and rum barrels. Expect spicy end notes from toasted papaya seeds with estery sweetness from Belgian yeast, and warming finish. Raise your glass and toast Hawaii's largest craft brewery!
---