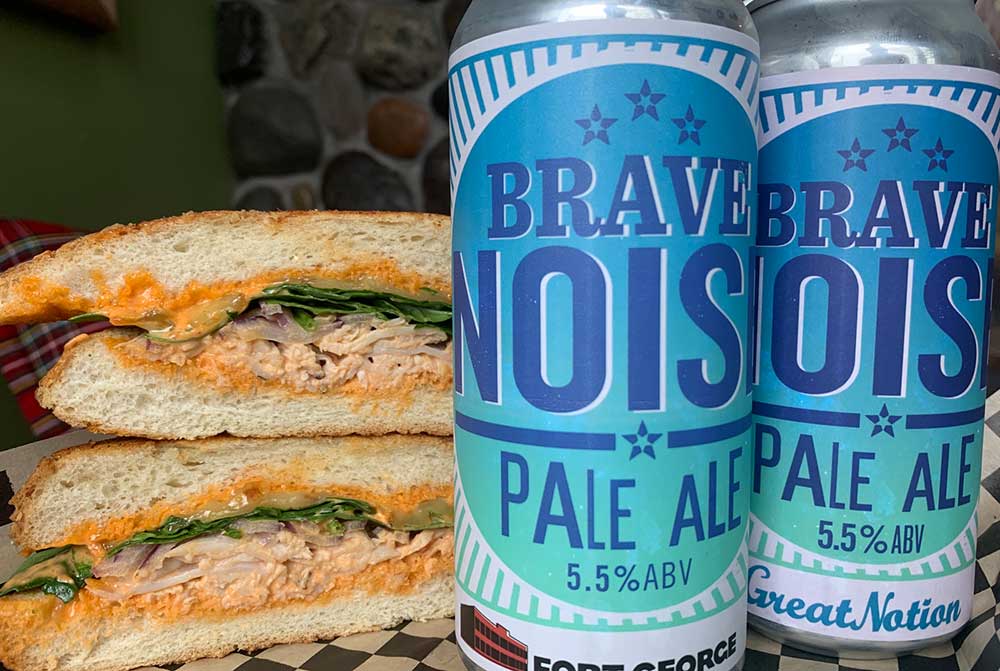 Tacoma Sandwich Special of the Day: Brave Noise
FRIDAY, JAN. 7 2022: Today's Peaks & Pints sandwich special is turkey, roasted red pepper, Gouda, mayo, red onion, and spinach on sourdough. 
PAIRING: Brave Noise Hazy Pale from Fort George Brewery and Great Notion Brewing
"Have you ever experienced sexism in the beer industry?" asked Brienne Allan on Instagram. That inquiry sent shockwaves throughout craft beer, subsequently inspiring a BEVOLUTION. To keep the momentum going; to honor those who have spoken out about their gender discrimination, racism, sexual assault, and harassment; and to bring further awareness to the issues that women, BIPOC, and LGBTQIA+ individuals face in craft beer, Fort George Brewery and Great Notion Brewing proudly brewed Brave Noise, a global hazy pale ale collaboration advocating for safe spaces and inclusive environments by requesting breweries be transparent with their policies and commit to long-term work. Grab the two hazy pales and enjoy them with our Friday sandwich special.
THING TO DO: Because of COVID, Peaks & Pints isn't fully staffed and has postponed table service. Please you're the QR codes at the tables and order from the bartenders behind the bar. Call ahead at (253) 328-5621 for pick-ups. Cheers!
LINK: Peaks & Pints full menu
LINK: The Brave Noise hazy pales and 850+ other beers and ciders are in the Peaks and Pints cooler
1

Proletariat

Sangiovese

USA

Walla Walla, WA

14%

Just Tapped

2

Argyle

Pinot Noir

Sonoma, CA

13.5%

Just Tapped

3

Proletariat

Sauvignon Blanc

USA

Walla Walla, WA

13%

Just Tapped

4

SiG Brewing

Sonic Destroyer

Hard Seltzer Cherry, Limeade

Tacoma, WA

6.3%

IBU

Just Tapped

5

Bluebeard Coffee Roasters

Nitro Cold Brew Coffee

Cold Brew Coffee

Tacoma, WA

Just Tapped

6

Rainier

Mountain Fresh Rainier Beer

Lager

Seattle, WA

4.73%

IBU

Just Tapped

7

Double Mountain

Tossed Apples

Heritage

Hood River, OR

7.3%

Just Tapped

8

Tieton

Fresh Hop Cider

Fresh Hop Cider

Yakima, WA

6.9%

Just Tapped

9

2 Towns

Chocolate Marionberry

Cider w/ Cacao Nibs, Marionberries & Vanilla Beans

Corvallis, OR

8%

Just Tapped

10

Block 15

Kriek

Kriek w/ Montmorency Cherries - Barrel Aged (Bourbon)

Corvallis, OR

7%

IBU

Just Tapped

11

Blaugies/Hill Farmstead

La Vermontoise

Belgian Saison

Blaugies, Belgium

6%

IBU

Just Tapped

12

Pike

Post Alley Pils

Pilsner

Seattle, WA

4%

IBU

Just Tapped

13

Bayern

Oktoberfest

Oktoberfest/Marzen

Missoula, MT

6%

23 IBU

Just Tapped

14

Fort George

Half Liter

Festbier

Astoria, OR

5.6%

IBU

Just Tapped

15

Equilibrium

Mmm...Osa

Pale Ale w/ Zested Oranges

Middletown, NY

4.8%

IBU

Just Tapped

16

Old Schoolhouse

Between Peaks IPA

IPA

Winthrop, WA

7%

IBU

Just Tapped

17

Stoup

In the Meantime

IPA

Seattle, WA

6.3%

41 IBU

Just Tapped

18

Fort George

Fresh IPA

Fresh Hop IPA Luminosa

Astoria, OR

6.4%

IBU

Just Tapped

19

Vice

The Freshmaker

Fresh Hop IPA

Grants Pass, OR

6%

IBU

Just Tapped

20

Spartacus Brewing

Bullet Proof

Triple IPA Hazy

Juiz de Fora, Minas Gerais, Brazil

10%

IBU

Just Tapped

21

Reuben's

Conollys Red

Irish Red Ale

Seattle, WA

6.8%

47 IBU

Just Tapped

22

Left Hand

Pumpkin Spice Latte Nitro

Stout

Longmont, CO

7%

IBU

Just Tapped

23

Aslan

B'Ham Brown

Organic Brown Ale

Bellingham, WA

5.8%

24 IBU

Just Tapped

24

Pike

Pike Kilt Lifter Ruby Ale

Red Ale

Seattle, WA

6.5%

27 IBU

Just Tapped

25

Fremont

13th Anniversary

Barrel-Aged Golden Barleywine

Seattle, WA

13.6%

IBU

Just Tapped

26

Oskar Blues

Death By Coconut

Porter w/ Coconut & Dark Chocolate

Longmont, CO

6.5%

25 IBU

Just Tapped

27

Worthy

Lights Out Stout

*contains lactose* Oatmeal Stout w/ vanilla beans

Bend, OR

7.7%

30 IBU

Just Tapped

28

Alesong

Coconut Rhino Suit

BBA Imperial Milk Stout

Eugene, OR

12.4%

30 IBU

Just Tapped
---