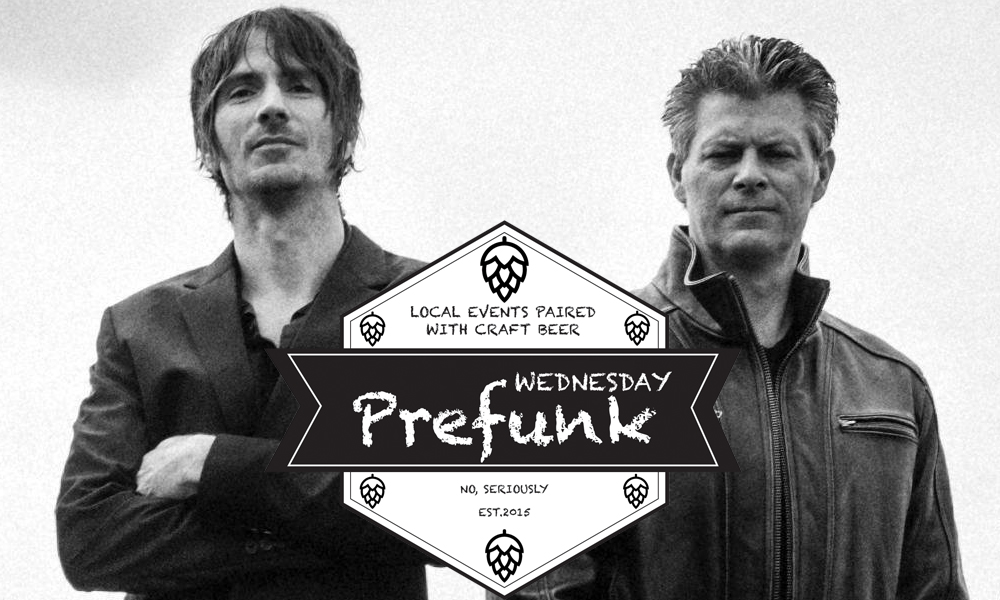 TACOMA PREFUNK WEDNESDAY, SEPT. 20 2017: Alaskan Smoked Porter and Barrett Martin and Jeff Angell
PREFUNK: Founded in 1986 by Geoff and Marcy Larson Alaskan Brewing Co. was America's 67th brewing company to open. Alaskan remains the most award-winning brewery in the history of the Great American Beer Festival and Alaskan's Smoked Porter remains the most award-winning beer in the same. While they're not everyone's favorite, Peaks and Pints is a huge fan of smoked beers. Not only do they often have a certain amount of "bacon" to them (and who doesn't love that?), they are also the perfect companions for sweet desserts, such as our S'mores Jars. The richness and density of chocolate cream base and ganache provide a great counterpoint to the sharp, salty smokiness of Alaskan Smoked Porter, bringing out more of the chocolate and tobacco flavors of the beer. Alaskan Smoked Porter pours from our Western red cedar tap log today.
1:45 AND 6:45 P.M. TO SIR WITH LOVE: Hollywood's first major black star, Sidney Poitier was frequently cast as a paragon of moral rectitude, playing martyrs and saintly integrationist heroes, such as the protagonist in James Clavell's 1967 film, To Sir, With Love. As a novice teacher facing a class of rowdy, undisciplined working-class punks this classic film reflects some of the problems and fears of teens in the 1960s. Poitier gives one of his finest performances as Mark Thackeray, an out-of-work engineer who turns to teaching in London's tough East End. Catch the flick at The Grand Cinema today.
7 P.M. BARRET MARTIN AND JEFF ANGELL: Tacoma caught of glimpse of this duo at the Music & Art in Wright Park festival in July 2012. Singer/guitarist Jeff Angell (Sedated Souls, Post Stardom Depression, Missionary Position) and drummer Barrett Martin (Skin Yard, Screaming Trees) played their bluesy-rock underneath blue skies to a crowd searching behind the band's stage equipment and around trees. Angell and Barrett were half of The Walking Papers with Duff McKagan and keyboardist Benjamin Anderson. Pure blues rock and roll, executed with the nimble fingers, creative minds and a sixth sense of boys who have been around the block, these two join forces again at Jazzbones tonight. Martin is celebrating the release of his first book and soundtrack, The Singing Earth, so he's bringing his long-running jazz band down the American West Coast, which will feature special guest vocalist Angell.
Save
---