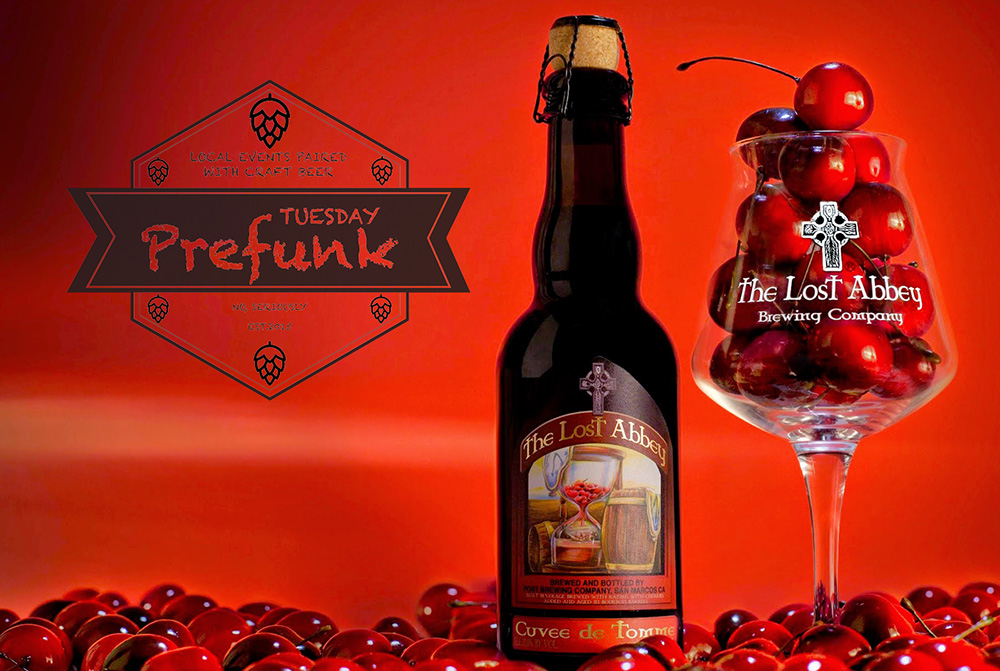 TACOMA PREFUNK TUESDAY, MAY 1 2018: The Lost Abbey and Electric Taco
PREFUNK: Peaks and Pints' Prefunk column is back! The South Sound events paired with beer column took a hiatus during our Tournament of Beer: Northwest Porters due to all the words. But, the daily Prefunk has returned, and oh is it a good one. Today, our Peaks and Pints draft craft beer suggestions are The Lost Abbey's Judgment Day (10%) and Cuvee de Tomme (11%). Judgment Day is packed with rich Belgian character. Sherry, raisins and a touch of leather carry subtle hints of smoke, culminating in an elegant bouquet. Sugary dark fruits — think cherries and raisins — splash down and seep into rich toasted bread notes and of caramel almost bordering on burnt caramel. One of the finest sour red ales outside of Belgium's Flanders region (where the style originates), Cuvee de Tomme is made by taking Judgment Day and aging it in bourbon and red wine barrels over cherries, then carefully blending the two aged versions together. The result is an award-winning brew most often seen at bottle shares, making the chance to have it on draft a must-seize moment.
1:30 AND 6:10 P.M. A BAG OF MARBLES: A Bag of Marbles (Un Sac de Billes), which is based on the popular autobiographical novel by Joseph Joffo, is simply an involving personal story set during World War II, with the highs and lows of any such tale. It's the story of two young Jewish brothers in German occupied France who, with a mind-boggling mix of mischievousness, courage and ingenuity, will be forced to fend for themselves in order to survive the enemy invasion and try bring their family back together. Catch it twice at The Grand Cinema today.
9 P.M. ELECTRIC TACO TUESDAY: Inspired by the lack of variety in dance music in Tacoma, Calvin Murphy and Omar Stokes founded Ocean Grooves Entertainment in January 1999. They started off strong that February with Monday night shows at the 6th & Proctor Bar & Grill (later became Hell's Kitchen) and dedicated Mondays to underground dance music showcasing various DJs from Seattle, plus Tacoma favorites such as Donald Glaude and DJ dAb. Ninteen years later, Ocean Grooves Entertainment are still throwing DJ parties, including Electric Taco Tuesday the revamped Airport Tavern on South Tacoma Way.
---