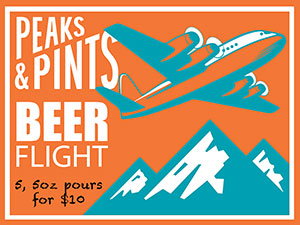 California is the birthplace of the American craft brewing movement. In 1965, recent Stanford graduate Fritz Maytag bought a controlling interest in the ailing Anchor Brewery and soon was brewing authentic, artful beers and reintroducing lost styles. He proved that Americans were ready for a different kind of beer; beer with flavor, diversity and history. Anchor Brewery became the first "craft" brewery since prohibition and was the inspiration that sparked a revolution in brewing. Today, more breweries call California home than any other state in the nation. As of December 2017, more than 900 craft breweries are in operation across the state, more than any other state in the nation. Peaks and Pints focuses it daily beer flight on California. Stop by and enjoy Craft Beer Crosscut 5.1.18: A Flight of California.
North Coast Scrimshaw Pilsner Style Beer
4.7% ABV, 22 IBU
FORT BRAGG, CALIFORNIA: Everyone loves a good Pilsner and this one's a classic. Named for the delicate engravings popularized by 19th century seafarers, North Coast Brewing's Scrimshaw is a fresh tasting pilsner brewed in the finest European tradition using Munich malt and Hallertauer and Tettnang hops. It pours a honey gold with a frothy, white head. Grains and soft hop notes abound in the aroma. The swallow is closer to a pale ale, starting with ample two-row malt sweetness, followed by lemony, zesty hop tastes. The perfect carbonation and light body create a smooth, creamy mouthfeel with a crisp, dry finish and mild fruity aftertaste. It's not trying to do anything fancy — it's just a very well-balanced pilsner. It's not a hop bomb, or a malt showcase. It's just clean, thirst-quenching lager.
21st Amendment Not Your Cup of Tea
9% ABV, 24 IBU
SAN FRANCISCO, CALIFORNIA: The 21st Amendment Brewery has launched a new series of beers called Tales from the Kettle, and the first release is Not Your Cup of Tea, a Scottish-style ale brewed with black tea. Each new beer in the series will come from an employee home-brew competition judged by members of the San Francisco Brewers Guild. Team "Slainté to the Queen" — 21st Amendment's graphic designer, a server at its pub, its Chicago sales rep and one of its maintenance technicians — is this year's winner and they tell their tale through a one-of-a-kind, exceptional Scottish-style ale brewed with black tea they call "Not Your Cup of Tea." We can't taste the black tea so much but we can taste caramel, molasses, earth, slight cocoa, touch of plum, little prune and plenty of peat smoke with additions of charcoal. It hides the 9 percent ABV well.
Bear Republic Sonoma Pride Blonde Ale
5.5% ABV, 26 IBU
HEALDSBURG, CALIFORNIA: Napa and Sonoma County fires burned an estimated 200,000 acres, 8,300 homes and businesses, and claimed many lives. As firefighters reign in the devastation, the question, overwhelmingly, has become how to help. Bear Republic Brewing Co. is fundraising with signature Sonoma Pride Blonde Ale with all proceeds going toward wildfire victims in Sonoma County — King Ridge Foundation and the Bear Republic Brewing Company employee fire relief fund. This blond is brewed Northern Sonoma County style with Super Galena, El Dorado, Citra and Ekuanot hops for a juicy flavor and aroma, complimented by a soft malt character.
Knee Deep Keepin' It 100
6.5% ABV, 42 IBU
AUBURN, CALIFORNIA: Have you ever wondered what Drake means in his song "Too Much" when he says "Don't run from it, like H-town in the summertime, I keep it 100?" Or what Larry Wilmore's "Keep It 100" segment is all about on The Nightly Show? Why is everyone so obsessed with 100 and what does "keeping it" there mean? According to the Urban Dictionary, Keeping it 100 (or keeping it one "hunnit," an alternative way of saying the same thing) means to be you, be honest, be true to yourself and the people you love, be unapologetic but respectful at the same time, and be the best at what you do. Knee Deep Brewing brewed a bitter, moderately strong American pale ale called Keepin' It 100, which uses a clean, supporting malt to showcase its hop character. It's all about being an honest beer — clean and hoppy.
AleSmith Speedway Stout
12% ABV, 70 IBU
SAN DIEGO, CALIFORNIA: Crashing in with an ABV of 12 percent, AleSmith Brewing's Speedway Stout goes a step farther than most coffee-flavored stouts and porters (which derive their flavor from roasted malts) and includes an unspecified amount of ground coffee in the brewing process. The result is an intimidatingly dark beer that pours smoothly, leaves very little head, and is surprisingly light and easy to drink. The coffee flavor dominates: the beer is reminiscent of a freshly brewed iced coffee with hints of chocolate and caramel. It finishes with just a tinge of alcohol, which helps to cut the richness of the flavor and leaves you feeling warm, though whether that's because of the alcohol or the coffee, we're not sure.
---