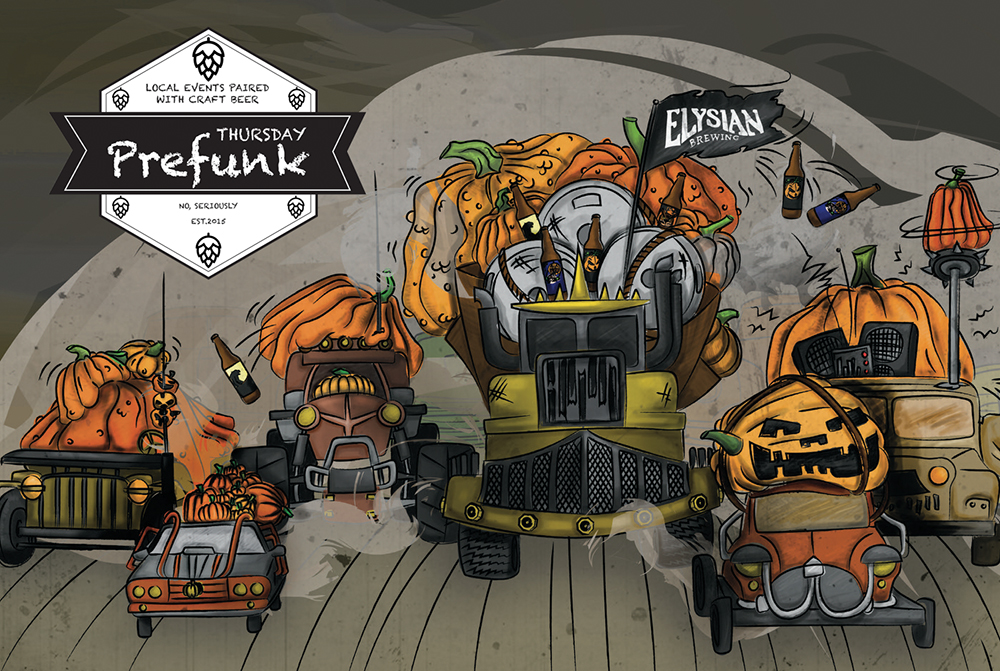 TACOMA PREFUNK SEPT. 21 2017: Elysian Pumpkin Roadshow and Creative Colloquy
PREFUNK: During the Elysian Brewing Pumpkin Roadshow at Peaks and Pints tonight at 6 p.m., the Seattle brewery will serve pumpkin beer out of an actual hollowed-out giant pumpkin flowing through a tap, orange spheres will fly through the air into Solo Red Cups and a giant jar of pumpkin seeds will wait for the best count guess. No, we do not mess around with autumn celebrations here at Peaks and Pints. Indeed, Peaks and Pints will host the annual Tacoma Elysian Pumpkin Roadshow, a prefunk to the Seattle brewery's grand pumpkin affair that includes 80-plus pumpkin beers Sept. 29-30 — the Elysian Great Pumpkin Beer Festival at the Seattle Center. Peaks and Pints will pour eight Elysian pumpkin beers, including exclusive Gourd Father Barleywine, Blight Pumpkin Ale with spiced Japanese cinnamon, Dark Knife Pumpkin Saison and Cursed Hearse Pumpkin Schwarzbier. In addition to the pumpkin beers, we'll present a pumpkin firkin, pumpkin beer pong, pumpkin seed guessing contest, pumpkin goblets and many giveaways, including a pair of tickets to Friday and Saturday versions of the Great Pumpkin Beer Festival in Seattle.
7:30 P.M. CREATIVE COLLOQUY: Since 2014, writer Jackie Casella has mined Tacoma's rich literary talents and fostered relationships built upon mutual admiration of the written word. Her Creative Colloquy is a monthly celebration of the written word where brilliant South Sound writers tell stories. For the first time, Creative Colloquy will be participating with the third Thursday festivities of Tacoma Art Walk. Join CC in the Old Post Office lobby for Lift Bridge Coffee and a special sneak peak at Creative Colloquy Volume Four.
8:30 P.M. COMEDY: The details are limited but the comedy isn't. Bob's Java Jive's Comedy Cathedral hosts a "charitable spaghetti feed of laughs" with host Taylor Bonzer and 15 comedians including Kristopher Brannon, Isaac Campbell-Smith, Mihkel Teemant and Bradley Klos.
Save
---