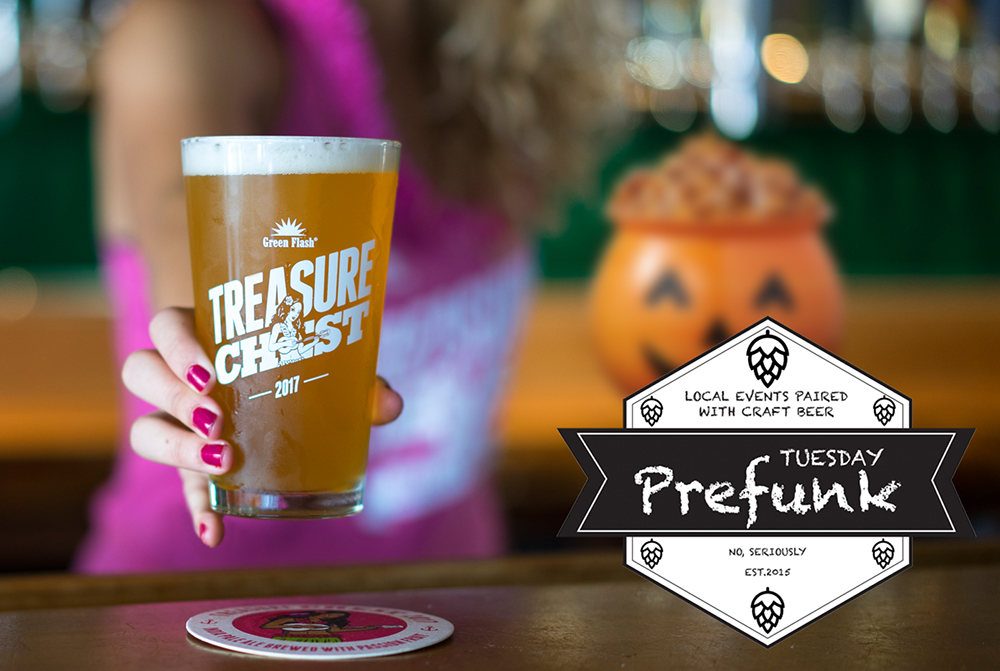 TACOMA PREFUNK HALLOWEEN, OCT. 31 2017: Green Flash Treasure Chest and The Battle of the Sexes
PREFUNK: In 2011, Green Flash Brewing Company launched the Treasure Chest program, an annual breast cancer fundraiser for Prevent Cancer Foundation nationally, and the Susan G Komen affiliates in their brewing cities of San Diego and Virginia Beach. This is the craft brewery's 7th annual beer release and special event series to raise funds for breast cancer charities. This year, the new Treasure Chest beer released for the program is an IPA brewed with passion fruit, and it will be available on-draft in 37 US states, including Peaks and Pints in Washington state tonight. Green Flash has chosen Peaks and Pints to host the annual greater Tacoma party, which will be held at 6 p.m. Join Green Flash District Sales Manager Bryan Lee for a night of dank beers, giveaways and fundraising for a great cause. Peaks and Pints will pour plenty of craft beer from Green Flash and its sister brewery, Alpine Beer Company, including Green Flash Spanish Trampoline IPA, Alpine Nelson IPA, Alpine Windows Up IPA, Alpine Duet IPA, Alpine Hoppy Birthday session IPA, Green Flash West Coast IPA, Green Flash Imperial IPA and the exotic pink Treasure Chest 2017 IPA. Green Flash will donate $1 from every Treasure Chest IPA poured at Peaks and Pints tonight to the cause, as will the brewery's local distributor, Marine View Beverage, and a donation Peaks and Pints will match! We encourage your to dress for Halloween, too.
4:10, 6:45 AND 9:20 P.M. THE BATTLE OF THE SEXES: The electrifying 1973 tennis match between World number one Billie Jean King and ex-champ and serial hustler Bobby Riggs was billed as The Battle of the Sexes and became the most watched televised sports event of all time. The match caught the zeitgeist and sparked a global conversation on gender equality, spurring on the feminist movement. This is a story that's been begging for a Hollywood telling since 1973. The Grand Cinema screens the showdown.
8 P.M. OPEN MIC: Open mic nights are a gamble, no matter which side of the mic you're on. As a performer you're laying bare your songcraft and hoping the audience applauds; as a listener you have to contend with this songcraft-baring and hope it goes down easy. This tension is nicely dissipated at the North End Social Club's open mic, held each Tuesday. Helmed by the easy-going Kim Archer, an amazing guitarist and singer in her own right, this laid-back night attracts very talented singer-songwriters. Tonight, expect to hear songs plucked from local notebooks and, no doubt, cover songs as it is Halloween. They'll be drink specials and prizes for best costumes.
Save
---