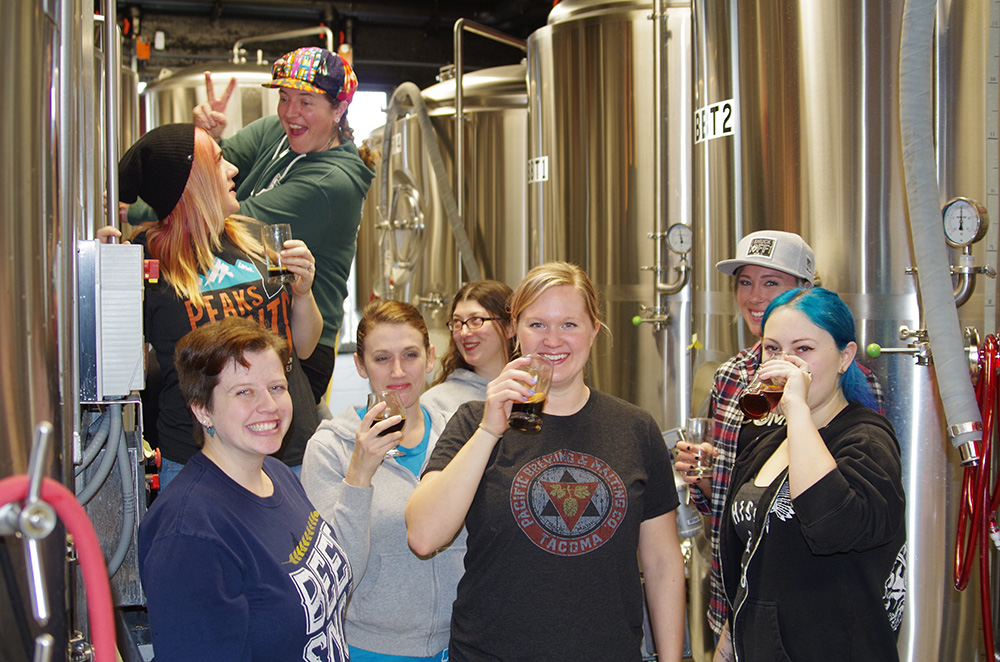 Craft beer is an equal opportunity industry. Because much of it has its roots in the home brew scene, it is not a world dominated by the pasty white European males that long ruled the fermenters. Most likely a woman invented beer. The oldest beer recipe is in The Hymn to Ninkasi, referring to the Sumerian goddess of brewing. Other cultures also attribute beer to a goddess. Brewing beer became masculinized by culture. It is in a woman's heritage to brew.
Enter the Pink Boots Society, a nationwide nonprofit network of women whose livelihood comes from the making, distributing and pouring of foamy malted beverages. Recently, the South Sound chapter brewed Ladies Of The South Sound Pink Boots Collab 2018 at Pacific Brewing Company, with the release party at 5 p.m. Tuesday, March 20 at Peaks and Pints bottle shop, taproom and restaurant in Tacoma's Proctor District.
Commercial brewing is a messy business, so large rubber boots are the footwear of choice, and the number of women who wear those boots, pink or not, is a testament to gender diversity in the industry.
"I didn't really know many women in the industry when I started brewing," says Stacey O'Connor, formerly a cellarman of Fish Brewing Co. who now works at Cascade Brewing & Homebrew Supply in downtown Olympia. "Since joining the industry I have met so many hardworking and inspirational women. There are amazing women in beer that are brewing up inspiration in every pint."
Like most people in the beer industry O'Connor began her craft beer career as a homebrewer. "Homebrewing was a way to first copy my favorite craft beers and then experiment with new flavors and ingredients."
O'Connor and seven other women joined Pacific Brewing Head Brewer Bethany Carlsen March 2 brewing Ladies Of The South Sound Pink Boots Collab 2018, a hoppy pilsner meets a session IPA.
"That day at Pacific Brewing and Malting I was more of a participant but Bethany was great at keeping everyone involved in the brewing process," adds O'Connor.
"I did my best to answer questions that came up throughout the process," says Carlsen. "A lot of the ladies already knew how beer was made or were brewers themselves so it wasn't a whole lot of brewing process explaining."
In 2010, Carlsen entered craft beerhood, striving to visit every new brewery. "I have always had an interest in food science and cooking so brewing was not a far leap. I started home brewing, meeting brewers when I had the opportunity, and soon realized how awesome of an industry it is. What I really noticed was that brewers truly loved their jobs and had such a passion for their creations. I worked hard to get my foot in the door with a brewery, and landed an assistant brewing job at the Ram in Seattle where I learned how to brew professionally."
Carlsen names Teri Fahrendorf — who after 19 years in the beer business founded the Pink Boots Society in 2007 — as her inspiration. "I was lucky to have been introduced to her early on in my career by her friend Kevin Forhan, who I was training with at the time." The Pink Boots Society is a non-profit organization helping women in the brewing industry network and succeed through scholarships and mentoring.
Another professional brewer who had a hand in Ladies Of The South Sound Pink Boots Collab 2018, Stephanie Leach is co-owner of North 47 Brewing Co. in Tacoma's Browns Point neighborhood. "I started homebrewing with my husband as just a fun hobby, around eight years ago.  "As our beer got better, and we wanted to start a business, a brewery seemed like the perfect fit." North 47 opened in November 2015.
"I was a college graduate that wasn't finding a job in that related field and as a long time craft beer drinker I got a part time job stacking boxes at Fish Brewing Co.," tells fellow South Sound Pink Boots Collab brewer Jada Peters. "Eight years later, I am still very passionate about everything fermentation and beer." Peters found inspiration from Jenn Gridley who worked at Fish Tale in the early 2000s before women were as excepted in the industry. "She worked on an equal level with all the men. Although I did not work with her directly I got to know her and found her to be a strong independent lady."
The trends in the industry are really opening the doors to women. With the growing popularity of barrel aging, sour beers and saisons, more and more women trying something outside of their usual wine or mixed drink bias. With the need to cater to a growing feminine customer base, breweries, distributers and retailers are seeking women to direct beer selections and performing quality control. It's a scientific fact that women have more taste buds than men — which is not to say that there aren't men out there that have really well developed palates, but only a woman can taste what other women are going to taste when they order that craft beverage.
What also unites the South Sound group is a love of beer and a desire to lift each other like bubbles in a glass.
"The Pink Boots campaign is about camaraderie too," adds bartender Kristen Marlo, who joined fellow Peaks and Pints staff member Beth Wort, Pacific Brewing bartender Becca Graff and Odd Otter Brewing distribution manager Rose Wolfe, Brew Dog Tacoma employee Kelly Perini brewing the special beer. "Pink Boots creates a space for our common interests, which unites us. It gives those of us who love and appreciate craft beer a place to go and hangout with each other while we craft something we enjoy drinking." Odd Otter manager Carolyn Merling, who participated in past Pink Boots events, couldn't attend the brewing session, but supplied the doughnuts.
The nine women added Pilsner Malt from Skagit Valley Malting to the Ladies Of The South Sound Pink Boots Collab 2018 (5.8% ABV, 40 IBU) giving it a crisp and clean finish. Flavor and aroma of pear, citrus, mango, and hints of spice and pine needles come from loads of Azacca and Australian Ella hops.
"It's an easy drinking springtime beer," says Carlsen.
The professional women brewers offer some advice for women thinking of joining the craft beer industry.
"There are lots of ways to get started in brewing, but it starts with taking the first steps," offers O'Connor. "That may be joining a homebrew club, taking brewing classes, or even just volunteering to help out at your favorite brewery. Just find the time and make it happen."
"Let your skills and abilities shine through and people will recognize you for what you can do not by your gender," says Peters. "Keep pushing for equal pay because the more women who speak up the more change we can create in for the future."
"It's a fun and rewarding career," adds Carlsen. "Get your foot in the door anywhere you can, work hard, network, and the opportunities will present themselves."
"Go for it!" Encourages Leach. "It is a great industry with friendly people."
LADIES OF THE SOUTH SOUND PINK BOOTS COLLAB 2018 RELEASE PARTY, 5 p.m., Tuesday, March 20, Peaks and Pints, 3816 N. 26th St., Basecamp Proctor, Tacoma, no cover
---