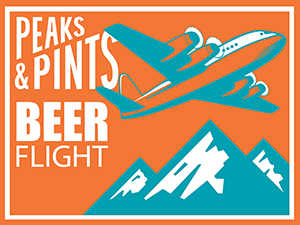 Peaks & Pints presents a to-go flight of Pike Brewing beer today. Does this flight thrill you? It should. Pike Brewing has a new look, new recipes, new brewers. It includes new beers, a brand redesign, and it's brewed by two beer industry accomplished women. Peaks and Pints Pilot Program: New Pike Brewing Beer Flight marks many a change — quite frankly, for the better.
Oct. 17, 1989, Charles and Rose Ann Finkel opened the Pike Place Brewery, as it was then known, in the old Liberty Malt Supply space under the Pike Place Market on Western Avenue in downtown Seattle. At the time there were only three other craft brewers in Washington state and IPAs were hard to find on tap or in bottle. A lot transpired at the brewery since, much more than the name change to the Pike Brewing Company. The husband-and-wife duo sold the company and Seattle brewery in January 1997 but re-acquired both in May 2006. And, while the craft beer industry has seen an extraordinary amount of growth, particularly in Washington state, Pike Brewing always seemed to be a few steps behind the growth and modernization. No more.
In May, 2021, Portfolio holding company Seattle Hospitality Group, or SHG, announced it invested in Seattle's Pike Brewing Company. Pike Brewing President Drew Gillespie described the deal as creating a partnership. Gillespie remained on the Pike's executive team, along with founder Charles Finkel. Conversations between Pike and SHG started in 2018, but COVID-19 and the passing of Pike Brewing co-founder Rose Ann Finkel, Charles Finkel's wife, delayed the deal until last spring.
"I designed Pike Brewing to be a hundred-year-old brewery like those I worked with in Europe years ago," Finkel said in a media release. "I'm 77-years-old, and I was looking for the right partner to help Pike's legacy live on. SHG's focus on iconic businesses and understanding of the Pacific Northwest experience made them the perfect partner to achieve that 100-year goal and beyond."
With the SHG investment comes a modern brand redesign, including can labels, and two new faces in the brewhouse: Head Brewer Leslie Shore and Brewery & Quality Manager Barbara Beaver. Shore spent six and a half years as lead brewer at Reuben's Brews where she managed the Pink Boots brews, as well as other semi-annual beers. After she graduated from The Institute of Brewing and Distilling in London this past spring, she began updating the Pike classic recipes, created new beers and launched a pilot beer program. Beaver hones her skills as a research technician at Hopsteiner, a lab technician at Elysian Brewing, and a quality technician and quality coordinator at Georgetown Brewing — a total of 10-plus years behind a microscope, including brand development.
One last note before you begin drinking today's to-go flight — Pike Brewing will open Pike Ballard in Seattle's unofficial brewing district, Ballard this fall.
Peaks and Pints Pilot Program: New Pike Brewing Beer Flight
Pike Post Alley Pils: New beer, crisp, clean, crushable, 5.5%
Pike Kilt Lifter Scotch Ale: Smooth, amber, Scotchy, 7.6%
Pike Monk's Uncle: True tripel, Belgian fruity yeast, 9.9%
Pike Uptown Hazy IPA: New beer, Pillowy, smooth, tropical, 6.2%
Pike Space Needle West Coast IPA: Updated recipe, pine, citrus, 7.2%
LINK: Peaks & Pints cooler inventory
---