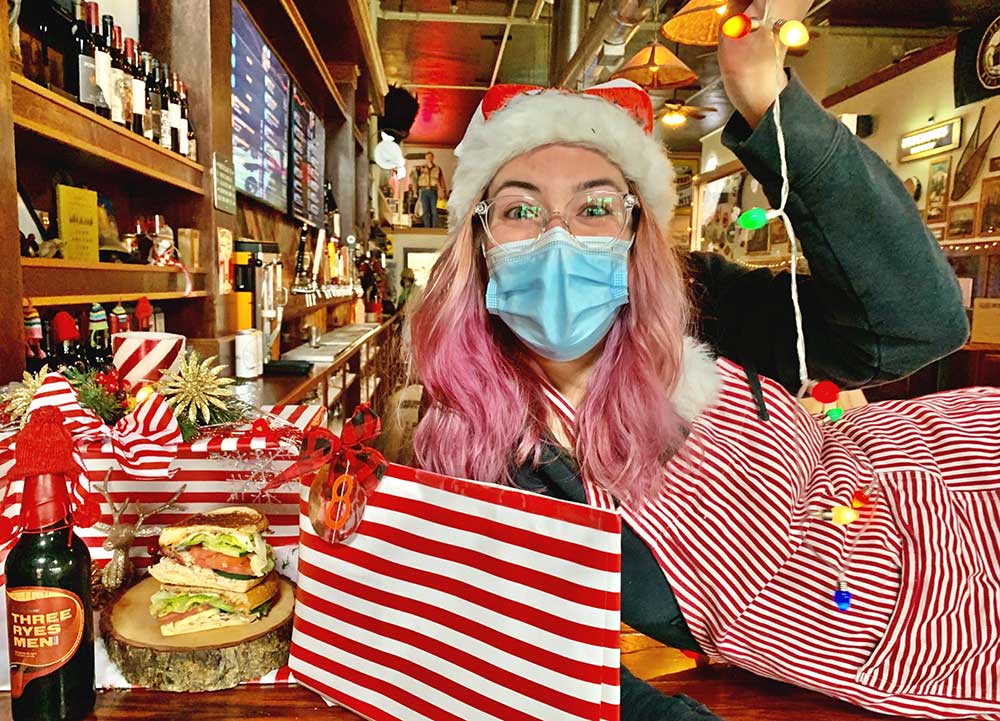 Peaks & Pints presents Adventwiches Beeralendar Day 8: Sandwich Baby
"Santa cutie, there's one thing I really do need — Peaks & Pints' sandwich special and Reuben's Brews' Three Ryes Men barrel-aged barleywine, so hurry to the Proctor District today!"
Peaks & Pints celebrates the season with our Adventwiches Beeralendar — a daily advent calendar featuring a sandwich special and a winter beer behind a festival door. Today we open the Day Eight window revealing Sandwich Baby and said multiple award-winning barleywine.
Kitchen Kylee's Sandwich Baby is turkey, bacon, Swiss, spicy mayo, tomato, cucumber and romaine on sourdough with Peaks bartender Nicole adding, "I've been an angel all year," as she hopes Santa delivers  Reuben's barrel-aged barleywine brewed with multiple types of rye and aged in whiskey barrels, featuring a full body with malt driven caramel and chocolate notes, and layers of warming complexity.
Order the sandwich special ahead at 253.328.5621, and we'll have it ready for you when you grab Three Ryes Men, or any of our 800-plus other craft beers, cider and wine.
Holiday and Winter Beers in the Peaks & Pints Cooler
Anchor Christmas Ale
Bosk Krampus Bock
Deschutes 2020 Jubelale
Double Mountain Fa La La La La
Dupont Avec Les Bons Voeux
Guinness Gingerbread Stout
Hair of the Dog Doggie Claws Barleywine
Huyghe Delirium Noel
Maritime Pacific Jolly Roger Christmas Ale
Port Brewing Santa's Little Helper
Reuben's 3 Ryes Men
Reuben's Holiday Gose
Reuben's Reuben Claus Peppermint Porter
Rogue Yellow Snow
Saint Bernardus Christmas Ale
Shmaltz Hanukkah Beer
Silver City Old Scrooge Christmas Ale
StormBreaker Barrel-Aged Winter Coat
Wingman Noel Winter Belgian Ale
---