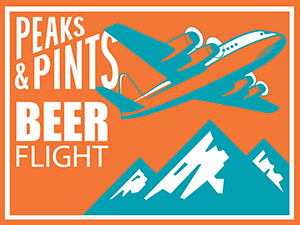 Every December — while the bartenders close down our Proctor District craft beer bar, bottle shop and restaurant for the night — Peaks & Pints co-owner Pappi Swarner grabs three holiday beers, heads upstairs to his office, cranks his computer speaks to an 11 and watches holiday Youtube videos. Obviously, he can't perform his holiday tradition this year … at Peaks & Pints. No, his holiday happiness now takes place inside his home, much to the chagrin of his wife and daughter. In the spirit of giving, we offer you the chance to share his joy. Today, he pairs the three Christmas season beers below with a holiday commercial for the E.T. Atari 2600 game — one of the most epic video-game bummers ever: 1982's E.T. the Extra-Terrestrial. The release of the infamously wretched E.T. was a dark day in Atari 2600 history — probably the darkest. This highly anticipated, magnificently botched game turned out to be so unsalvagably crappy, they had to bury the unsold copies in a mass grave in Alamagordo. Anyway, drop by our Proctor District craft beer bottleshop (and crowler-fill bar) for Peaks and Pints To-Go Christmas Beer Flight: E.T.
Peaks and Pints To-Go Christmas Beer Flight: E.T.
Aslan King Moonracer
5.8% ABV
This year's Aslan Brewing King Moonracer winter ale was brewed with cinnamon, nutmeg, ginger, and allspice — akin to fresh baked snickerdoodle cookies. The spices blend with the malt's sweetness to create rich and decadent flavors of toffee, cinnamon bread, and candied ginger while the hop bitterness balances everything out — leaving you feeling like you just sipped a great cup of coffee. Bonus: Every year, a different employee at Aslan has the opportunity to design the King Moonracer label. This year's label was designed by the talented Bobby Bruce (@bxpacific).
Brasserie d'Achouffe N'Ice Chouffe
10% ABV, 25 IBU
When the little animals in Fairyland hibernate, the Achouffe gnomes love to gather in their cottage. By the gentle firelight, they spend long evenings telling the best Ardennes stories while enjoying Brasserie d'Achouffe N'Ice Chouffe. This winter beer is brewed with thyme and curaçao orange peel, spices similar to those found in Belgian wits, but with its clear amber appearance and foamy tan head, this beer doesn't resemble any other style. Starts off with sweet citrus and malts then dark fruits, berries, nutmeg, cinnamon, thyme and hops sled down the tongue. The beer is very sweet, but not cloying or sticky — just full-bodied with lingering hints of cherry and raisin in the finish.
Fremont Bourbon Barrel Aged Dark Star: Spice Wars 2020
12.7% ABV, 50 IBU
Dip you nose into this year's Fremont Brewing Bourbon Barrel Aged Dark Star: Spice Wars and vision of holiday cookies will dance in your head. Vanilla, cinnamon, nutmeg, allspice, ginger and cloves — like a molasses spice cookie. Of course, the real key to it is the exemplary, velvety imperial stout underneath. This year's release is a blend of 24, 18, 12, and 8-month Bourbon Barrel-Aged Dark Star in 7-12-year old Kentucky bourbon barrels. This special edition adds winter spices to complement the smooth oats and bring you a stout delight wrapped in the gentle embrace of bourbon barrel-aged warmth. A touch of sweetness dances in balance with the hops to finish with a wave.
---