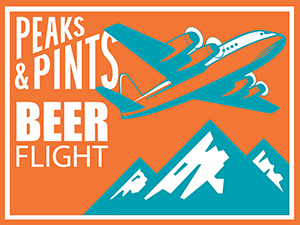 February kicked off yesterday with a New Moon in Aquarius ushering in the energy of new beginnings and change, and today, we will experience what some are calling the first of the last three 222 days of the century, occurring Feb. 2, 2022, Feb. 20, 2022, and Feb. 22, 2022. In numerology, the 222 sequence of numbers are often referred to as Angel Numbers. Also, the number 2 in numerology references the energy of duality, partnership, relationship, and balance. The key lessons when dealing with the number 2 are generally centered around compromise, acceptance, compassion, cooperation, harmony, and craft beer. Craft beer? Sure, there are plenty of 2's in craft beer as you'll discover in today's to-go flight: Peaks & Pints Pilot Program: Twosday On the Fly. Bonus: Peaks & Pints invited Two Beers to tap two of their beers and run them through our double Randle Coleman Cooler beginning at 6 p.m. tonight.
Peaks & Pints Pilot Program: Twosday On the Fly
Double Mountain Sally Can Wait
5.9% ABV, 23 IBU
Double Mountain's Sally Can Wait Dark Export Lager is an ode to 1990s Britpop — specifically Oasis' "Don't Look Back In Anger." The crisp, malt and yeast driven dark lager will dampen the sandwich's spirit, much like Noel Gallagher leaving his brother, Liam, and their Oasis band, for cosmic pop music. Bonus: Double Mountain brewers created the accompany Spotify playlist "Sally Can Wait" to pair Britpop with their lager.
Two Beers Wonderland Trail IPA
7.1% ABV, 84 IBU
Two Beers Brewing founder Joel VandenBrink hiked the 93-mile trail circumnavigating Mount Rainier solo. He dreamed of above 80 International Bitterness Units while hiking through Mystic Camp at 5,570 feet. He believed he could push an IPA close to the alcohol by volume mark of a double IPA as he trudged along the South Mowich River. He drew inspiration mixing strong citrus flavor hops with hops boasting earthy, pine characteristics while traversing along a ridge to Devil's Dream Camp. Wonderland Trail IPA is the product of nearly two years of recipe development. Featuring a seamless blend of Washington-grown hops, this flavorful Northwest-style IPA is brewed with Cascade, Amarillo, Mosaic and Citra hops complemented by 2-Row, Vienna, and Munich malts. On the nose, a slightly sweet aroma of tangerine is followed by a wave of citrus and passionfruit on the palate, finishing clean and refreshing.
Oskar Blues Double Dales
9% ABV
This year marks the 20th anniversary of Dale's Pale Ale, the voluminously hopped, groundbreaking American Pale Ale that holds the distinction of being the first craft beer ever packaged in a can. To mark the milestone, Oskar Blues Brewery released Double Dale's Imperial IPA, a double-take on the beer that started it all. Double Dale's is brewed with juicy, tropical El Dorado and complex Talus hops, keeping with the Dale's tradition of utilizing only American hops. Fruity, piney flavors from the hops mingle with a caramel-driven malt bill.
Lumberbeard Two Pumps This Time
10% ABV
Bret Gordon left the University of Colorado with a degree in Economics and a passion for craft beer. He continued into the finance world, probably sipping an Avery Brewing beer here and there.  It didn't take long for him to realize that being at a desk was not for him and he wanted to become a professional brewer. That passion led him and his family to California where he went back to school to earn a Professional Brewing Certificate at the University of San Diego. He swore he would never go back to school, but beer will make you do some crazy things. From there, Gordon worked as a professional brewer for several years at SoCal breweries, including The Bruery. In 2018, Gordon and his family traveled north to Spokane and opened Lumberbeard Brewing, a 20-barrel brewhouse on the east end of downtown. Their Two Pumps This Time pastry stout is brewed with vanilla, lactose and Indaba coffee beans for subtle sweetness followed by a mouthful of roasted coffee and vanilla.
Evil Twin Retro Series: Lil B
11.5% ABV
Jeppe Jarnit-Bjergsø, the founder and man behind Evil Twin Brewing, was a physics and English teacher in his native Denmark before starting Copenhagen's Ølbutikken, a highly regarded beer store. He's also an evil twin himself. His brother, Mikkel Borg Bergsø, brews under the Mikkeller label. Jarnit-Bjergsø, however, has done his best to outshine the good twin. He founded Evil Twin in 2010 as a nomadic brewery. Like his brother Mikkel, Jarnit-Bjergsø would concocts a recipe for his beer and hand it to another brewery with some extra capacity. In 2012, Jeppe Jarnit-Bjergsø moved it to Brooklyn and relocated there with his family, opening the beer bar TØRST the same year. In November 2018, he'll finally open a permanent production facility in Brooklyn's Ridgewood neighborhood. Evil Twin has reimagined their classic imperial porter, Lil B. It hits the nose with rich, dark malt, hints of roasted grain, dried fruit, prunes, figs, molasses, brown sugar, subtle chocolate, a touch of coffee, and a warming whiff of booze. The tongue follows the nose with dark, fruity malt with notes of dried fruit, prunes, figs, fruit cake, molasses, brown sugar, mild roasted grain, chocolate, subtle coffee, and a touch of alcohol.
LINK: Peaks & Pints cooler inventory
---