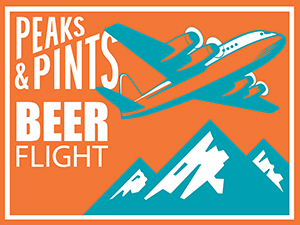 Nov. 15, 1980: 26-year-old Ken Grossman brewed his first commercial beer, four years after launching his home-brewing hobby. There were just 40 breweries of all makes in the country, with sales dominated by Coors, Miller, and Budweiser. From modest beginnings on a 10-barrel brew system, Grossman now owns and operates the largest independent brewery in America ― Sierra Nevada Brewing. Grossman's second batch, Sierra Nevada Pale Ale, boasted 36 IBUs, at least thrice as high as Bud Light. Peaks and Pints doesn't know how many times we've heard someone say they tried a Sierra Nevada Pale Ale on a whim in the 1980s, and that was all she wrote. Sierra was their introduction to the world of craft beer. The bitter hops were a palate shocker — a proverbial beer awakening. In celebration of tonight's Sierra Nevada Torpedo Hunger — a benefit for Feed253, a non-profit to help fill the gap for folks dealing with food insecurity in Tacoma — Peaks and Pints presents a to-go flight of Sierra Nevada craft beers, Peaks & Pints Pilot Program: Sierra Nevada Beer Flight.
Peaks & Pints Pilot Program: Sierra Nevada Beer Flight
Sierra Nevada Wild Little Thing
5.5% ABV, 7 IBU
Sierra Nevada has reached out to younger and non-beer drinkers with this slightly tart and hazy ale with a bright pink pop of color. Wild Little Thing is a highly refreshing, slightly sour ale with just the right smack of tartness. Brewed with hibiscus, guava, and strawberry, it hits the nose with cherry, strawberry, blueberry, and grape. Strawberry flavors are there, sure, but we also get cherry, blueberry, and apple. The finish is long with a surprisingly thick, coating mouthfeel.
Sierra Nevada Pale Ale
5.6% ABV, 38 IBU
Sierra Nevada's Pale Ale has been the beer drinker's gateway craft brew for more than three decades. Peaks and Pints doesn't know how many times we've heard someone tell us that, for some reason, they ordered a Sierra Nevada Pale Ale at a bar instead of a Bud or Coors. And that this seemingly insignificant decision in their life was transcendent. No longer would they settle for watered-down corporate beer. Sierra was their introduction to the world of craft. To the possibility of bitter hop flavors. It was a palate shocker. The proverbial beer awakening. BTW, generous quantities of premium Cascade hops give the Pale Ale its fragrant bouquet and spicy flavor.
Sierra Nevada Celebration Ale
6.8% ABV, 65 IBU
Now that it's wintertime, where do all the hops go? They're currently hibernating in this yearly seasonal from California's Sierra Nevada brewery. Amid the many big and malty winter ales, Celebration Ale provides a comfortable winter home for the season's displaced hops. A little darker than the average American IPA, this ale has a citrusy, piney, and resinous hop character and a medium body.
Sierra Nevada Torpedo Extra IPA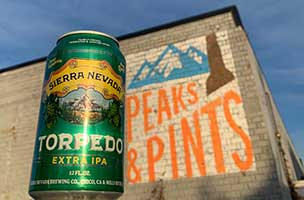 7.2% ABV, 65 IBU
On a bar napkin in the early 2000s, Ken Grossman and his Sierra Nevada crew sketched a new way to dry hop beer. Traditional dry hopping uses nylon sacks stuffed with hops and suspended in the tank. They found that as they removed the hop sacks, even after weeks suspended in beer, they'd occasionally find the center to be dry, meaning that the hops never encountered the beer. Sierra Nevada thought there had to be a better way and in 2009 that idea became a reality with the invention of the Hop Torpedo. The Torpedo is a stainless-steel device packed with whole-cone hops and sealed against pressure. Fermenting beer is circulated out of a fermenter, through the column of hops, and back into the fermentation tank. This circulation method is easily manipulated through time, temperature, and speed. They can control what types of flavors and aromas they extract from the hops and how those aromas will appear in the finished beer. The Chico brewery fired up its hop torpedo and brewed Torpedo Extra IPA. The device's namesake beer is an aggressive yet balanced beer with massive hop aromas of citrus, pine, and tropical fruit.
Sierra Nevada Narwhal Imperial Stout
10.2% ABV, 60 IBU
As black as midnight, Sierra Nevada's Narwhal Imperial Stout is one of the driest imperial stouts you'll come across. Roasty, too, but with an uncharacteristically wave of deep, dark fruitiness, ending in medium-high bitterness and substantial alcohol burn. The sweetness and hops are moderate and just enough to blend in with the dark fruit, chocolate and coffee flavors and aromas, to keep a balance. A slight touch of extra bitterness at the end, and no alcohol aftertaste or hotness, help leave a clean finish.
LINK: Peaks & Pints cooler inventory
---
Category:
Beer Flight
,
Beer Line Blog
,
Craft Beer
,
Critical Drinking
,
Events and Festivals
,
Houses of Craft
,
In The Cooler
,
News and Updates
,
Peaks and Pints Lodge Meetings
,
Peaks and Pints Pilot Program
,
Proctor District
,
Shop
,
South Sound
,
Specials
,
Tacoma events
,
Tacoma Strong