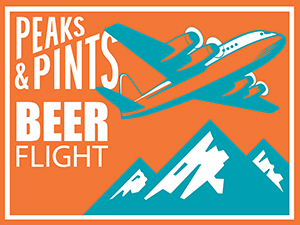 Collaborations between breweries aren't exactly new, but their results have become a much more common sight in Peaks and Pints' cooler lately. Collaborations can give brewers a chance to exchange ideas with others and mix their individual house styles. The best collaborations often result in something unique that neither brewery would normally make on its own. Typically, whoever owns the collaboration brewing system and sells the beer sets the rules. Also, when professional brewers collaborate with other professional brewers, the conversations lean toward technical details. When professional brewers collaborate with civilians, the brewing room chatter tends to be more about big ideas and work up something possible. Today's to-go beer flight centers on collaborations — professional and civilian participants — that we have titled Peaks and Pints Pilot Program: Collaborations Beer Flight.
Peaks and Pints Pilot Program: Collaborations Beer Flight
E9 Czech-A-Nut
4.9% ABV
A little over a month ago, Chuckanut Brewery drove down to Tacoma's Historic Brewery District to brew a lager with E9 Brewing. Czech-A-Nut is a Czech-style dark lager using Chuckanut co-founder Will Kemper's favorite Patagonia Negro Perle Dark Malts, plus Weyermann Barke Pils and Bohemian Dark, then traditionally hopped it with Saaz, and triple step mashed it. Expect an extremely quaffable lager with a round, full body and crisp elegant flavors from the specialty malts.
E9 Armagideon Time
6.5% ABV
Using the "Real Rock" riddim, producer Clement "Coxsone" Dodd recorded Jamaican reggae musician Willie Williams' "Armagideon Time," a song about injustice and revolting against oppressors in the final days, the perfect end times.  Williams sings about people not getting the justice they deserve but praising Jehovah and fighting for what you want will bring you peace. The Clash covered the song, too. It's the original version that Full Throttle Bottles owner Jon Olken digs. In fact, he suggested calling the New Zealand style West Coast IPA he brewed with E9 Brewing "Armagideon Time," which happened. It's brewed with Exp. NZ-103, Nectaron, Kohatu, and Simcoe for green dank pine, stone fruit, peach, nectarine, pineapple, and citrus.
Abomination Ocean Monsters
6.5% ABV
Mast Landing Brewing sits just off Casco Bay in Freeport, Maine. We're not sure what kind of ocean monsters this coastal brewery has seen, but Winter Storm Diaz is spreading its snow and ice across the Northeast and Freeport sits on the edge. Abomination Brewing invited Mast Landing to Connecticut to brew Ocean Monsters, a hazy IPA brewed with Golden Promise, red wheat, malted and flaked oats, then hopped and double dry hopped with a juicy blend of Citra, Strata, Simcoe, and Pacific Jade. It's a citrusy, tropical, juicy hoppy hazy delight, not monster. It's the second release of Abomonation's Halloween 2022 Maine collaboration series.
Urban Family McKnight Moves
8% ABV
New Belgium Brewery Lead R&D Brewer Kelly McKnight joined the Pink Boots Society to brew a Belgian-style quad with five-spice and a copious amount of pear at Urban Family Brewing. Five-spice powder is a spice mixture of five or more spices — Chinese cinnamon, fennel seed, star anise, and cloves — used predominantly in almost all branches of Chinese cuisine. The five flavors of the spices refer to the five traditional Chinese elements. McKnight would like to stress this name was not her idea.
Abomination Under the Cover of Night
12.5% ABV
Abomination Brewing's Under The Cover of Night is a collaboration with Barreled Souls Brewing in Sasco, Maine — the third and final release of Abomonation's Halloween 2022 Maine collaboration series. This barleywine style ale is brewed with a monstrous amount of pie crust, pecans, and vanilla beans.  Fun fact: the base of this beer is so mind-meltingly good that Abomination sent some into hand-selected bourbon barrels to rest for a year or two.
LINK: Peaks & Pints cooler inventory
---