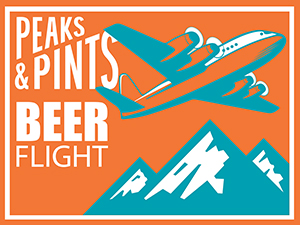 Members of the Seattle Seahawks will be doing the same thing as you will be today, February 12: watching the Super Bowl. We can all stay at home and pout that the Seahawks aren't playing this year, or we can have some fun and throw a Super Bowl party — even if it means temporarily rooting for a new team. The question is: What will your pour for your guests during the game? Russian River Pliny The Elder double IPA might not be everyone's bag. Or hey, maybe you're just real nostalgic for college and all you ever buy is Pabst. That's cool, too. Either way, you're going to have to diversify your fridge for the waiting masses. You don't need a curated list of wonderful local beers with notes of citrus pine or barrel aged goodness. You need beers you know people are going to drink — the kind of brews with enough mass appeal that anyone searching for suds is liable to scan the fridge, shrug and walk away happy with their choice. Stop by Peaks & Pints and grab the perfect Super Bowl beers from our massive cooler — a to-go flight we call Peaks & Pints Pilot Program: Perfect Super Bowl Flight.
Peaks & Pints Pilot Program: Perfect Super Bowl Flight
Heidelberg Premium Lager
4% ABV
In February 2022, 7 Seas Brewing relaunched the Heidelberg brand canning their version of the premium lager — although not tin cans like the original brewery in 1936, three years after tin cans were invented. Brewed with mostly malted barley, with some rice and corn, and Old-World hops, Heidelberg Premium Lager is crisp, clean, and quaffable. It's also on draft at peaks & Pints if you want to load up our 32-ounce Campfire Crowler.
E9 Spirit House
4.5% ABV
Another Super Bowl crisp sipper option is E9 Brewing's Spirit House hoppy rice lager brewed with New Zealand Hops Nelson Sauvin and Nectaron. It's bubbly like a crispy malt peach ring and stone fruit Bellini, followed by heavy hits and drips of white wine and gooseberry.
Kulshan Mossy Rock Dry Irish Stout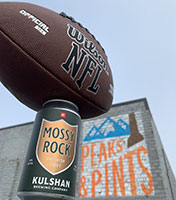 5% ABV, 30 IBU
Mossy Rock Falls is the final of the significant waterfalls along Twentytwo Creek as it exits Lake 22 on the north flank of Mount Pilchuck. The series of waterfalls along Twentytwo Creek have been collectively referred to as Twentytwo Creek Falls since the first edition of Greg Plumb's Waterfalls of the Pacific Northwest, which later became the Waterfall Lover's Guide series. Kulshan Brewing's Mossy Rock is an easy-drinking, dry Irish stout brewed with Golden Promise, roasted barley, Chocolate malt, flaked barley, and Cluster hops, boasting bready malt notes and coffee-like roasted malt notes, and a clean dry finish that is a bit surprising given its black color.
Mac & Jack's African Amber Ale
5.8% ABV
In 1991, Mac Rankin started homebrewing and fell in love with the process. He probably started homebrewing to relieve stress as it was Dave Krieg's final season in Seattle when he was one of four quarterbacks to start during Seattle's 7-9 season. Two years later, Mac approached Jack Schropp with the possibility about starting a microbrewery. In 1994, they finalized their African Amber recipe. In 1996, Mac and Jack realized that it was time to move out of Jack's garage. After eight months they finally started construction of Mac & Jack's Brewing in August at North Sammamish Center in Redmond. For the longest time, still probably, everyone asked for a Mac & Jack's when desiring an African Amber Ale, the Northwest's original, unfiltered and dry hopped amber ale. On the tongue, expect a floral, hoppy taste, followed by a well-rounded malty middle, finishing with a nicely organic hop flavor. Locally sourced Two-row grain and a blend of specialty malts give the amber its rich taste.
Boundary Bay Sticky Trees IPA
7.2% ABV
OK, we see you clean IPA drinkers! Sticky Trees is a mind-melding West Coast IPA collaboration between The North Fork Brewery and Boundary Bay Brewing Co. Named after one of their mutually loved first-runs at the Mt. Baker Ski area, this crystal-clear IPA shreds with spruce tips and Simcoe, Columbus, and Idaho 7 hops. Dank aromas of resin, orange zest, spruce and stone fruit carve through a pronounced bitterness and a touch of stickiness finally stomping the landing with a dry, crispy turn. Bonus: Cool can art by Evan Whitehead of Evergreen Art.
LINK: Peaks & Pints cooler inventory
---