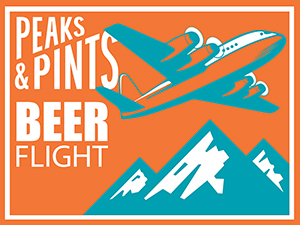 Raised in Puyallup, Colin Lenfesty was a longtime homebrewer who worked his way into the Schooner EXACT Brewing team where he met sales guy Mike Murphy. In 2014, the two opened Holy Mountain Brewing in Seattle's Interbay neighborhood. Their oak-influenced and mixed fermentation beers, as well as hop-forward ales and lagers, instantly gained crowds and awards. During the pandemic, Murphy left Holy Mountain and the industry leaving Lenfesty to forge ahead brewing more hop-forward beers than sours and saisons. Forklift failures, whiskey wrestling, fly fishing and the quickest and most delicious entry into craft beer fame — hear how Lenfesty built Holy Mountain on the Grit & Grain Podcast at gritandgrainpodcast.com, or search your favorite podcast mediums, including Channel 253. In the meantime, stop by Peaks & Pints and grab Lenfesty's new Holy Mountain beer in a to-go flight we're calling Peaks & Pints Pilot Program: Colin Lenfesty Beer Flight.
Peaks & Pints Pilot Program: Colin Lenfesty Beer Flight
Holy Mountain The White Lodge
4.8% ABV
The Belgian wit (white) beer is a style that dates back more than 400 years. Holy Mountain's version, The White Lodge, is brewed with a large portion of wheat along with pilsner malt and oats. The Seattle brewery uses coriander and orange peel in the kettle, lending a blend of citrus and floral characters, and ferment with a traditional Belgian strain. It's smooth and dry, with coriander upfront, a little citrus and toasted biscuity malt, with a lightly spicy finish.
Holy Mountain The Mariner
4.9% ABV
In celebration of opening day for the Mariners, Holy Mountain brewed The Mariner using Belgian Pilsner malt and a generous portion of Spelt. They hopped this Kolsch exclusively with Wai-Iti in the kettle and fermented with a traditional Kolsch strain. After fermentation it was dry-hopped with more of the same lot of Wai-Iti.
Holy Mountain Kiln & Cone: Comet and Mosaic
5.9% ABV
Holy Mountain released their first hoppy beer, Kiln & Cone, in 2014. It was initially their "House Pale Ale" in the taproom, and the idea was that each batch featured two different rotating hop varieties. This batch incorporates a simple combination of 2-row and Pilsner malts, with additions of malted oats and flaked wheat. Comet and Mosaic hops were used in the whirlpool additions in the kettle, and it was later dry hopped with more Comet and Mosaic for resinous notes of berry and bitterness.
Holy Mountain Sandrider
6.9% ABV
During the brewery's construction in 2014, Sandrider's self-titled album was on repeat. With the help of their weapons-grade crushing riffs and some ice-cold Hamm's, it helped us push through some tough days. We are beyond stoked to collaborate with Sandrider on this hoppy and super drinkable IPA. Brewed with a simple base of Two-Row, Pilsner and Wheat and hopped to hell and back with Nelson Sauvin and Citra, Lenfesty recommends you drink this super juicy and soft IPA while listening to their Sandrider's album, Enveletration, and during their April 8 show at the Sunset Tavern in Seattle.
LINK: Peaks & Pints cooler inventory
---