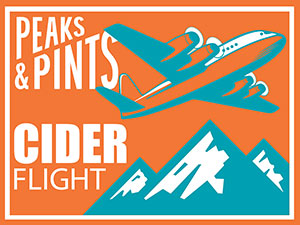 You're an orchard farmer. You want to be a cidermaker. What are you going to plant? It's a major financial investment. You need patience. The payoff is down the road. Do you plant for sweetness? Do you plant for floral? After all, cider making, for the most part, is a blender's art, so planting for variety is key. Most of the ciders we drink today are a blend of base apples, aromatic apples, and cider or crab apples for acidity, tannins, structure and tartness. Peaks & Pints agrees, but we also believe that the first step to creating a good cider blend is understanding the raw ingredients, or put simply, the apple varieties themselves. For an apple to work in a single varietal cider, in needs the right balance of tannins, acidity and sugar. Peaks & Pints happens to have several ciders made with single varietals in our cooler. Since it's Monday, and we offer a cider flight every Monday, stop by Peaks for Peaks and Pints Monday Cider Flight: Single Varietals.
Peaks for Peaks and Pints Monday Cider Flight: Single Varietals
Alpenfire Glow Rosé Hard Cider
6.8% ABV
Alpenfire Cider created this a single varietal rosé cider with Hidden Rose apples, a rare, dessert apple variety. The aroma is composed primarily of a really luscious, ripe apple character. Amazing! On the palate expect a robustly built cider, sporting rich tannin, notes of caramel and a rich weightiness that is tamed by the sparkle. Unlike most American ciders, Glow is bottle conditioned which result in natural carbonation and rich yeasty characteristics. The final product is complex and luscious.
Dragon's Head Kingston Black
7.9% ABV
Kingston Black takes its name from the town of Kingston near Taunton in Somerset, England — the heart of cider in the UK. The name comes from the apples' dark red or purplish skin, though despite the name, the fruit does not have a black hue. Kingston Black apples are often considered the epitome of cider apples. They produce a cider rich in dried apple, clementine, and hint of honey, slightly bitter, and medium bodied. Dragon's Head medal-winning Kingston Black hits the nose with dried apricot, clover and resinous cedar. The apricot carries over to the taste with clementine, hints of honey, and slight bitterness.
Union Hill Kingston Black
8.5% ABV
An English cider apple that first appeared in Somerset in the early 19th century, Kingston Black is regarded as the perfect cider apple that is often used to make a single varietal cider. It is classified as a bittersharp with notable spice notes and medium acidity and mild tannins. Easy to press. Union Hill Cider believes "the perfect apple only becomes better by growing in the perfect region: the hot and dry climate of central Washington. This cider is well rounded and enjoyable to the novice as well as the seasoned cider drinker." Union Hill's Kingston Black — made with 100 percent Kingston Black apples and cane sugar — grabbed the "Judges Pick" at the 2020 Cidercraft Awards.
Channel Marker Cosmic Quince
8% ABV
Classically bred by Washington State University researchers, Cosmic Crisp brand apples are a cross between Enterprise and Honeycrisp. Large, round, crisp and super juicy, these bi-color apples have a rich red that almost sparkles with starburst-like lenticels — which is where the name "Cosmic" originates. It's crunchy; it's extremely juicy; it's extremely sweet and also acidic. Channel Marker Cider adds pineapple quince to their single variety cider Cosmic Quince for added hints of fruit.
---