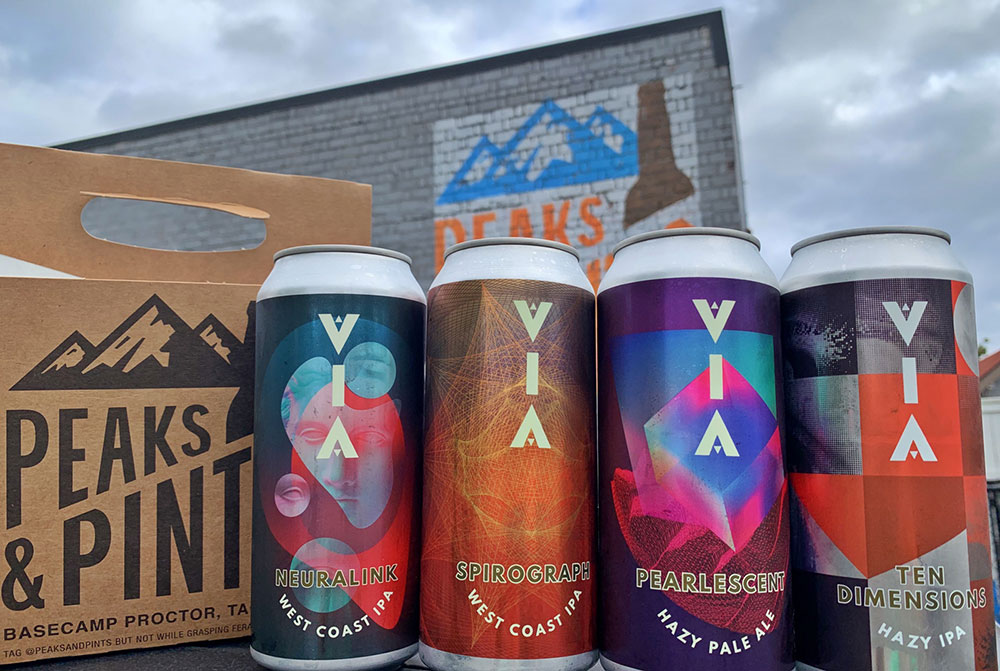 Peaks and Pints welcomes VIA Beer
Beer collaborations happen between breweries all the time, but beer collaborations between beer industry leaders that lead to side project breweries rarely occur. Charlie Devereux and Kyle Larsen proved it's a worthy idea recently opening VIA Beer in Hood River, the city where both men entered the industry. Devereux, who first brewed beer in 1992 under John Harris at Full Sail Brewery, went on to open Double Mountain Brewery in Hood River on St. Patrick's Day 2007 with fellow Full Sail brewer Matt Swihart. In 2010, Larsen left Full Sail to join the Full Sail alums across the street at Double Mountain where he brewed while earning a Masters in Brewing Science and Engineering from Heriot Watt University, a public research university based in Edinburgh, Scotland. In 2013, Devereux left Double Mountain to open Southeast Portland's Wayfinder Beer, which he founded in 2016 with partners Matt Jacobson of Sizzle Pie pizza and Rodney Muirhead, of Podnah's Pit Barbecue and La Taq, and brewmaster Kevin Davey. That same year, Larsen moved to England with his family, where he worked at Siren Craft Brew. Swihart went on to add "Cidery" to the Double Mountain Brewery's name, as well as open a second pub location in Southeast Portland.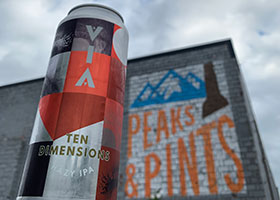 In 2019, the Larsens returned to Hood River to build their Kings & Daughters brewery while Larsen filled in as head brewer at Trap Door Brewing in Vancouver, Washington. Devereux and Larsen reunited at Kings & Daughters with Devereux advising and even helping brew, which he hadn't done since his Full Sail days. Kings & Daughters brews on the 20-barrel system at Barrett Beverage in Clackamas, a contract brewer and distiller that will also serve as the VIA Beer brew system. Larsen serves as a consulting brewmaster for VIA with the Barrett brewers assisting. Devereux, who has been on the food and business side of beer since leaving Full Sail, enjoys brewing again.
"Wayfinder Brewmaster Kevin Davey is a super classic lager brewer, and his cold IPAs are super popular, but I'm more of a SoCal, Chico, West Coast style IPA brewer, so I asked Kyle if he'd be interested in brewing modern, lighter, and mostly hop-focused beers as a side project," says Devereux while delivering his VIA beer to Peaks & Pints yesterday. Devereux says Wayfinder has found its groove freeing up his time to build VIA. Via plans to release beers every couple of weeks with a West Coast IPA option always available. Devereux says they'll open a taproom when the time is right.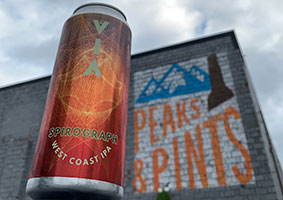 The VIA Beer name came to Devereux in the shower one day. "I was talking to myself on how to build the brewery. I wanted to create engagement via community and do this via that — I kept repeating "via" for every idea and it just stuck. Plus, VIA looks like a palindrome, which is visually stunning." Wayfinder's graphic artist Orion Landau agreed and will lead the VIA design team. Robby Roda, owner of Southeast Portland-based Day One Distribution, is on board to help with sales.
Here are the first four Via beers to arrive at Peaks & Pints. …
Pearlescent: Hazy pale ale brewed with Idaho-7, Citra, Zamba, and Sabro hops for enticing hints of lychee, passionfruit, coconut, and tropical flowers, 5.5%;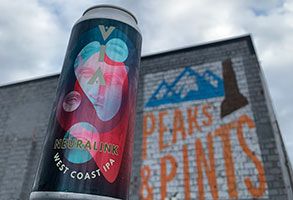 Ten Dimensions: Hazy IPA showcasing a wealth of killer hop varieties; quintessentially big, tropical, dank, and intense, 6.8%;
Spirograph: Clean and classic North West Coast IPA brewed with Pilsner and Pale ale malt for a crackery crisp body with hints of sweet malt with Yakima hops Citra, Simcoe, and Amarillo adding peachy stone fruit, citrus, pine and light tropical hop flavors and aromas, 6.7%;
Neuralink: Light, clean, lean West Coast IPA brewed with Chinook, Citra and Azacca hops for C-hop goodness interplay with plenty of modern, lightly tropical notes and just a hint of richness, 6.8%.
LINK: Peaks & Pints cooler inventory
---