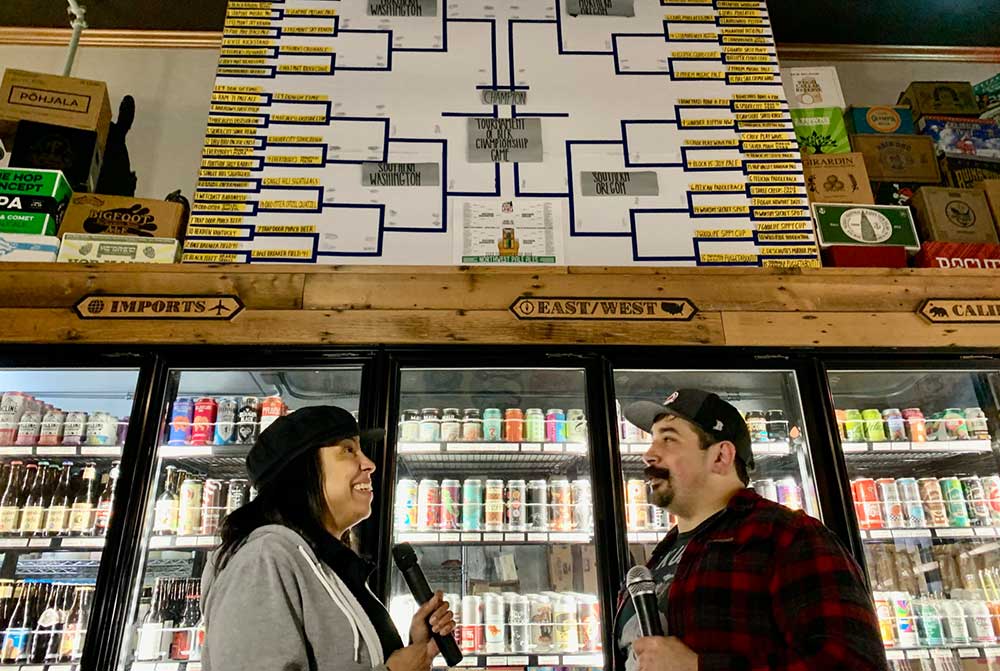 Peaks and Pints Tournament of Beer: Northwest Pale Ales April 24
PHAEDRA MILLER: Welcome back, ladies and gentlemen, to the 2023 Peaks and Pints Tournament of Beer: Northwest Pale Ales from the historic Proctor District in beautiful Tacoma, Washington. I'm Peaks & Pints bartender Phaedra Miller and welcome to Day 12 of the Tournament of Beer. The last eight pale ales in the Second Round are rested from the weekend off and are ready to battle for four spots in the Sweet 16. Isn't this awesome, Brandon.
BRANDON CRESPIN: This is awesome, baby! Awesome, baby, with a capital 'A.' Hello folks! I'm Peaks bartender Brandon Crespin. This is the last week of the Tournament, which ends Saturday with our Tournament of Beer: Northwest Pale Ales Championship Party beginning at 5 p.m.
MILLER: Let's dive into today's Second Round action featuring four pale ale battles. Please vote for one beer per game on Peaks & Pints' Instagram Stories. Voting for today's battles ends at midnight. We'll announce the winners tomorrow morning around 10 a.m., but today's games are live on Peaks & Pints' Instagram Stories.
Monday, April 24, Second Round Northwest Pale Ales games
Game 1, Northern Washington
Seapine Mosaic Pale (#11 seed) vs Fremont Sky Kraken (#9 seed)
CRESPIN: Seapine Brewing's Mosaic Pale beat Black Raven Brewery's Kitty Kat Blues Pale in the First Round. This can't be overlooked people. You also can't overlook the fact that the South Seattle brewery pumped out hundreds of prefunk pale pints yesterday with all the sports stadiums full of people.
MILLER: Wait a darn tooting minute! Fremont Brewing laughs at this scenario for two reasons. One, they're also from Seattle, and two, their pale ale comes with the word "Kraken", and we all know the Seattle Kraken professional ice hockey team plays in Game 4 of the NHL Playoffs today.
CRESPIN: Tournament of Beer statisticians gave up trying to predict this outcome. The votes will decide, obviously.
VOTE ON PEAKS & PINTS' INSTAGRAM STORIES >>>>>>>>>>>>>>>>>>>>>>>>>>>>>>>>>>>>>>>>>>
Game 2, Southern Washington
Silver City Sonic Reign (#5 seed) vs. Everybody's Mountain Mama (#4 seed)
MILLER: Silver City Brewery's Sonic Reign is an American pale ale for the new '20s. Featuring Amarillo hops, for vibrant fruit character, with Cascade hops bringing the classic, piney, Pacific Northwest hop experience. Everybody's Brewing's Mountain Mama was brewed exclusively for Mount Hood Meadows Ski Resort. However, due to overwhelming popularity and positive reviews, Everybody's decided to release this Citra, Cascade, CTZ, big, juicy fruit, citrus pale ale for wider distribution. Everybody's fears Silver City's fancy marketing. Silver City fears Mountain Mama, Everybody's co-founder Christine Ellenberger, a true badass outdoorswoman. It's bustling Bremerton versus chill White Salmon.
VOTE ON PEAKS & PINTS' INSTAGRAM STORIES >>>>>>>>>>>>>>>>>>>>>>>>>>>>>>>>>>>>>>>>>>>>>>>>>>>>>
Game 3, Northern Oregon
Ecliptic Cloud Core (#10 seed) vs. pFriem Mosaic Pale (#2 seed)
CRESPIN: It all makes so much more sense now. It's all been leading to the day. The beers in orbit. The beers drank by bears. Astronauts cheers-ing in space. Instagram grids. John Harris. Josh Pfriem. Translation: Alert the liquor board and soothe your panicky grandmother, because the cultural landscape is shifting today — quite quickly, quite dramatically. The Tournament of Beer will get a little sassy crazy brilliant badass when Ecliptic Brewing's Cloud Core Hazy Pale and pFriem Family Brewers Mosaic Pale face off on the Northern Oregon stage. Expect whimsical. Expect seriousness. Vote.
VOTE ON PEAKS & PINTS' INSTAGRAM STORIES >>>>>>>>>>>>>>>>>>>>>>>>>>>>>>>>>>>>>>>>>>>>>>>>>
Game 4, Southern Oregon
Boneyard Bone-A-Fide (#1 seed) vs. Sunriver Rippin NW Pale (#9 seed)
CRESPIN: Only 69,696 pint glasses end-to-end separate Bend, Oregon brewery pubs Boneyard Beer on Northwest Lake Place and Sunriver Brewing on Northwest Galveston Avenue. It's a good ol' fashioned Bend Battle to advance to the Sweet 16 round where the only other remaining Bend brewery awaits, Goodlife Brewing. Boneyard Bone-A-Fide is a West Coast style pale ale brewed for a big hoppy finish. Sunriver Rippin NW Pale is an American-style strong pale ale brewed for a crisp and hoppy finish with a restrained bitterness. Pick your flavor, Bend!
VOTE ON PEAKS & PINTS' INSTAGRAM STORIES >>>>>>>>>>>>>>>>>>>>>>>>>>>>>>>>>>>>>>>>>>>>>>>>>>>>>
Tuesday, April 25 Tournament of Northwest Pale Ales Sweet 16
Game 1: Georgetown Johnny Utah (#1 seed) vs. Hellbent Seattle Sunshine Hazy Pale (#12 seed)
Game 2: Odd Otter Ottzel Quatzel (#14 seed) vs. Bale Breaker Field 41 (#2 seed)
Game 3: Fort George City of Dreams (#1 seed) vs. Buoy Beer Pacific Pale (#5 seed)
Game 4: Pelican Paddleback Pale (#6 seed) vs. Goodlife Sippy Cup (#9 seed)
LINK: Tournament of Beers: Northwest Pale Ales explained
LINK: Hot Damn! Yes, I want to subscribe to 6-Pack of Things To Do newsletter and be hip to local happenings!
LINK: Tournament of Beer archives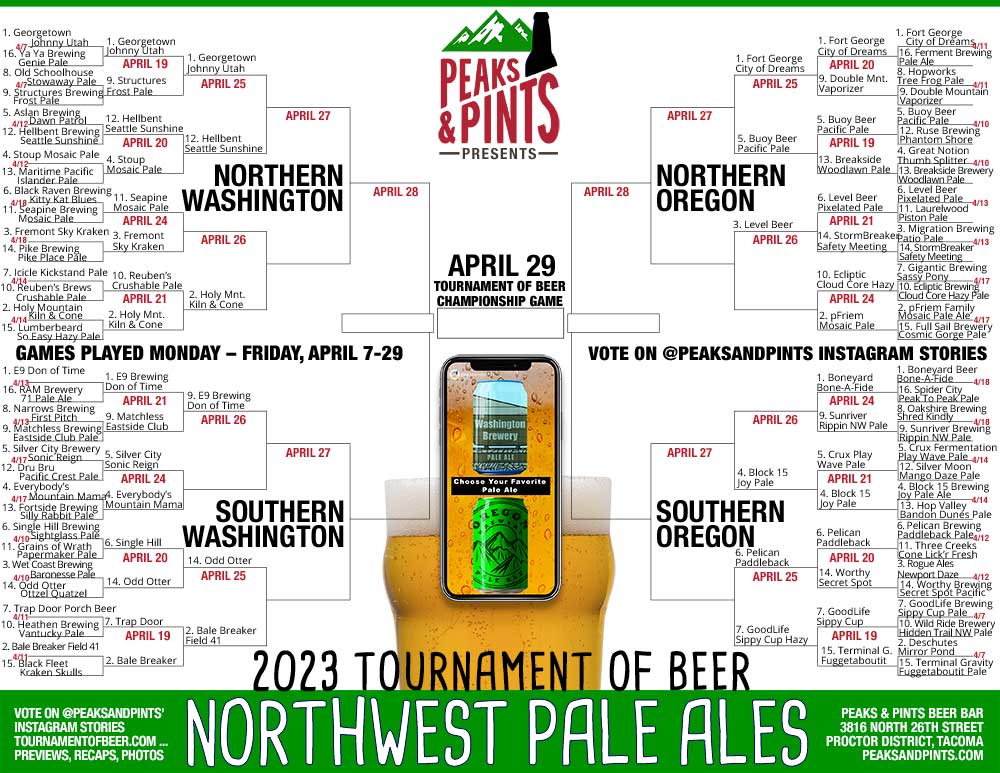 ---