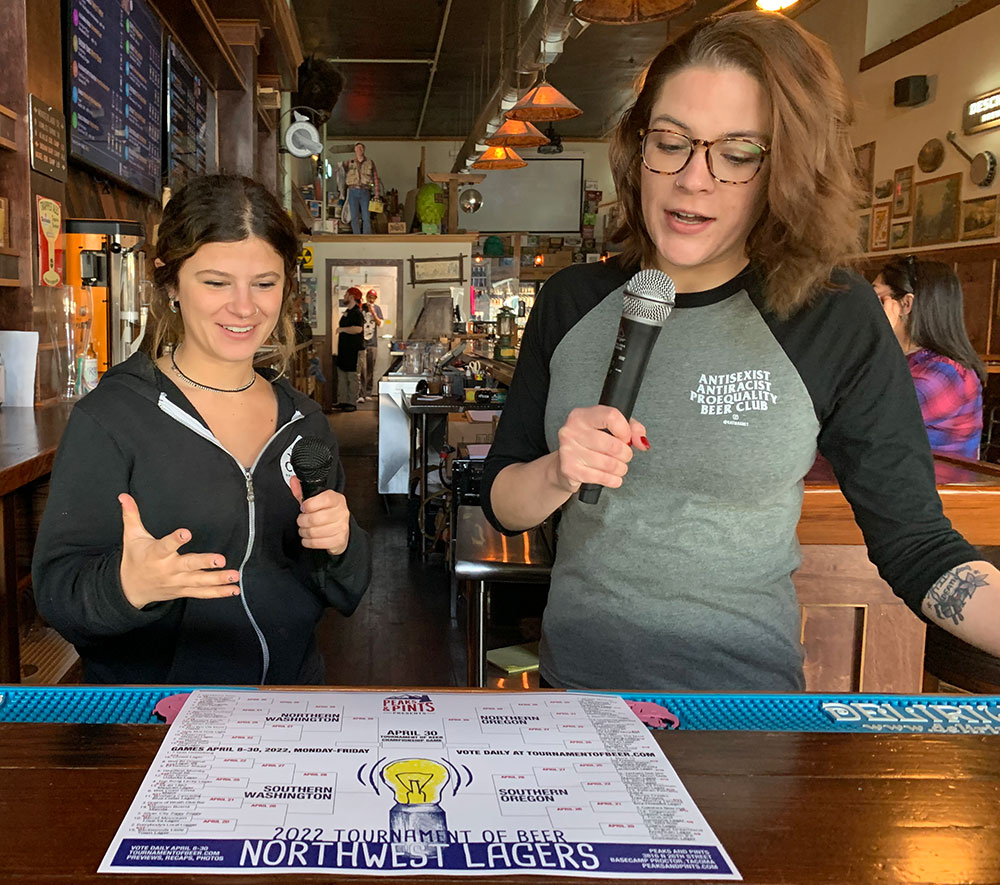 Peaks and Pints Tournament of Beer: Northwest Lagers April 25
NICOLE ALLEN: Good day Peaks & Pints Pals! I'm Peaks bartender Nicole Allen. Welcome to Day 12 of the Peaks and Pints Tournament of Beer: Northwest Lagers. The last eight lagers in the Second Round are rested from the weekend off and are ready to battle for four spots in the Sweet Wort Sixteen, which begins tomorrow.
MICHELLE COVE: This is awesome, baby! Awesome, baby, with a capital 'A.' Hello folks! I'm Peaks bartender Michelle Cove and I'm stoked to be calling my first Tournament of Lager games.
ALLEN: It's time for the last day of the Second Round action! Please vote for one beer per game. Please only vote once. Voting for today's four games ends at 11:45 p.m. Please join in the singing of our national anthem.
COVE: Thank you, Hanna Hawks! OK, let's get to voting!
Monday, April 25, Second Round Northwest Lagers Games
GAME 1, NORTHERN WASHINGTON REGION
Stoup Stoupporro Super Premium Japanese Style Lager (#6 seed) vs. Kulshan Brewing Premium Lager (#3 seed)
ALLEN: Every city has a brewery that reflects the people, the culture, the reality of the place — not the town you see in a tourism brochure, but the town that folks live, work and drink in. Bellingham has Kulshan Brewing. It's Premium Lager — it's made with Mt. Rainier hops backed by a gold medal at the 2017 Washington Beer Awards — is a staple of post bike rides in the mountains overlooking Bellingham. In Seattle, riding the momentum of its annual Earth Day fundraiser, Stoup Brewing steps into the game with the amazing Stoupporro. The supremely refreshing lager is brewed with Pilsner malt, rice and New Zealand Wai-iti hops in the dry hop and whirlpool — this lager should not be taken lightly.
COVE: Life is simple. Life is all about decisions. Make good decisions and good things happen. Make bad decisions and bad things happen.
SCROLL DOWN TO VOTE >>>>>>>>>>>>>>>>>>>>>>>>>>>>>>>>>>>>>>>>>>>>>>>>>>>>>>>>>>>>>>
GAME 2, SOUTHERN WASHINGTON REGION
Headless Mumby Brewing Local 66 Lager (#5 seed) vs. Top Rung Brewing Lacey Lager (#4 seed)
ALLEN: Have you seen them, Michelle? Have you seen the social media posts Headless Mumby and Top Rung have been posting? They're invading each other's breweries and hiding their own brewery stickers in secret spots. Top Rung did a number on Headless, but Headless brewer Stacy O'Conner retaliated stickering and coastering up the Lacey brewery. I can only imagine how this game will play out.
COVE: If you give 110 percent all the time, a lot of beautiful things will happen.
SCROLL DOWN TO VOTE >>>>>>>>>>>>>>>>>>>>>>>>>>>>>>>>>>>>>>>>>>>>>>>>>>>>>>>>>>>>>>
GAME 3, NORTHERN OREGON REGION
Ex Novo Brewing The Most Interesting Lager In The World (#7 seed) vs. Wayfinder Beer Number 6 (#2 seed)
ALLEN: In its quest for world-class lagers, Wayfinder Beer hired award-winning brewmaster Kevin Davey to lead the Way. Unlike most Portland breweries committed entirely to ales, Wayfinder Beer dedicates around half of its beer menu to crisp, refreshing lagers, including pilsners, helles, black lagers, and the nominated Tournament lager, Number 6 American lager. Davey went with his Wayfinder Crispness® technique with delicate amounts of German noble hops and long, cool ferments. Joel Gregory, homebrewer and electrical engineer, opened Ex Novo Brewing in July 2014 with the mission to contribute all — yes, all — of its profits (that don't get redirected to infrastructure improvements, which is not code for lining any pockets) to nonprofits. Gregory initially envisioned the Northwest Portland brewery as a small neighborhood pub and gathering spot. It wasn't long before he realized Ex Novo beer was a thing and the brewery expanded to two more locations, went into distribution, and maxed out its 10-barrel brewhouse. These two celebrities, yes, I said it, battle today. I wouldn't be surprised if this game breaks the Mattel Barbie PC that runs this Tournament
COVE: A winner is someone who can look in the mirror at the end of the day and say, 'In pursuit of my goal and dreams, I gave my best.
ALLEN: Michelle, are you just quoting Dick Vitale?
COVE: It is absolutely wacky, baby!
SCROLL DOWN TO VOTE >>>>>>>>>>>>>>>>>>>>>>>>>>>>>>>>>>>>>>>>>>>>>>>>>>>>>>>>>>>>>>
GAME 4, SOUTHERN OREGON REGION
Block 15 Brewing Sol Fresco (#1 seed) vs. Terminal Gravity Brewing Landmark Lager (#8 seed)
ALLEN: Enterprise, Oregon's lone lager maker Terminal Gravity Brewing battles the popular Corvallis brewery, Block 15. Block 15 has been the more aggressive presence, both in the number of fans on hand and in taking over the court in pre-game workouts. Terminal Gravity is closed on Tuesdays, so I imagine they'll leave it all on the court today, then on Tuesday they'll recount their efforts while fetching fresh water, paint the picket fence, and churning the cream. Powerhouse Block 15 can't take this game for granted. Terminal Gravity has big, broad shoulders and a tasty lager.
COVE: Give it your best. They will call you a winner.
VOTE BELOW (CLICK "DONE" AFTER VOTING) >>>>>>>>>>>>>>>>>>>>>>>>>>>>>>>>>>>>>>>>>>>>>

Tuesday, April 26 Peaks and Pints Tournament of Beer: Northwest Lagers
Game 1: Chuckanut Brewery Asian Style Lager (#1 seed) vs. Burke-Gilman Brewing Vitamin R (#12 seed)
Game 2: Wet Coast Brewing Costa Mejor Golden Mexican Lager (#6 seed) vs. Everybody's Brewing Local Logger (#2 seed)
Game 3: pFriem Mexican Style Lager (#1 seed) vs. Ruse Brewing Shifting Dreams Japanese Style Lager (#5 seed)
Game 4: Worthy Brewing Tenmile Dry-Hopped Lager (#11 seed) vs. Wild Ride Brewing Cole's Lager (#10 seed)
LINK: Tournament of Beers: Northwest Lagers explained
LINK: Hot Damn! Yes, I want to subscribe to 6-Pack of Things To Do newsletter and be hip to local happenings!
LINK: Past Tournament of Beer competitions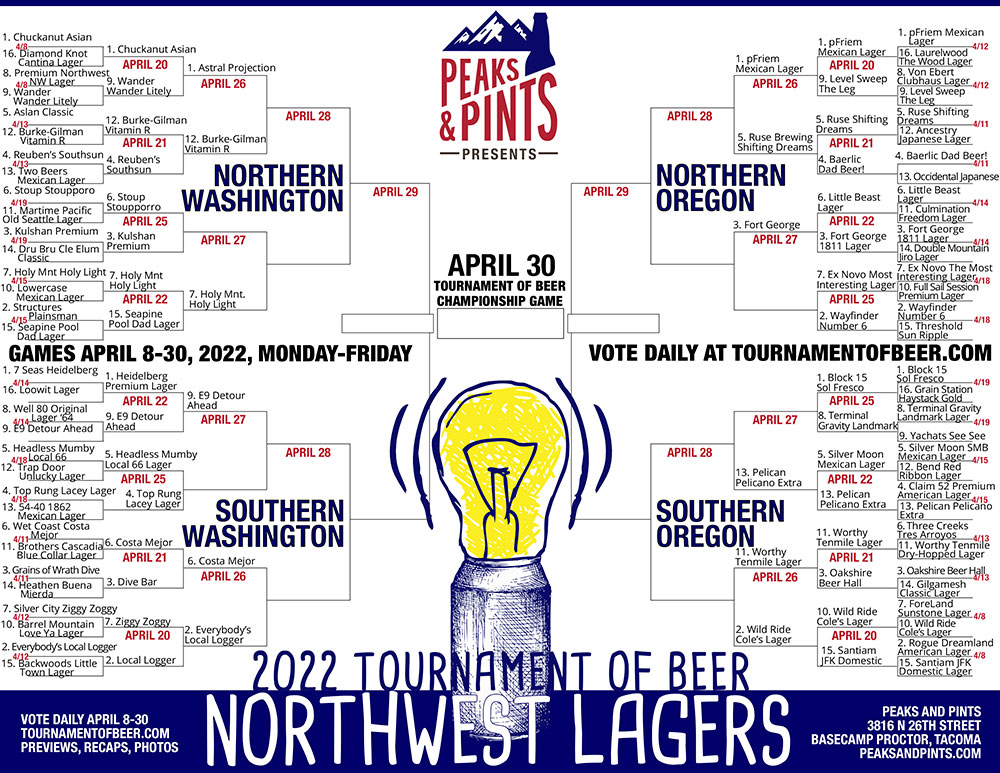 ---