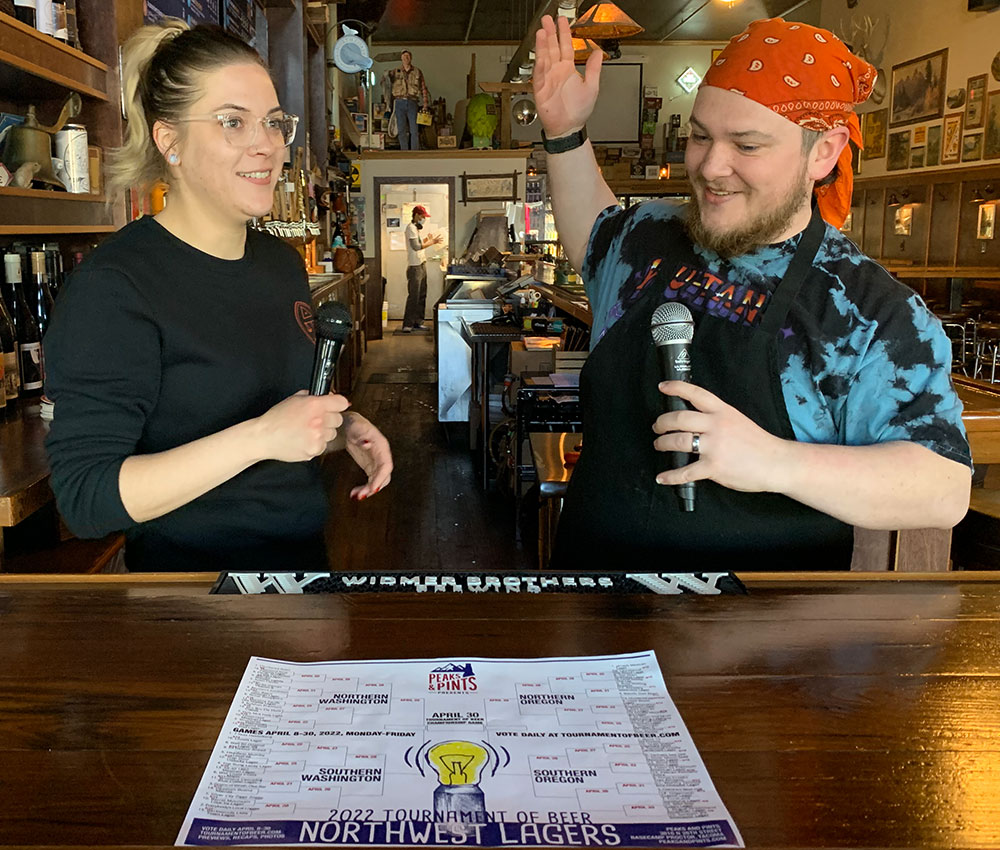 Peaks and Pints Tournament of Beer: Northwest Lagers April 18
NICOLE ALLEN: The Tournament of Beer Council has always believed lager beer first appeared in Bavaria in the 1400s, perfected by monks who would store their suds in icy alpine caves over the summer. They would brew with a Saccharomyces pastorianus, a type of yeast that sits at the bottom of the beer and ferments best at temperatures between 40- and 50-degree Fahrenheit, like said icy alpine caves' temps. Then, researchers discovered traces of S. eubayanus yeast used to make lager beer inside 1,000-year-old ceramic vessels that held fermented beverages in chilly Patagonia, South America. It's believed S. eubayanus yeast made its way to Europe directly from South America on ship timbers, barrels made from South American trees, or on animals. Whatever the case, S. eubayanus went onto evolve into Saccharomyces pastorianus and, eventually, it became largely responsible for the Tournament of Beer: Northwest Lagers. Hello everyone, I'm Peaks bartender Nicole Allen and welcome to day seven of the Peaks and Pints Tournament of Beer: Northwest Lagers. If you'd like to vote right now, click VOTE NOW.
CALEB PLETCHER: Cool! I'm Caleb Pletcher and I believe you have called all six versions of the Tournament of Beer, right Nicole?
ALLEN: Indeed, from the Tournament of Beer: Washington IPAs in 2017 to this year's crispy bois battles. After the weekend break, we're back at it with eight new Washington and Oregon brewed lagers taking the court.
PLETCHER: Please vote for one beer per game. Please only vote once. Voting for today's four games ends at 11:45 p.m. Please join in the singing of our national anthem. …
PLETCHER: Thank you, Jessie James Decker! OK, let's get to voting!
Monday, April 18, First Round Northwest Lagers Games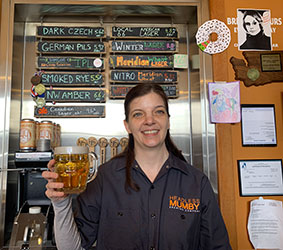 GAME 1, SOUTHERN WASHINGTON
Player: Local 66 Lager (#5 seed)
Team: Headless Mumby Brewing, Olympia
Stats: 4.8% ABV
ALLEN: The BJCP Style Guidelines has basically removed the "Premium American Lagers" category and replaced it with Style 2A International Pale Lager in Category 2 International Lager, which are premium mass-market lagers produced in most countries in the world. Premium American Lagers fill the gap between the lighter American lagers, with little to no flavor, and the Munich helles and dortmunder export, which are very flavorful, rich beers. You will notice the names on some of the commercial examples use the word "extra" to indicate that they have some flavor, although not strong yet. Headless Mumby Brewing calls their Local 66 Lager an "American-style Premium Lager" brewed with Pilsner malt and flaked rice, which is a light yet flavorful lager that is crushable.
PLETCHER: Local 66 Lager is named after the Olympia chapter of the Sheet Metal Workers Local Union. In addition to being a tasty beverage, Local 66 Lager's mission is to bring renewed awareness to the value of organized labor. You can taste the collective bargaining.
Player: Unlucky Lager (#12 seed)
Team: Trap Door Brewing, Vancouver
Stats: 4.8% ABV
ALLEN: Trap Door's Unlucky Lager is an ode to Vancouver's past. Yes, Lucky Lager launched in San Francisco in 1934, just a year after the end of Prohibition. Its Vancouver, Washington, production began in 1950 and ended in 1985, but not before it created an iconic presence downtown Vancouver with its giant sign atop a longtime brewery building. Trap Door's version is an unfiltered, crisp traditional American lager with good hop character, thanks to Northwest-grown Cascade hops.
PLETCHER: Will it be a Premium lager or an American lager that grabs the most votes? Wheel + half + two + W + eight + AND + see.
ALLEN: Ah, yes, Lucky Lager had puzzles underneath each cap. Good one!
SCROLL DOWN TO VOTE >>>>>>>>>>>>>>>>>>>>>>>>>>>>>>>>>>>>>>>>>>>>>>>>>>>>>>>>>>>>>>
GAME 2, SOUTHERN WASHINGTON
Player: Lacey Lager (#4 seed)
Team: Top Rung Brewing, Lacey
Stats: 4.5% ABV, 24 IBU
ALLEN: Tyler Mathias is doing a great job since taking over from Top Rung founding head brewer, Jason Stoltz. Besides having a great sense of humor, he's added new brewing techniques, he's tweaking the IPAs with hop oils, and he's finally feeling like this is his brewery. He also has brought his military days structure to the brewery, yet in a totally chill way.
PLETCHER: A 2017 Washington Beer Awards Bronze Medal winner, Lacey Lager is crisp and clean with a nice lager finish. It's a true blue collar beer, if you will.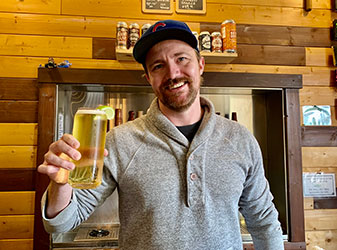 Player: 1862 Mexican Lager (#13 seed)
Team: 54-40 Brewing, Washougal
Stats: 4.3% ABV, 10 IBU
ALLEN: Mexican soldiers defeated French occupiers on May 5th of 1862. This battle was known as the Battle of Puebla and today celebrated in Mexico as El Día de la Batalla de Puebla, but in this country we simply celebrate it as Cinco de Mayo. That's the significance behind 54-40 Brewing's Mexican lager name, which is incredibly light bodied and drinks dry and crisp with a delicate touch of sweetness on the end.
PLETCHER: 54-40 Brewing loves the city of Washougal — and why wouldn't they since the community supported them through the pandemic. In return, 54-40 donates space for meetings, such as library programs and West Columbia Gorge Humane Society. They also donate to the ReFuel Washougal food program.
SCROLL DOWN TO VOTE >>>>>>>>>>>>>>>>>>>>>>>>>>>>>>>>>>>>>>>>>>>>>>>>>>>>>>>>>>>>>>
GAME 3, NORTHERN OREGON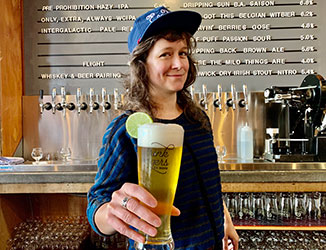 Player: The Most Interesting Lager in the World (#7 seed)
Team: Ex Novo Brewing, Portland
Stats: 5% ABV, 15 IBU
ALLEN: If this beer were to pat you on the back, you would list it on your resume. Mosquitos refuse to bite this beer purely out of respect. If opportunity knocks, and this beer is not home, opportunity waits. It's The Most Interesting Lager in the World, a crisp, refreshing, and interesting Mexican Lager brewed with Vienna and Pilsner malts with a hint of flaked corn.
PLETCHER: Cheers to Ex Novo founder Joel Gregory and his philanthropic efforts to make the world a better place. He uses Ex Novo as a platform for good in the Portland community and across the globe raising thousands and thousands of dollars for charities.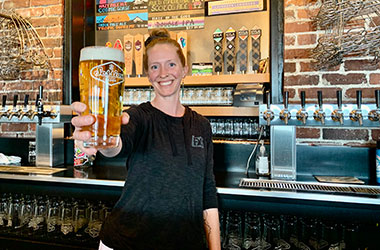 Player: Session Premium Lager (#10 seed)
Team: Full Sail Brewing, Hood River
Stats: 5% ABV, 18 IBU
ALLEN: Session Premium Lager is an extremely tasty import-style lager, like the kind of beer made back in the pre-Prohibition days — plenty of flavor that goes down clean and smooth. American and European hops offer a wonderful noble hop aroma, and the 2-row barley malt and a touch of wheat malt give a pleasant, refreshing finish.
PLETCHER: Pat Tierman grabbed the Full Sail helm in January 2021 after serving as COO at Stone Brewing. His goal is to add more new beer releases, as well as other new beverages, among the many goals he set to keep the longtime brewery flowing as strong as the Columbia River that the brewery parallels.
SCROLL DOWN TO VOTE >>>>>>>>>>>>>>>>>>>>>>>>>>>>>>>>>>>>>>>>>>>>>>>>>>>>>>>>>>>>>>
GAME 4, NORTHERN OREGON
Player: Number 6 (#2 seed)
Team: Wayfinder Beer, Portland
Stats: 4.7% ABV, 15 IBU
ALLEN: Shower beer, lawnmower beer, shotgun beer, beer pong beer — Wayfinder Brewmaster Kevin Davy rescued this style from the "Dark Side" then added the Wayfinder Crispness® you expect with delicate amounts of German noble hops and long, cool ferments.
PLETCHER: It's not every day that a brewer invents a beer style, but Kevin Davey did. His cold IPAs are not India pale lagers in that he highlights hops. He brews with lager yeast but ferments it much warmer than a true lager. When fermentation is almost done, it gets a dose of kräusen — fresh wort from a batch of lager — at the same time it gets dry hops. His cold IPAs are not as malty as IPLs, but rather a crisp, smooth hoppy IPA.
Player: Sun Ripple Corn Lager (#15 seed)
Team: Threshold Brewing & Blending, Portland
Stats: 4.9% ABV
ALLEN: Threshold Brewing & Blending opened in January 2019 in the beer-centric Portland neighborhood of Montavilla. Owned and operated by wife/husband duo Sara and Jarek Szymanski, Threshold is a passion-project for the couple. While their known for their hazy IPAs and strong ales, with the occasional farmhouse ale, fruited sour, and pastry stout, their corn-forward Sun Ripple is a solid American lager.
PLETCHER: Threshold co-owner Jarek Szymanski is Polish, and so is his friend, fundraiser organizer Iwona Erbe. Together, they held a fundraiser for Ukrainian refugees last month at the brewery. All proceeds went to the Union for Ukrainians, an organization lead by Anna Samoilenko who works closely with Polish people to help Ukrainian families escape the war.
ALLEN: That's awesome!
VOTE BELOW (CLICK "DONE" WHEN FINISHED VOTING) >>>>>>>>>>>>>>>>>>>>>>>>>>>>>>>>>>>>

Tuesday, April 19 Tournament of Northwest Lagers action …
Game 1: Stoup Brewing Stoupporo (#6 seed) vs. Maritime Pacific Brewing Old Seattle Lager (#11 seed)
Game 2: Kulshan Premium Lager (#3 seed) vs. Dru Bru Cle Elum Classic (#14 seed)
Game 3: Block 15 Brewing Sol Fresco (#1 seed) vs. Grain Station Haystack Gold (#16 seed)
Game 4: Terminal Gravity Landmark Lager (#8 seed) vs. Yachats Brewing See See Lager (#9 seed)
LINK: Tournament of Beers: Northwest Lagers explained
LINK: Hot Damn! Yes, I want to subscribe to 6-Pack of Things To Do newsletter and be hip to local happenings!
LINK: Past Tournament of Beer competitions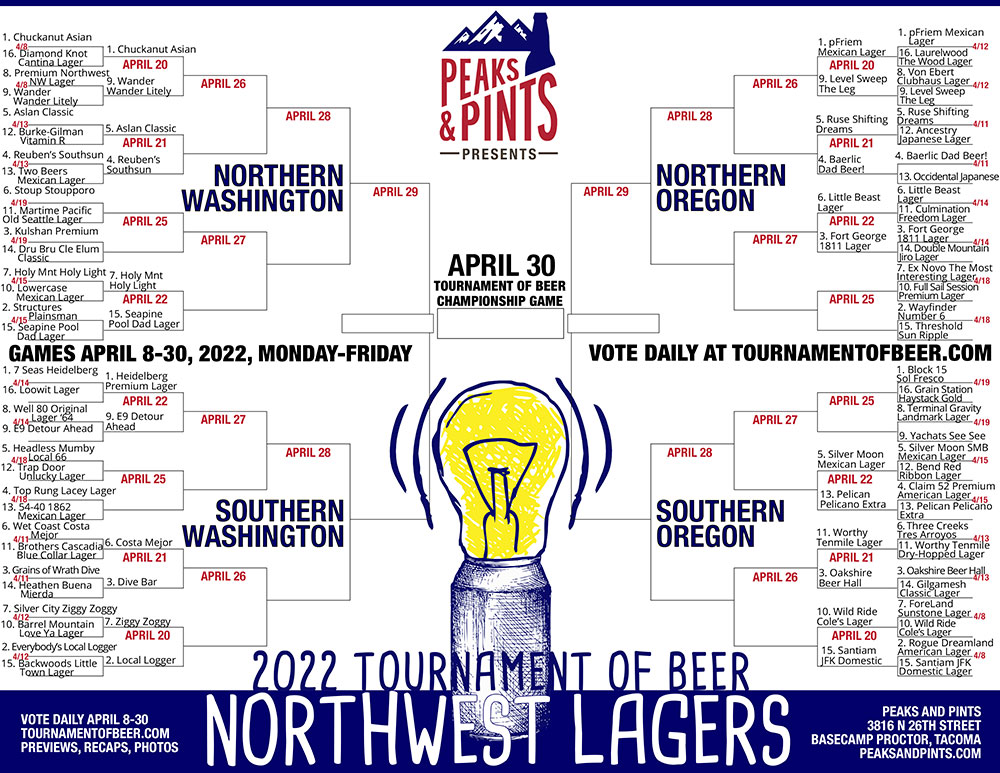 ---