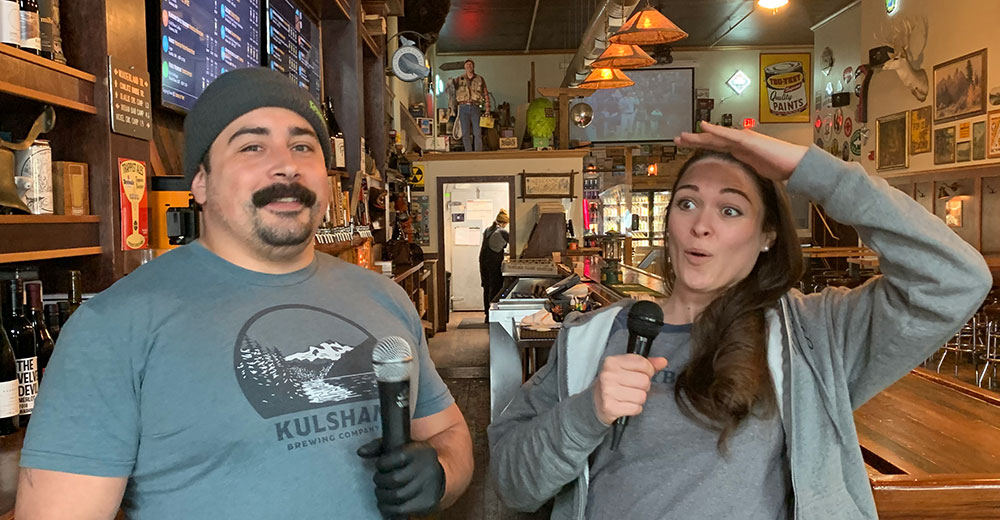 Peaks and Pints Tournament of Beer: Northwest Lagers April 14
CLAIRE BRINICH: Over a three-week period, Peaks & Pints pits 64 of the Northwest's best in a crispy bois battle of lagers. This is a tournament, folks, not a playoff. Each match is do or die — one misstep and you're out of the dance. Pitching temperature too high, didn't spend enough money on base malt, and you can pack your brewers paddle and go home. Sure, there are plenty of new brewers wearing "Live Laugh Lager" T-shirts who can still brew a mighty fine batch of lager. The Northwest's finest brew it perfect every time. Hello everyone! I'm Peaks bartender Claire Brinich and welcome to day five of the Peaks and Pints Tournament of Beer: Northwest Lagers. If you want to skip the prose and vote, then click VOTE NOW.
BRANDON CRESPIN: Thanks Claire! Hello folks! I'm Peaks bartender and cook Brandon Crespin. The Tournament of Beer: Northwest Lagers hosts competitions Monday through Friday up to the championship game Saturday, April 30 including a party with the final two lagers on tap. Without further ado, let's take a gander at yesterday's results followed by eight new lagers hitting the boards today.
Wednesday, April 13, First Round Northwest Lagers Games Results
GAME 1, NORTHERN WASHINGTON REGION
Aslan Classic (#5 seed) vs. Burke-Gilman Vitamin R (#12 seed)
BRINICH: There are several "Classic" named lagers in the Tournament, but only one Vitamin R. Burke-Gilman Brewing is, of course, named after the famed Burke-Gilman trail that begins in Seattle's Fremont neighborhood and ends in Bothell. Vitamin R is, of course, a reference to Rainier Beer, the famed lager founded in Seattle circa 1884. Aslan is a powerhouse brewery with a massive beer catalog and a shelf full of awards. Burke-Gilman Brewing is younger than Aslan, but the award shelf is filling up, including the 2020 Alpha King honor for their Hopotheosis.
CRESPIN: On paper, Aslan takes this based on your analysis, Claire. But, the Tournament of Beer is played on paper, it's play with finger taps, and Vitamin R grabbed 57 percent of the votes and moves into the Second Round.
GAME 2, NORTHERN WASHINGTON REGION
Reuben's Southsun (#4 seed) vs. Two Beers Mexican Lager (#13 seed)
BRINICH: Reuben's Brews has found the perfect formula. Take award-winning homebrew recipes, open a brewery named after your first child, create a wide breadth of beer styles that are always balanced and drinkable, hire veteran beer folks, and win close to 300 medals in 10 years. Yesterday, this formula paid off when Reuben's Mexican lager Southsun edged out Two Beers' version by 15 votes.
CRESPIN: For a while it looked like Two Beers would grab the win, especially when Operations Director Eric Willard, Sales Executive Matt Chapman and Taproom Manager Cam Orgaard transformed into a Mariachi band in Two Beers' The Woods taproom for an hour. Alas, it wasn't their day.
GAME 3, SOUTHERN OREGON REGION
Three Creeks Tres Arroyos Mexican Lager (#6 seed) vs. Worthy Tenmile Dry-Hopped Lager (#11 Seed)
BRINICH: Worthy Brewing's Tenmile Dry-Hopped Lager has purpose behind it, other than deliciousness. As Peaks staff members Matt Usher and Brittney Crowder announced yesterday, Worthy's lager was inspired by the Bend brewery's efforts to reforest Tenmile Creek, as part of their Operation Appleseed program. I imagine beer drinkers and conservationists voted for Tenmile yesterday, giving the lager an extra boost and 59 percent of the vote for the win.
CRESPIN: That Three Creeks Mexican lager is the bomb. It's a huge win for Worthy.
GAME 4, SOUTHERN OREGON REGION
Oakshire Beer Hall Lager (#3 seed) vs. Gilgamesh Classic (#14 Seed)
BRINICH: Our boss Pappi Swarner tried to drink all 64 nominated lagers in 11 days. He drank 55. When Gilgamesh bartender Joshua asked him what his favorite was so far, he responded with "Oakshire's Beer Hall." It's ironic that Oakshire beat Gilgamesh with only 51 percent of the votes. So close!
CRESPIN: Pappi also mentioned there were several woodworking elements inside Gilgamesh's The Woods taproom he'd like to see at Peaks someday.
BRINICH: Let's wade through the chilled wort. The following are advancing to the Second Round:
>>> Burke-Gilman Brewing Vitamin R
>>> Reuben's Southsun
>>> Worthy Tenmile Dry-Hopped Lager
>>> Oakshire Beer Hall Lager
CRESPIN: It's time for today's lager battles. Please join in the singing of our National Anthem.
CRESPIN: Wow! Thank you Charlotte, North Carolina! OK, let's get to voting!
Thursday, April 14, First Round Northwest Lagers Games
GAME 1, SOUTHERN WASHINGTON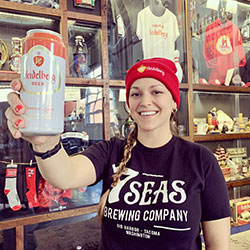 Player: Heidelberg Premium Lager (#1 seed)
Team: 7 Seas Brewing, Tacoma
Stats: 4% ABV, 18 IBU
BRINICH: In 1900, Columbia Brewing Co. occupied the building along the 2100 block of South C Street in downtown Tacoma. In the early 1920s, beer made at the facility gained national attention for its flavor and smooth aftertaste, prompting the brewery to double in size and increase capacity by the mid-1930s. Success at the plant gained the attention of another brewery, Heidelberg Brewing Co., which purchased the Columbia plant in 1949 and set out for another round of remodeling. By 1954, the brewery covered four acres and was the largest complex of its kind west of Milwaukee and north of San Francisco. That same year, the iconic Heidelberg water tower was hoisted atop the stock house building. The brewery changed ownership several times between 1958 and 1979, when it eventually closed. August 2016, Mike Runion and Travis Guterson open their 80,000-square-foot new 7 Seas brewery and taproom in the downtown Tacoma building where Heidelberg previously bottled and shipped its beer. In October of 2021, 7 Seas served up the first batch of Heidelberg beer in 40 years.
CRESPIN: Today, Heidelberg Premium Lager, a revamped recipe brewed by 7 Seas Head Brewer Guterson, battles Loowit Lager.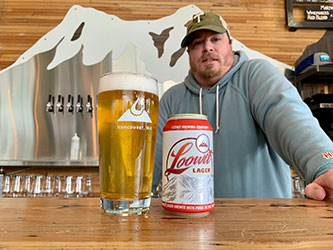 Player: Loowit Lager (#16 seed)
Team: Loowit Brewing, Vancouver
Stats: 4.2% ABV, 20 IBU
BRINICH: With a smaller brewing history than Heidelberg, Loowit's signature American lager beer is brewed with Pilsner, 2-Row and Victory malts, plus Cascade, Crystal, and Sterling hops for a flavorful, gentle lager with a delicious hop profile.
CRESPIN: I was worried I had to compete with another lengthy description. By the way, I was thoroughly impressed with Loowit's taproom remodel. Goodbye dark days!
SCROLL DOWN TO VOTE >>>>>>>>>>>>>>>>>>>>>>>>>>>>>>>>>>>>>>>>>>>>>>>>>>>>>>>>>>>>>>
GAME 2, SOUTHERN WASHINGTON
Player: Original Lager Year '64 (#8 seed)
Team: Well 80 Brewhouse, Olympia
Stats: 4.2% ABV, 16 IBU
BRINICH: Settle in Brandon because here comes another lengthy story. In 1895, Montana politician and brewery co-owner Leopold Schmidt visited Olympia to scout for inspiration as his state prepared to design its Capitol building. When he discovered an enchanting artesian spring near Tumwater Falls, he told Montana to suck their big sky because he was going to open a brewery. A year later, he opened the Capital Brewing Company, which later became Olympia Brewing Company brewing beer with the spring's pristine waters. Things went well. In 1961, Paul Knight became Olympia Brewing's brewmaster until he retired in 1997. Downtown Olympia is home to 96 artisan wells, and Chris Knudson's business just happens to occupy No. 80. Knudson opened Well 80 Brewhouse — a brewery, bar, and all-ages restaurant — in the spring of 2018. Well 80 head brewer Paul Pearson, previously of Fish Brewing Co., brews the beer using well 80 artisan water, including his Original Lager Year '64 — the American light lager that put Olympia Brewing on the map, and retired Knight helped Pearson brew it.
CRESPIN: Oh, good lord. E9 Brewing is next.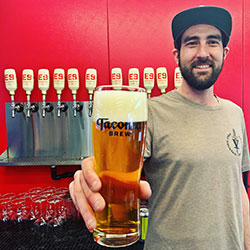 Player: Detour Ahead (#9 seed)
Team: E9 Brewing, Tacoma
Stats: 5.2% ABV, 16 IBU
BRINICH (laughing): Columbia Brewing Co. brewed Tacoma Brew in the late 1800s in Tacoma's now Historic Brewery District. As I mentioned previously, Columbia and its successor, Heidelberg Brewing, are gone but Tacoma Brew, a Kolsch, is still being brewed. I'll get to that in a second. Originally built in 1907, Engine House No. 9 doused fires via horse-drawn service. The ground floor was the stable; the second floor the living quarters for the firemen. Engine House No. 9 doused fires until the mid-1960s. In 1965, two News Tribune employees saved the abandoned building and by the early '70s the Engine House No. 9 tavern was pouring beer at Sixth and Pine. In 1995, Dusty Trail converted the early 20th century firehouse into a brewpub, and brought back the Tacoma Brew, the famous Tacoma lager of 1888. Dick Dickens grabbed the reins in 2002, bringing in head brewer Doug Tiede. Heads turned and medals were hung. In 2011, X Group purchased Engine House No. 9, with former chef turned head brewer Shane Johns and brewer Donovan Stewart eventually breaking the brewery off from the restaurant with the new name, E9 Brewing Co. In the spring of 2019, E9 moved its entire brewery across town to a massive space in Tacoma's Brewery District. E9 Brewing is now known internationally.
CRESPIN: And! And! And E9's Detour Ahead, a single hop lager brewed with Palisade hops, was nominated into the Tournament and its aromatics of stone fruit and earthy floral notes takes on Well 80's OG lager.
BRINICH: Nice!
SCROLL DOWN TO VOTE >>>>>>>>>>>>>>>>>>>>>>>>>>>>>>>>>>>>>>>>>>>>>>>>>>>>>>>>>>>>>>
GAME 3, NORTHERN OREGON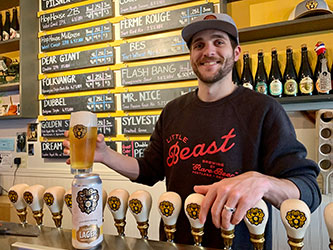 Player: Lager (#6 seed)
Team: Little Beast Brewing, Portland
Stats: 4.8% ABV
BRINICH: Little Beast first introduced this seasonal lager in 2020. The lager is fermented with Augustiner yeast and is brewed with 100-percent German heritage and German grown hops and malt — Hallertauer Mittelfrüh and Perle hops on the hot side; lightly dry hopped with Mandarina Bavaria for a soft boost of citrus, spice, and berry flavor. They designed it to be easy drinking with a light malt profile that finishes crisp and clean.
CRESPIN: Two years before Little Beast opened in Beaverton, Oregon, co-founder Charles Porter was brewing under yeast expert Dave Logsdon at Logsdon Farmhouse Ales in Hood River. "Little Beast" points to the microscopic organisms that give Porter's beer their incredible complexity and depth.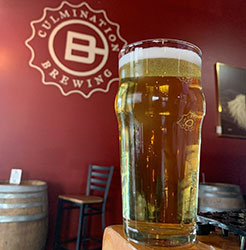 Player: Freedom Lager (#11 seed)
Team: Culmination Brewing, Portland
Stats: 4.8% ABV
BRINICH: Culmination originally brewed Freedom lager with Modern Times Beer before they left Portland. Brewed with mountain fresh water and only the choicest corn and hops, this refreshing lager leaves you "no other choice."
CRESPIN: We don't have a photo of Culmination's bartender because, and I'm not making this up, 30 minutes before Pappi Swarner arrived at Culmination some asshat climbed on Culmination's roof and threw an air conditioning unit onto the street. The bartender still had the shakes when Pappi arrived.
SCROLL DOWN TO VOTE >>>>>>>>>>>>>>>>>>>>>>>>>>>>>>>>>>>>>>>>>>>>>>>>>>>>>>>>>>>>>>
GAME 4, NORTHERN OREGON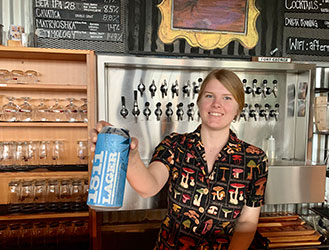 Player: 1811 Lager (#3 seed)
Team: Fort George Brewery, Astoria
Stats: 5.1% ABV, 15 IBU
BRINICH: Fort George brewed 1811 Lager as the Official Bicentennial Beer of Astoria 10 years ago, which was also their first can. It's brewed with Pilsner malts and flaked corn, which was a popular beer ingredient in 1811. In fact, breweries during those times had limited access to ice, so they improvised by brewing with lager yeasts at higher-than-normal temperatures. Described as a "Refreshing drink, much consumed by the laboring classes," this is the inspiration behind 1811 Lager.
CRESPIN: Speaking of inspiration, Christy Richards, lead brewer of Fort George's "Sweet Virginia" Pub System, was so inspired by International Women's Day that she organized the brewery's female staff — brewers, marketers, HR, servers, kitchen, and distribution — to brew Rye Side of History, a rye IPA. According to Brian Bovenizer, director of Marketing/Sales at Fort George, Richards put the whole thing together herself. "She's an absolute rock star brewer and is always doing cool stuff when she is not working hard on other brewing projects.," says Bovenizer. "It brought together a great group of people to celebrate a group that often is not in the spotlight, nor is often treated the best in the brewing industry."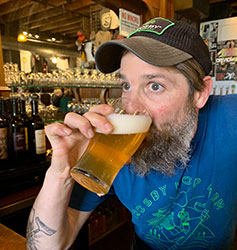 Player: Jiro Lager (#14 seed)
Team: Double Mountain Brewery & Cidery, Hood River
Stats: 4.8% ABV, 15 IBU
BRINICH: The light lager Jiro (pronounced gee-row) is a Japanese rice lager with earthy citrus, crispy rice cereal, and delicate floral notes.
CRESPIN: The name "Jiro" refers to Jiro Ono, a Japanese chef and owner of Sukiyabashi Jiro, a Japanese sushi restaurant in Ginza, Chūō, Tokyo, Japan. Ono is regarded by his contemporaries as one of the greatest living sushi craftsmen and is credited with innovating methods used in modern sushi preparation.
VOTE BELOW (CLICK "DONE" AFTER VOTING) >>>>>>>>>>>>>>>>>>>>>>>>>>>>>>>>>>>>>>>>>>>>>>>>>>>>>>>>>>>>

Friday, April 15 Tournament of Northwest Lagers action …
Game 1: Holy Mountain Brewing Holy Light (#7 seed) vs. Lowercase Brewing Mexican Lager(#10 seed)
Game 2: Structures Brewing Plainsman (#2 seed) vs. Seapine Brewing Pool Dad Lager (#15 seed)
Game 3: Silver Moon SMB Mexican Lager (#5 seed) vs. Bend Brewing Red Ribbon Lager (#12 seed)
Game 4: Claim 52 Brewing Premium American Lager (#4 seed) vs. Pelican Brewing Pelicano Extra (#13 seed)
LINK: Tournament of Beers: Northwest Lagers explained
LINK: Hot Damn! Yes, I want to subscribe to 6-Pack of Things To Do newsletter and be hip to local happenings!
LINK: Past Tournament of Beer competitions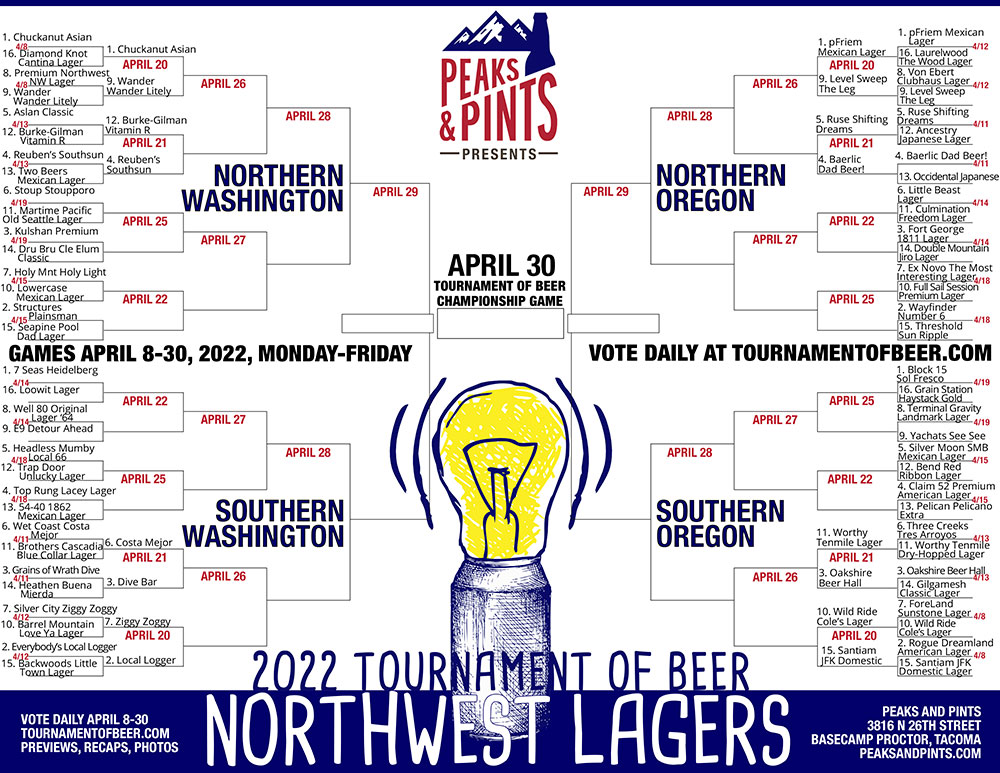 ---