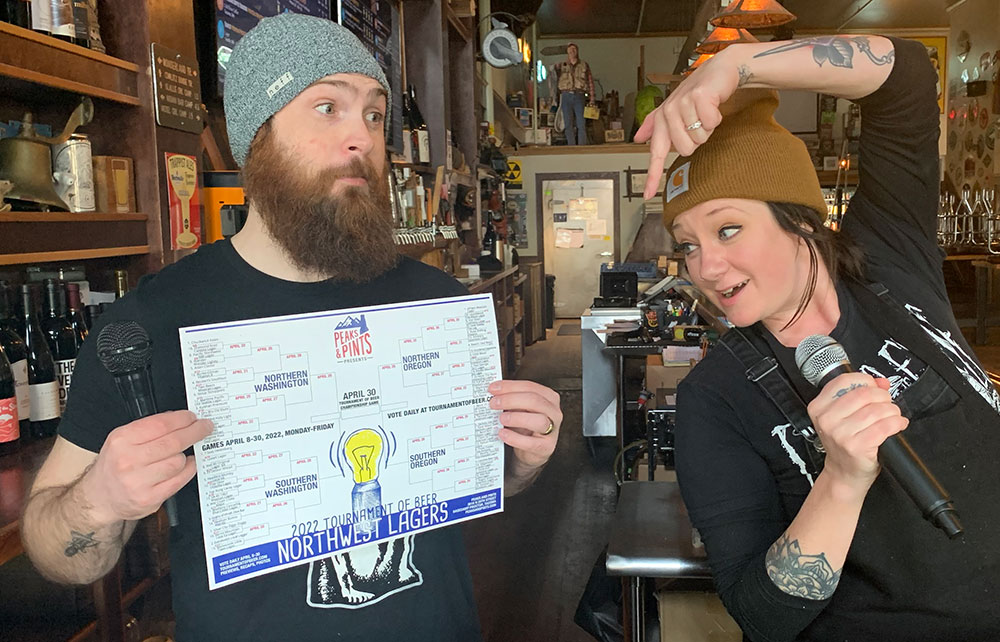 Peaks and Pints Tournament of Beer: Northwest Lagers April 13
MATT USHER: About six centuries ago, Bavarian brewers came to understand that a longer fermentation at lower temperatures could produce a crisper, cleaner beer with lower alcohol levels. But it wasn't until the advent of microbiology in the 19th century that they could identify and cultivate yeast that reliably did so: lager yeast. Hello everyone, I'm Peaks & Pints bartender Matt Usher and this is day four of the Peaks and Pints Tournament of Beer: Northwest Lagers. If you feel like voting on today's games right now, VOTE HERE.
BRITTNEY CROWDER: The word "lager" is a German verb that literally means "to warehouse." Hi folks. I'm Peaks cook Brittney Crowder. I'd like to point out geography gave the Bavarians a crucial advantage in warehousing beer to let it age at cold temperatures: the Alps. Before artificial refrigeration, they had caves in the Alps, which were natural refrigerators. With cold conditions, the beer didn't rely as much on hops and alcohol to keep from spoiling, making it feasible for a light-strength lager to convey a greater malt profile. Meanwhile, the longer aging process can create more delicate, nuanced malt flavors, yielding fewer of the hearty fruit or spice notes ale yeasts produce at higher temperatures. Instead of fruity and spicy, lagers are crisp and clean.
USHER: That's our lager logic for the day. Let's get back to the mother of all Northwest lager brackets. Let's recap yesterday's lager battles followed by eight new lagers hitting the boards today.
Tuesday, April 12, First Round Northwest Lagers Games Results
GAME 1, SOUTHERN WASHINGTON REGION
Silver City Brewery Ziggy Zoggy Party Beer (#7 seed) vs. Barrel Mountain Brewing Love Ya Lager (#10 seed)
USHER: Looks like the recipe tweak panned out for Ziggy Zoggy Party Beer. Every time the multiple award-winning Barrel Mountain Love Ya Lager made a run the Silver City lager would zig. Every time Love Ya played tough defense, the Silver City lager would zog.
CROWDER: Unfortunately, the party is over for Barrel Mountain. Ziggy Zoggy parties on with 70 percent of the votes.
GAME 2, SOUTHERN WASHINGTON REGION
Everybody's Brewing Local Logger (#2 seed) vs. Backwoods Brewing Little Town Lager (#15 seed)
USHER: How does a lumberjack know how many cans of Everybody's Local Logger he or she drinks?
CROWDER: I don't know.
USHER: He or she keeps a log.
CROWDER: If a Backwoods Little Town Lager tips over in the backwoods, and no one is around to hear it, does it make a sound?
USHER: Well Little Town Lager DID tip over on the court yesterday losing to Everybody's 80 percent of the vote. I'm sure the next time voters are at Everybody's Brewing in White Salmon the brewers will hear an ear full of praise.
CROWDER: We should take this on the road.
GAME 3, NORTHERN OREGON REGION
pFriem Family Brewers Mexican Lager (#1 seed) vs. Laurelwood Brewing The Wood Lager (#16 Seed)
USHER: pFriem's Mexican Lager turned out the troops to propel it into the next round of the tournament, despite Laurelwood's exceptional The Wood Lager. pFriem's lager brewing pedigree, fancy facility along the Columbia River, and Farmer Matt's 30-minute lager soliloquy in their taproom were factors. With 69 percent of the vote, pFriem's Mexican Lager moves on.
GAME 4, NORTHERN OREGON REGION
Von Ebert Brewing Clubhaus Lager (#8 seed) vs. Level Beer Sweep The Leg (#9 Seed)
CROWDER: Level Beer doesn't have as many brewing medals or historic beer styles as Von Ebert, but it is on the lips of every Star Wars cosplay, pinball-loving beer geek. And, you know there are plenty of those folks in the multiverse.
USHER: Indeed, the Karate Kid-inspired Sweep The Leg lager waxed on 54 percent of the votes yesterday and will wax off in the Second Round.
CROWDER: Let's wade through the chilled wort. The following are advancing to the Second Round:
>>> Silver City Ziggy Zoggy Party Beer
>>> Everybody's Local Logger
>>> pFriem Mexican Lager
>>> Level Sweep the Leg
USHER: It's time for today's lager battles. Please join in the singing of our national anthem
ORTEGA: Thank you Anna Negrón! OK, let's get to voting!
Wednesday, April 13, First Round Northwest Lagers Games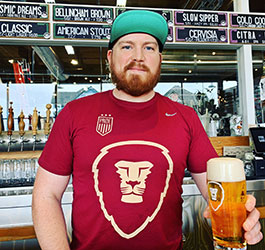 GAME 1, NORTHERN WASHINGTON
Player: Classic Lager (#5 seed)
Team: Aslan Brewing, Bellingham
Stats: 4.2% ABV
USHER: This is your classic, easy drinking light lager beer — light in flavor, alcohol, and calories. While it may be an American macro brewery standard, it's better when brewed in small batches without corn and rice.
CROWDER: And I'll add it's even better when Aslan bartender Nick Lohse pours it. In his nearly seven years at Aslan, Nick has held most of the kitchen jobs and worked his way to bartending, where he's a natural. The polite, attentive, big personality can discuss individual ingredients in each beer and dish, shouts jokes across the room, helps the front of the house, and made sure we knew every beer before we left.
Player: Vitamin R (#12 seed)
Team: Burke-Gilman Brewing, Seattle
Stats: 4.7% ABV
USHER: Apparently a former brewer from at a big Seattle regional brewery will veer off the Burke-Gilman Trail now and then to give the Burke-Gilman Brewing brewers tips on how to brew an American light lager. They listen. With a malt base of 2-row and flaked corn, and dry hopped with Hallertau hops, Vitamin R is delicious beeeeeeeeeeeeer.
CROWDER: I see what you did there. If I were Aslan Classic Lager I'd keep my eye out for Burke-Gilman's herd of Vitamin R's.
SCROLL DOWN TO VOTE >>>>>>>>>>>>>>>>>>>>>>>>>>>>>>>>>>>>>>>>>>>>>>>>>>>>>>>>>>>>>
GAME 2, NORTHERN WASHINGTON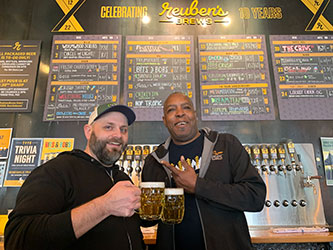 Player: Southsun (#4 seed)
Team: Reuben's Brews, Seattle
Stats: 4.8% ABV
USHER: Reuben's thirst-quenching, Mexican light lager is brewed with flaked corn, as well as Vienna and Pilsner malts, for a light, smooth body, and delicate Saaz hops pack just the right crisp flavor.
CROWDER: Reuben's R&D director Thor Stoddard says the brewery is brewing another batch of Southsun before this Tournament ends. Stoddard keeps Reuben's Brews on the cutting edge of independent beer. He's known as the "Breadth Manager" — meaning he's in charge of creating many beers — from lagers to barrel-aged beers, the last being his favorite.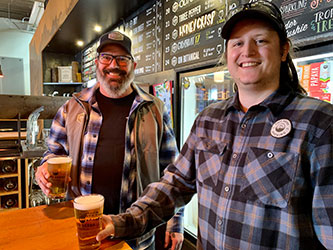 Player: Mexican Lager (#13 seed)
Team: Two Beers Brewing, Seattle
Stats: 4.9% ABV
USHER: I'm not sure which Two Beers Mexican lager was nominated from the public. My guess is all four versions were lumped into this 13th seeding. My favorite is their Lima Loca Mexican Lager infused with lime.
CROWDER: Well, Two Beers lead brewer Andrew Potts just brewed another batch of Mexican lager so let's go with it. On a different note, I have my eye of Potts' new Deception Pass Summer Ale.
SCROLL DOWN TO VOTE >>>>>>>>>>>>>>>>>>>>>>>>>>>>>>>>>>>>>>>>>>>>>>>>>>>>>>>>>>>>>>>>>>>
GAME 3, SOUTHERN OREGON
Player: Tres Arroyos Mexican Lager (#6 seed)
Team: Three Creeks Brewing, Sisters
Stats: 4.5% ABV
USHER: Three Creeks brewed this Mexican lager with Pilsner malt and Saaz hops for a clean, crisp, and refreshing lager, while traditional flaked maize adds just a touch of sweetness.
CROWDER: Specifically, Pat "Patio" Shea created the recipe for Three Creeks Tres Arroyos. He's been around the Central Oregon brewing scene for ages and brewing in general for nearly three decades. Patio began his brewing career at Rock Bottom in Portland, then Anderson Valley Brewing, Deschutes Brewery, Crux Fermentation Project, 10 Barrel Brewing, GoodLife, and Three Creeks Brewing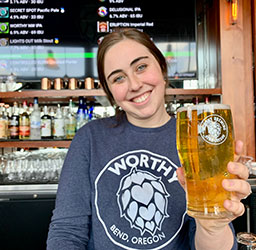 Player: TENMILE Dry-Hopped Lager (#11 seed)
Team: Worthy Brewing, Bend
Stats: 5.1% ABV
USHER: Worthy brewed this hoppy lager with Strata, Cascade, Perle, and Willamette hops, then dry hopped it with Strata for a unique wild and fruity front end.
CROWDER: Seeded with a three-year, $1 million commitment from Worthy Garden Club, the philanthropic arm of Worthy Brewing, Oregon's Operation Appleseed is supporting reforestation activities from the Cascade Range to the Willamette Valley to the Coast Range, with a focus on high-need public and private lands recovering from fire, deforestation, and water quality challenges. Worthy's Operation Appleseed efforts began with an old clear-cut parcel on the Tenmile Creek, which was the inspiration behind the lager's name.
SCROLL DOWN TO VOTE >>>>>>>>>>>>>>>>>>>>>>>>>>>>>>>>>>>>>>>>>>>>>>>>>>>>>>>>>>>>>>
GAME 4, SOUTHERN OREGON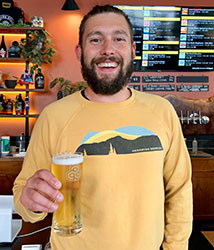 Player: Beer Hall Lager (#3 seed)
Team: Oakshire Brewing, Eugene
Stats: 3.4% ABV
USHER: Hallertau Traditional hops and Oakshire's house lager strain give this beer a malty mouthfeel with a light oak aroma. I can drink a ton of this beer not only because of its low alcohol by volume but it's also damn tasty.
CROWDER: I'm excited about this beer for two reasons. First, Oakshire is awesome. They brewed Oregon I Am hazy pale ale in honor of the McKenzie River Watershed and McKenzie River Trust. Oakshire joined the Coalition of Oregon Land Trusts project and brewed the beer with Oregon-sourced ingredients in an homage to our Oregon and its wildlands. Second, freakin' Jordan Wallis still works at Oakshire. I used to bartender at The Valley, and I loved it when Jordan would walk in the door ready to sell me beer. Cheers Jordan! Tacoma misses you!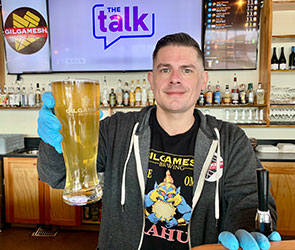 Player: Classic Lager (#3 seed)
Team: Gilgamesh Brewing, Salem
Stats: 4.5% ABV
USHER: This is the second "Classic Lager" in the Tournament. Gilgamesh's version hits the nose with freshly crushed grain and dried grass. A faint honey drizzled biscuits lies beneath. The flavor mimics the aroma, but with the grassiness well subdued. Mostly a cereal grain sweetness, but not obnoxious by any means.
CROWDER: Dude, you must check out Gilgamesh's massive The Woods taproom in West Salem. Owner Lee Radke did all the beautiful woodworking. The Wood's entryway, bar, tables, beams, and a fireplace are built from honey-hued Douglas fir harvested and milled on the family's property in Turner, Oregon. Spalted maple adorns the front of the bar; redwood graces the fireplace mantle. The 45-foot live edge bar was formed from the wood of a single curving tree. Radtke and his three sons Mike, Nick, and Matt started Gilgamesh in 2009 when the four homebrewers converted Lee's custom woodworking building into a brewery.
VOTE BELOW (CLICK "DONE" WHEN FINISHED VOTING) >>>>>>>>>>>>>>>>>>>>>>>>>>>>>>>>>>>>>

Thursday, April 14 Tournament of Northwest Lagers action …
Game 1: Heidelberg Premium Lager (#1 seed) vs. Loowit Lager (#16 seed)
Game 2: Well 80 Original Lager '64 (#8 seed) vs. E9 Brewing Detour Lager (#9 seed)
Game 3: Little Beast Brewing Lager (#6 seed) vs. Culmination Freedom Lager (#11 Seed)
Game 4: Fort George Brewery 1811 Lager (#3 seed) vs. Double Mountain Jiro Lager (#14 Seed)
LINK: Tournament of Beers: Northwest Lagers explained
LINK: Hot Damn! Yes, I want to subscribe to 6-Pack of Things To Do newsletter and be hip to local happenings!
LINK: Past Tournament of Beer competitions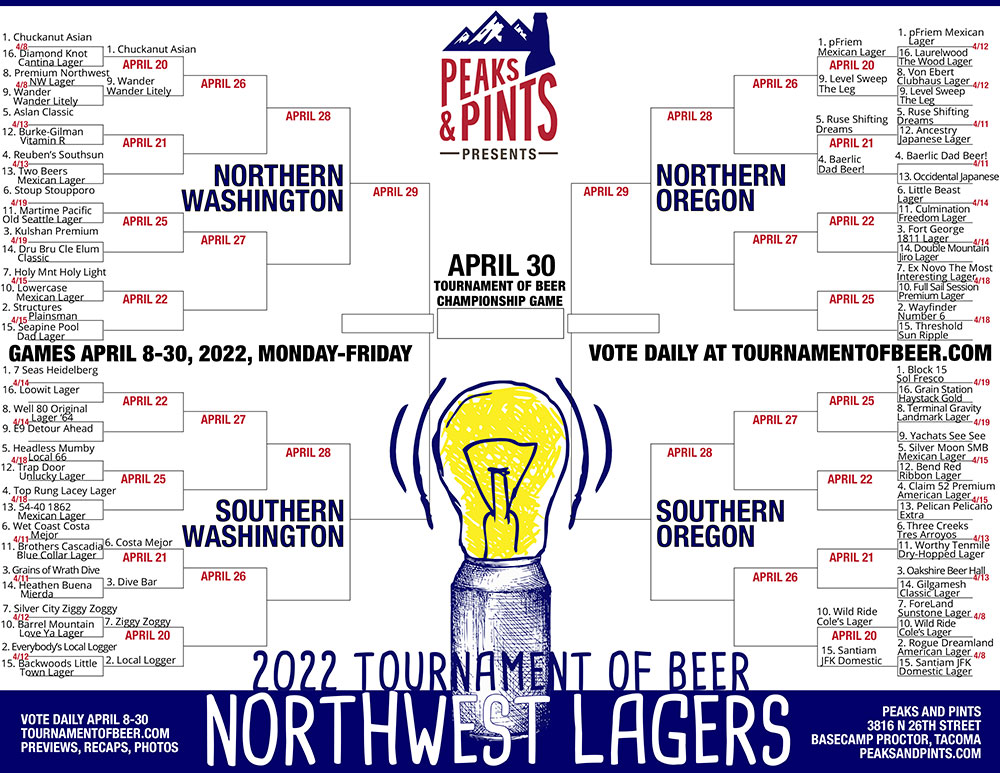 ---