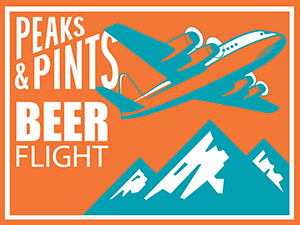 Every December — while the bartenders close down our Proctor District craft beer bar, bottle shop and restaurant for the night — Peaks & Pints co-owner Pappi Swarner grabs three holiday beers, heads upstairs to his office, cranks his computer speaks to an 11 and watches holiday Youtube videos. Obviously, he can't perform his holiday tradition this year … at Peaks & Pints. No, his holiday hell now takes place inside his home, much to the chagrin of his wife and daughter. In the spirit of giving, we offer you the chance to share his joy. Today, he pairs the three Christmas season beers below with a deep cut from Jim Henson's 1986 made-for-TV Christmas special, The Christmas Toy. It walks a shaky tightrope between delightfully whimsical and just plain creepy. The story: A child's toys come to life and frolic about whenever the humans aren't looking — including chesty action figure Meteora, Queen of the Asteroids. Stop by for Peaks and Pints To-Go Christmas Beer Flight: Asteroid Queen.
Peaks and Pints To-Go Christmas Beer Flight: Asteroid Queen
Rogue Yellow Snow Pilsner
5.5% ABV, 19 IBU
Remember not to eat yellow snow. Peaks & Pints doesn't care what the older guys at the playground tell you, eating yellow snow will not give you super powers or a beard. Take our word on it. Do drink Yellow Snow! Rogue Ales brewed Yellow Snow IPA for 15 years, but in 2019 the Oregon brewery decided to make a beer reminiscent of our Pacific Northwest winters. They turned Yellow Snow into a crisp pilsner made with spruce tips from their own backyard. It has a sweet toffee and berry flavor with herbal notes, bubblegum and a smooth, fruity finish.
Guinness Bourbon Barrel-Aged Gingerbread Spiced Stout
11% ABV
Two years ago, Guinness opened a new brewery in Maryland, the Open Gate Brewery just outside of Baltimore. It's the first time Guinness has had a brewery in the U.S. in more than 60 years. Originating from the Open Gate Brewery in Baltimore, this winter treat is brewed with allspice, ginger, cinnamon, and nutmeg, then aged in bourbon barrels. Brewed with the warmth and merriment of the holiday season in mind, this rich, flavorful stout features notes of baking spices, dark, roasted breads, and holiday baking. The bourbon character is present, as is the characteristic vanilla found in barreled beers.
Reuben's Reuben Claus
5.9% ABV, 30 IBU
Eight different grains are used to create Reuben's Brews' award-winning Robust Porter, the base for the Seattle brewery's holiday porter, Reuben Claus. Roasted malts are the star in both aroma and flavor that's nutty and slightly sweet with an espresso bitterness balanced by a touch of creamy vanilla, chocolate and caramel sweetness, without being cloying or off putting. That is … until Reuben's Brews' brewers added candy canes and cocoa nibs. The resulting Reuben Claus holiday porter now has a peppermint nose and flavor with slightly more chocolate flavor.
LINK: Peaks & Pints Christmas beer flights archive
---