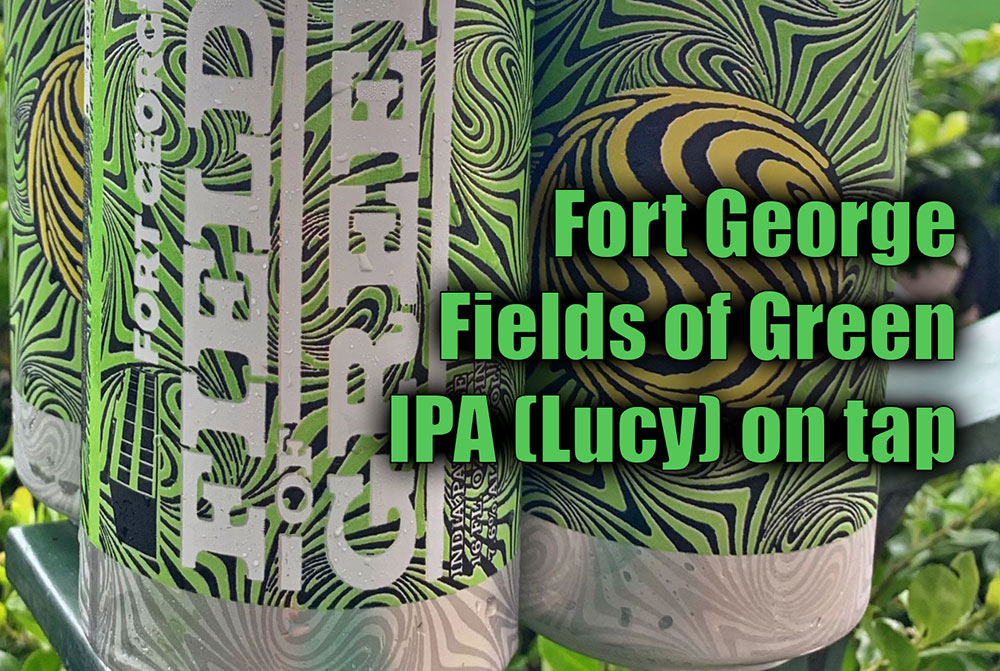 Peaks and Pints Tap List: Tuesday, July 23 2019
Peaks and Pints houses a mind-boggling array of suds: some 650 or so bottled and canned in our cooler, with another 28 on tap, including nitro lines. While craft beer remains our foundation, you don't have to be embarrassed for ordering artisan craft cider, wine, cold brewed coffee and kombucha as those delights are on tap too at Peaks and Pints. To follow our tap list live from your phone, click here for iPhone and here for Android.
Today, we have Fort George Fields of Green IPA (Lucy) on tap. Fort George Brewery's Fields of Greenis an exploration of hop-perceptions, pushing the limits of your lupulin receptors. This periodic IPA release, always evolving, has landed at Peaks and Pints — on tap and in cans. Named "Lucy," this Fields sports a hop bill of Citra, Azacca, Motueka, and Lotus for flavors of orange, pineapple and mango. This is offset from the malts used, 2-row barley, Pilsner, flaked wheat, white wheat, and oat malt.
1

Argyle

Pinot Noir, Willamette Valley

14.1%

Just Tapped

2

Leese Fitch

Cabernet

13.5%

Just Tapped

3

Isenhower Cellars

Marsanne

USA

Walla Walla

%

Just Tapped

4

GT'S

Gingerade

Kombucha

Beverly Hills, CA

0%

Just Tapped

5

Bluebeard Coffee Roasters

Nitro Cold Brew Coffee

Cold Brew Coffee

Tacoma, WA

Just Tapped

6

Rainier

Mountain Fresh Rainier Beer

Adjunct Lager

Seattle, WA

4.73%

IBU

Just Tapped

7

Double Mountain

Dry Cider

Cider

Hood River, OR

6.7%

Just Tapped

8

Seattle

Grapefruit Thyme

Grapefruit

Seattle, WA

6.9%

Just Tapped

9

Tieton

Lavender Honey

Cider

Tieton, WA

6.9%

Just Tapped

10

Double Mountain

Tahoma Kriek 2017

Wild Ale

Hood River, OR

9.5%

30 IBU

Just Tapped

11

Van Honsebrouck

Bacchus

Flanders Oud Bruin

Ingelmunster, Belgium

4.5%

IBU

Just Tapped

12

Kulshan

Pilsner

German-style Pilsner

Bellingham, WA

5.2%

30 IBU

Just Tapped

13

Stoup

Traditional Bock

Bock

Seattle, WA

6.9%

25 IBU

Just Tapped

14

Ayinger

Brau Weisse

Hefeweizen

Aying, Germany

5.1%

13 IBU

Just Tapped

15

Double Mountain

Vaporizer

Dry Hopped Pale Ale

Hood River, OR

6%

55 IBU

Just Tapped

16

Kulshan

Tree-dimensional

IPA

Bellingham, WA

6.8%

IBU

Just Tapped

17

Standard

Jimothy IPA

IPA

Seattle, WA

6.3%

IBU

Just Tapped

18

Matchless

Hazy Expectations

Hazy IPA

Tumwater, WA

6.8%

IBU

Just Tapped

19

Skookum

Splatter

New England IPA

Arlington, WA

6.2%

IBU

Just Tapped

20

Little Beast

Show Pony

Double IPA

Portland, OR

8.5%

25 IBU

Just Tapped

21

Rainy Daze

Winter Daze Alt

Alt

Poulsbo, WA

6.2%

IBU

Just Tapped

22

Mother Earth

Sin Tax - Nitro

Imperial Stout Peanut Butter

Nampa, ID

8.1%

55 IBU

Just Tapped

23

Firestone Walker/Cigar City

Los Lenadores

Imperial Brown Ale - Barrel Aged (High Rye Bourbon)

Paso Robles, CA

11.6%

IBU

Just Tapped

24

De Proef/Surly

Zwart Black Star

Old Ale w/ star anise & Brettanomyces

Lochristi-Hijfte, Belgium

8%

IBU

Just Tapped

25

Oakshire

Barleywine

Barleywine

Eugene, OR

10.1%

88 IBU

Just Tapped

26

Wingman

Peanut Butter Cup P-51

Peanut Butter Porter

Tacoma, WA

8%

IBU

Just Tapped

27

Block 15

Nebula

Oatmeal Stout

Corvallis, OR

6%

IBU

Just Tapped

28

Epic

Big Bad Baptist Quadruple Barrel

Stout Cacao Nibs, Barrel-Aged Coffee, Barrel-Aged Coconut, Barrel-Aged Almonds, Barrel-Aged Salt, Caramel - Barrel Aged (Whiskey & Rum)

Salt Lake City, UT

11.4%

IBU

Just Tapped
---