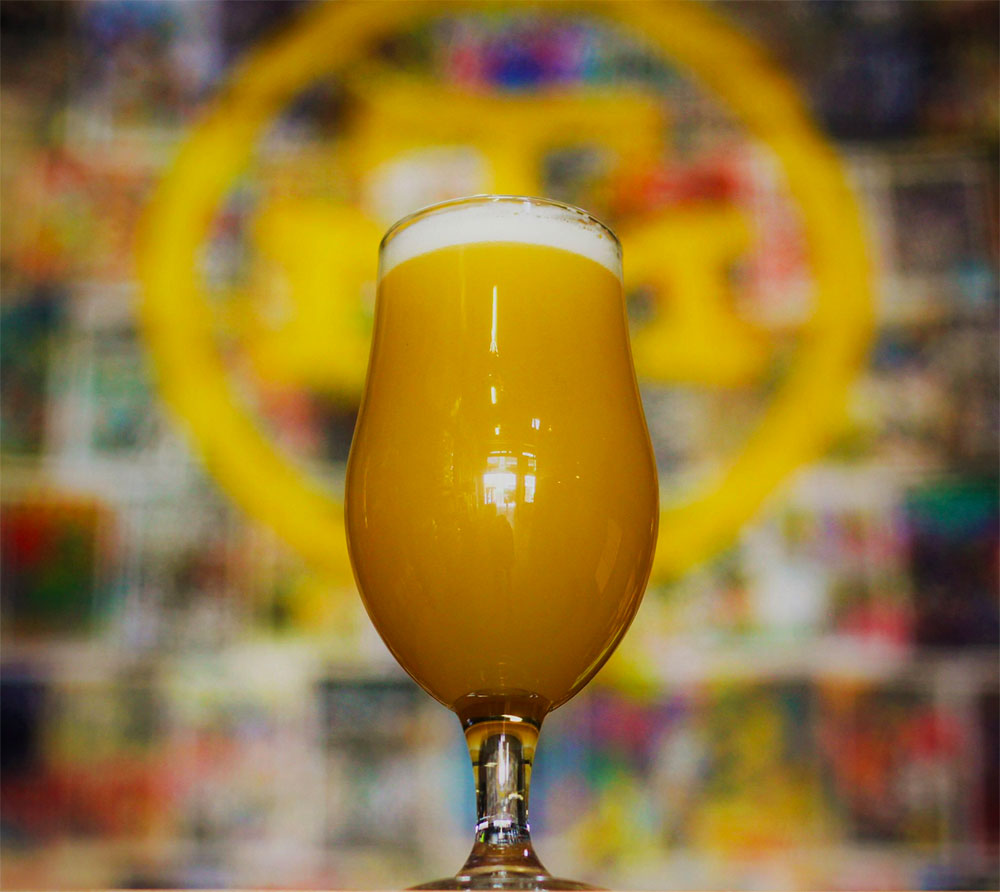 Peaks and Pints Tap List: Monday, July 22 2019
Peaks and Pints houses a mind-boggling array of suds: some 650 or so bottled and canned in our cooler, with another 28 on tap, including nitro lines. While craft beer remains our foundation, you don't have to be embarrassed for ordering artisan craft cider, wine, cold brewed coffee and kombucha as those delights are on tap too at Peaks and Pints. To follow our tap list live from your phone, click here for iPhone and here for Android.
Today, we have Modern Times' Green Futures IPA on tap. This transcendently hazy IPA started with a base of Pilsner malt and some flaked and malted oats. Then, the brewers hopped the beejesus out of it with Nelson, Strata, Centennial, and Simcoe hops for lots of dankness, pithy stone fruits, and yeast.
1

Proletariat

Sangiovese

USA

Walla Walla, WA

12%

Just Tapped

2

Raymond

Cabernet Sauvignon

US

California

14.5%

Just Tapped

3

Liberty School

Chardonnay

USA

California

13%

Just Tapped

4

GT'S

Trilogy

Raspberry, Lemon, and Ginger Kombucha

Beverly Hills, CA

0%

Just Tapped

5

Bluebeard Coffee Roasters

Nitro Cold Brew Coffee

Cold Brew Coffee

Tacoma, WA

Just Tapped

6

Rainier

Mountain Fresh Rainier Beer

Adjunct Lager

Seattle, WA

4.3%

IBU

Just Tapped

7

One Tree

Chai Yeti

"Infused" Cider

Spokane Valley, WA

7.1%

Just Tapped

8

Tieton

Bourbon Peach

Cider Barrel Aged w/ Peaches

Tieton, WA

6.5%

Just Tapped

9

Standard

Faithful And True

Saison - Barrel Aged (oak aged)

Seattle, WA

5.3%

IBU

Just Tapped

10

Cascade

Bourbonic Plague

Blended Sour Porter w/ Vanilla Beans & Cinnamon - Barrel Aged (Bourbon & Wine)

Portland, OR

12%

IBU

Just Tapped

11

Structures

Skagit Blend

Mixed Culture Saison w/ Blueberries & Raspberries

Bellingham, WA

6.5%

IBU

Just Tapped

12

Occidental

Bohemian-Style Pilsner

Pilsner

Portland, OR

4.8%

35 IBU

Just Tapped

13

E9

Sweven Ale

Ale

Tacoma, Washington

6%

IBU

Just Tapped

14

Maisel's

Weisse

Hefeweizen

Bayreuth, Germany

5.1%

IBU

Just Tapped

15

E2W

Apple Kolsch

Kolsch Apple infusion

Gig Harbor, WA

5.4%

18 IBU

Just Tapped

16

Kulshan

Tree-dimensional

IPA

Bellingham, WA

6.4%

IBU

Just Tapped

17

Future Primitive

Uncontrollable Urge

IPA

White Center, WA

6%

IBU

Just Tapped

18

Stoup

2nd Star

IPA

Seattle, WA

7.1%

45 IBU

Just Tapped

19

Bale Breaker

Sown & Grown

100% WA Grown IPA

Yakima, WA

6.5%

55 IBU

Just Tapped

20

Gigantic/Anchorage

Electric

Hazy Imperial IPA

Portland, OR

8%

IBU

Just Tapped

21

Anchor

Christmas Ale

Winter Warmer

San Francisco, CA

6.9%

40 IBU

Just Tapped

22

10 Barrel

Pray for Snow

Winter Warmer

Bend, OR

7%

37 IBU

Just Tapped

23

Pelican

Bad Santa

Cascadian Dark Ale (Black IPA)

Pacific City, OR

7.5%

65 IBU

Just Tapped

24

Maritime Pacific

Jolly Roger Christmas

English Strong Ale

Seattle, WA

9.5%

42 IBU

Just Tapped

25

Gigantic

MASSIVE!

Barrel-Aged Barleywine - Barrel Aged (Heaven Hills Bourbon)

Portland, OR

14.3%

65 IBU

Just Tapped

26

Everybody's

Pitter Patter Porter

Rye Porter

White Salmon, WA

5.6%

37 IBU

Just Tapped

27

Bale Breaker

Wood & Wire

Imperial Stout

Yakima, WA

8.8%

80 IBU

Just Tapped

28

Oskar Blues

Ten Fidy (Barrel Aged) 2018

Imperial Stout - Barrel Aged (Bourbon)

Longmont, CO

12.9%

75 IBU

Just Tapped
---