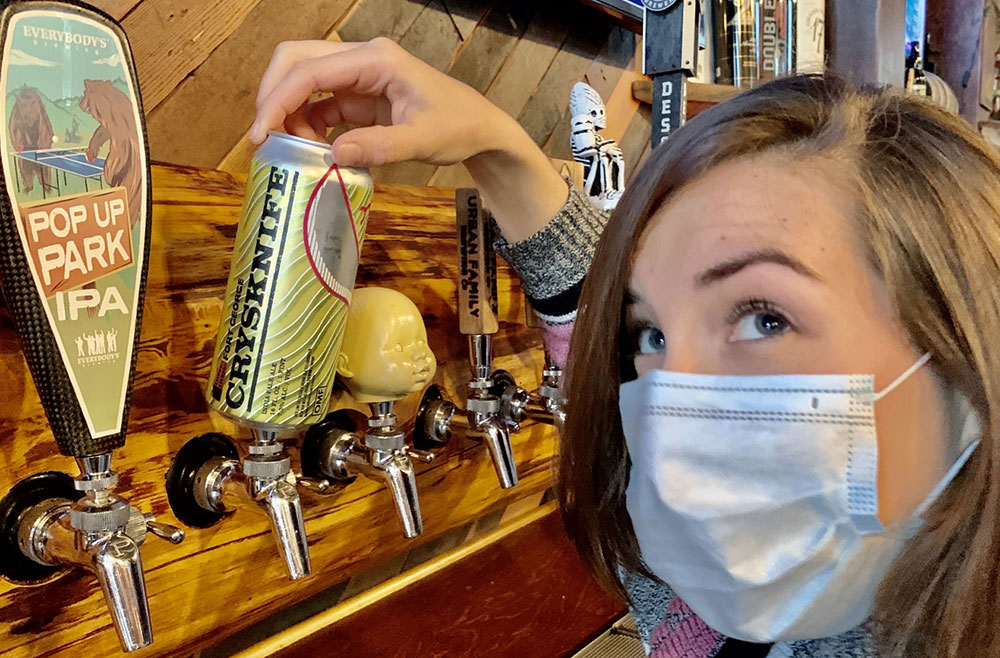 Peaks and Pints Tap List: Fort George Crysknife IPA
Peaks and Pints houses a mind-boggling array of suds: some 800 or so bottled and canned in our cooler, with another 28 on tap for Campfire Crowler fills (until pints return). While craft beer remains our foundation, you don't have to be embarrassed for ordering artisan craft cider, wine, cold brewed coffee and kombucha as those delights are on tap too at Peaks and Pints. To follow our tap list live from your phone, click here for iPhone and here for Android. Peaks and Pints Tap List includes Fort George Brewery Crysknife New England-style IPA (7.2%), a melange of fruit and spice, thanks to vast amounts of Citra, Azacca, Strata and Cashmere hops. Brewed from a mutual love of science fiction, this tropical fruit juiciness collaboration with Our Mutual Friend Brewing is also in the Peaks cooler.
A crysknife is a knife made from the tooth of a dead sandworm of Arrakis. It was the weapon of choice for Arrakis denizens, Fremen, a group of people in the fictional Dune universe created by Tacoman Frank Herbert.
Safety Is Priority Number One
One of the most fulfilling aspects of our craft beer and cider bar, bottle shop and restaurant is being a gathering place for the community. It's a role we do not take for granted, and there are many responsibilities that come along with it — the health and safety of our guests and staff being at the top of the list. …
Face masks must be worn at all times.
Please maintain a social distance of 6 feet while waiting for take-out food and/or Campfire Crowler and Growler fills,
We're continuing with two people at a time in the cooler with the line forming up the back stairs.
We're open 11 a.m. to 8 p.m. each day for now, but we hope to return to "before times" hours as soon as possible.
Hope to see you soon.
1

Proletariat

Sangiovese

USA

Walla Walla, WA

14%

Just Tapped

2

Argyle

Pinot Noir

Sonoma, CA

13.5%

Just Tapped

3

Proletariat

Sauvignon Blanc

USA

Walla Walla, WA

13%

Just Tapped

4

SiG Brewing

Sonic Destroyer

Hard Seltzer Cherry, Limeade

Tacoma, WA

6.3%

IBU

Just Tapped

5

Bluebeard Coffee Roasters

Nitro Cold Brew Coffee

Cold Brew Coffee

Tacoma, WA

Just Tapped

6

Rainier

Mountain Fresh Rainier Beer

Lager

Seattle, WA

4.73%

IBU

Just Tapped

7

Double Mountain

Tossed Apples

Heritage

Hood River, OR

7.3%

Just Tapped

8

Tieton

Fresh Hop Cider

Fresh Hop Cider

Yakima, WA

6.9%

Just Tapped

9

2 Towns

Chocolate Marionberry

Cider w/ Cacao Nibs, Marionberries & Vanilla Beans

Corvallis, OR

8%

Just Tapped

10

Block 15

Kriek

Kriek w/ Montmorency Cherries - Barrel Aged (Bourbon)

Corvallis, OR

7%

IBU

Just Tapped

11

Blaugies/Hill Farmstead

La Vermontoise

Belgian Saison

Blaugies, Belgium

6%

IBU

Just Tapped

12

Pike

Post Alley Pils

Pilsner

Seattle, WA

4%

IBU

Just Tapped

13

Bayern

Oktoberfest

Oktoberfest/Marzen

Missoula, MT

6%

23 IBU

Just Tapped

14

Fort George

Half Liter

Festbier

Astoria, OR

5.6%

IBU

Just Tapped

15

Equilibrium

Mmm...Osa

Pale Ale w/ Zested Oranges

Middletown, NY

4.8%

IBU

Just Tapped

16

Old Schoolhouse

Between Peaks IPA

IPA

Winthrop, WA

7%

IBU

Just Tapped

17

Stoup

In the Meantime

IPA

Seattle, WA

6.3%

41 IBU

Just Tapped

18

Fort George

Fresh IPA

Fresh Hop IPA Luminosa

Astoria, OR

6.4%

IBU

Just Tapped

19

Vice

The Freshmaker

Fresh Hop IPA

Grants Pass, OR

6%

IBU

Just Tapped

20

Spartacus Brewing

Bullet Proof

Triple IPA Hazy

Juiz de Fora, Minas Gerais, Brazil

10%

IBU

Just Tapped

21

Reuben's

Conollys Red

Irish Red Ale

Seattle, WA

6.8%

47 IBU

Just Tapped

22

Left Hand

Pumpkin Spice Latte Nitro

Stout

Longmont, CO

7%

IBU

Just Tapped

23

Aslan

B'Ham Brown

Organic Brown Ale

Bellingham, WA

5.8%

24 IBU

Just Tapped

24

Pike

Pike Kilt Lifter Ruby Ale

Red Ale

Seattle, WA

6.5%

27 IBU

Just Tapped

25

Fremont

13th Anniversary

Barrel-Aged Golden Barleywine

Seattle, WA

13.6%

IBU

Just Tapped

26

Oskar Blues

Death By Coconut

Porter w/ Coconut & Dark Chocolate

Longmont, CO

6.5%

25 IBU

Just Tapped

27

Worthy

Lights Out Stout

*contains lactose* Oatmeal Stout w/ vanilla beans

Bend, OR

7.7%

30 IBU

Just Tapped

28

Alesong

Coconut Rhino Suit

BBA Imperial Milk Stout

Eugene, OR

12.4%

30 IBU

Just Tapped
---