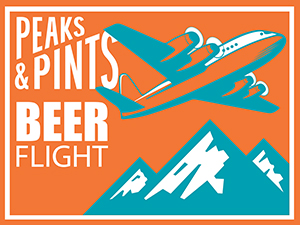 Even if you don't fall for the "food" of the day holiday thing, you have to admit it's hard to resist peanut butter fudge. Today is National Peanut Butter Fudge Day, a day we wholeheartedly support for obvious reasons: Reese's Peanut Butter Cups. In 1917, Harry Burnett Reese worked on a dairy farm owned by the Hershey Company, which morphed into a job in the company's candy factory. While some folks like to tinker with electronics in their basement, Reese hid beneath his main floor experimenting with different candy formula, with the intention of making extra money to care for his growing family. He created the H. B. Reese Candy Company in 1923, selling a large variety of confections. One day one of his family members got his or her chocolate stuck in his peanut butter. The rest, as they say, is history. Anyway, since many fudge recipes do include chocolate, we're going with thew peanut butter chocolate to-go beer flight, Peaks and Pints Pilot Program: Peanut Butter Chocolate On the Fly.
Peaks and Pints Pilot Program: Peanut Butter Chocolate On the Fly
Wild Ride Nut-Crusher Peanut Butter Porter
6% ABV, 18 IBU
Let's talk love. Peanut Butter. It transports us to a happier, simpler age. It's not a candy thing. It's a comfort thing. Redmond, Oregon's Wild Ride Brewing brings together two favorite flavors, peanut butter and porter, in this liquid chocolate truffle treat with a strong nuttiness. Nut Crusher is a beer that's almost as fun, if not more fun, to sniff for a while before actually drinking it.
Lost Coast Peanut Butter Chocolate Milk Stout
5.6% ABV, 21 IBU
In 1986, Barbara Groom, a pharmacist, wondered what it would require to start a brewpub. After years honing her skills home brewing, planning and studying scores of pubs throughout England and Wales Barbara was ready to transform the dream into a reality. In 1990, after purchasing the Pythian Castle, a 100-year-old building in Eureka, California, she opened Lost Coast Brewery and Café. Today, Lost Coast is the 41st largest craft brewery in the United States distributing its fine ales in 24 states and 22 countries. Lost Coast Peanut Butter Chocolate Milk Stout is an easy drinking dark beer, brewed with lactose to give a full mouthfeel and up-front sweetness. This creamy midnight black stout has rich layers of coffee, caramel, toffee, prunes, raisins, and roasted peanuts.
Left Hand Peanut Butter Milk Stout
6.2% ABV, 25 IBU
Rhythm and Blues. Batman and Robin. Peaks & Pints and the Proctor District. Peanut Butter and Chocolate. These classic duos never go out of style. Enter Left Hand Brewing Peanut Butter Milk Stout. The Longmont, Colorado brewery took the pure milk chocolate bliss of their classic Milk Stout with Chocolate malt, rolled oats and roasted barley, and added peanut buttery goodness. It's rich and decadent on the palate and lusciously lingers into a nutty, dry finish.
Belching Beaver Viva La Beaver
7.5% ABV, 28 IBU
Kick your peanut butter fix up a notch with Belching Beaver Brewery's Viva La Beaver Mexican Chocolate Peanut Butter Stout. Sometimes named just Mexican Chocolate Peanut Butter Stout (confusing!), and prior, Living La Beaver Loca, this award-winning beer offers flavors of creamy peanut butter, cinnamon and cocoa nibs. Peaks and Pints also picks up notes of roasted coffee, cookie dough, fudge, brownie batter, cappuccino, toffee and dark roasted malts upfront, as well as a little vanilla on the mid-palate. This decadent milk stout is the definition of pastry stout.
---