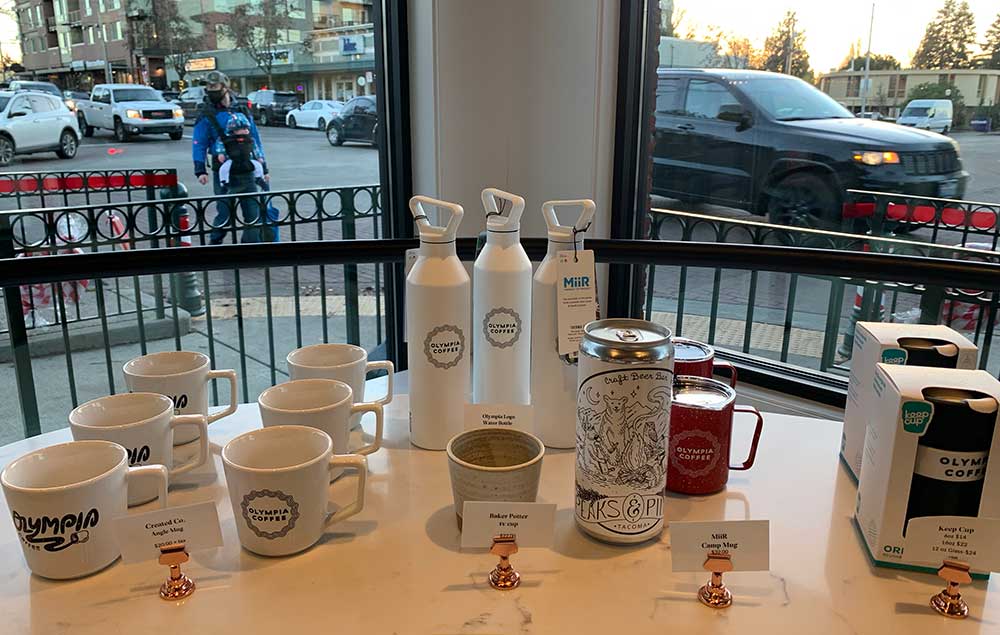 Peaks and Pints Proctor Presents: Olympia Coffee meets Campfire Crowler
Proctor is a boutique Tacoma neighborhood centered around North 26th Street and Proctor Street. It's a small district packed with locally-owned and operated niche stores in which every detail — every window display, bushel of fresh produce or interior cheer — is carefully curated for customers. This year, the Proctor Business District dons candy cane stripes and white lights for their month-long "Meet Me At Proctor's Peppermint Place" celebration. Peaks and Pints bottle shop, taproom and restaurant has called Proctor home for more than four years. We're proud to be a part of this wonderful, caring community. Therefore, during this holiday season, not only are we highlighting a draft beer or cider we think you should take home in our 32-ounce Campfire Crowler, but also hinting at the present from our neighbors. Today, we welcome Olympia Coffee Roasters.
Olympia Coffee Roasters
Tim Hunter and Terry Ziniewicz hired Sam Schroeder bag coffee at their Olympia Coffee Roasters in Olympia. Schroeder, the company's first employee, and Oliver Stormshak became the new owners in 2010 with expansion on the brain, which they did, including Tacoma's version in the Proctor Business District. The coffee company's trademark white motif allows for specific items to pop, including a couple stocking stuffers on table once inhabited by the neighborhood cool kids. Yes, in addition to Olympia's fresh-roasted coffee — all of which springs from the certified B Corp company's in-house Fair For All coffee sourcing program — the coffeehouse has many gift items for sale, including Created Co. Angle Mugs, Olympia Logo Water Bottles, Baker Potter TV Cups, red metal mugs, and hoodies.
Peaks and Pints Campfire Crowler Fill
Today's Peaks and Pints Proctor Present Campfire Crowler 32-ounce fill is Everybody's Brewing Pitter Patter Porter (5.6%) with layers of burnt sugar, toffee, and caramel capped with a refreshing hint of dark roast and subtle rye spice.
---