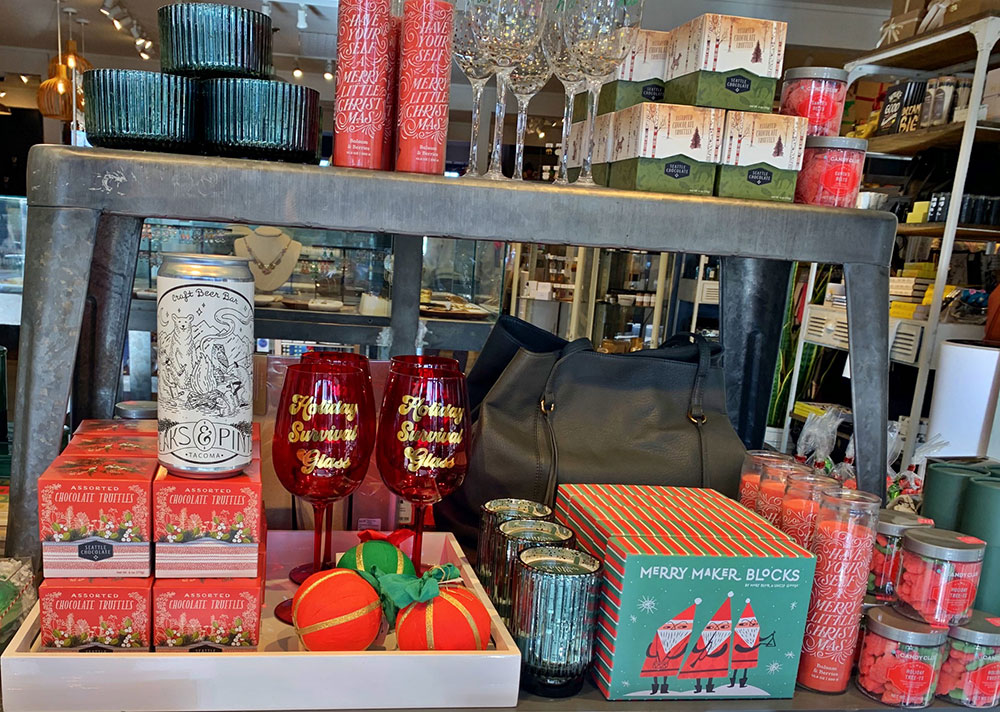 Peaks and Pints Proctor Presents: Compass Rose meets Campfire Crowler
Proctor is a boutique Tacoma neighborhood centered around North 26th Street and Proctor Street. It's a small district packed with locally-owned and operated niche stores in which every detail — every window display, bushel of fresh produce or interior cheer — is carefully curated for customers. This year, the Proctor Business District dons candy cane stripes and white lights for their monthlong "Meet Me At Proctor's Peppermint Place" celebration. Peaks and Pints bottle shop, taproom and restaurant has called Proctor home for more than four years. We're proud to be a part of this wonderful, caring community. Therefore, during this holiday season, not only are we highlighting a draft beer or cider we think you should take home in our 32-ounce Campfire Crowler, but also the perfect present from our neighbors. Today, we welcome Compass Rose.
Compass Rose
Located directly across the street from Peaks and Pints, Compass Rose features all the quirk, class and sass of its original downtown Olympia location — with a T-town flair. Compass Rose offers artisan jewelry, colorful kitchen essentials, locally made lovelies, cards, books and a vast assortment of surprises — including an awesome display of gift greeting you at their door (after you wait in line outside and receive a spritz of sanitizer). As you step into the glorious gift and clothing store you'll be greeted with Seattle Chocolate Assorted Chocolate Truffles, Candy Club's sour Santa's Belts and Holiday Tree-Ts candies, Balsam & Berries holiday candles, Paddywax Cypress & Fir candles, red "Holiday Survival Glass" wine or sour beer glasses, Merry Maker Blocks, gift tags, Road Trip Kits and more. 3815 N.26th St., Tacoma, 253.759.0077
Peaks and Pints Campfire Crowler Fill
Today's Peaks and Pints Proctor Present Campfire Crowler 32-ounce fill is Maritime Pacific Brewing's Jolly Roger Christmas Ale (9.5%) brewed with Skagit Valley Malting specialty malts and a blend of Chinook, Cascade, and Amarillo for that wonderful spice note so identified with this annual winter ale.
---