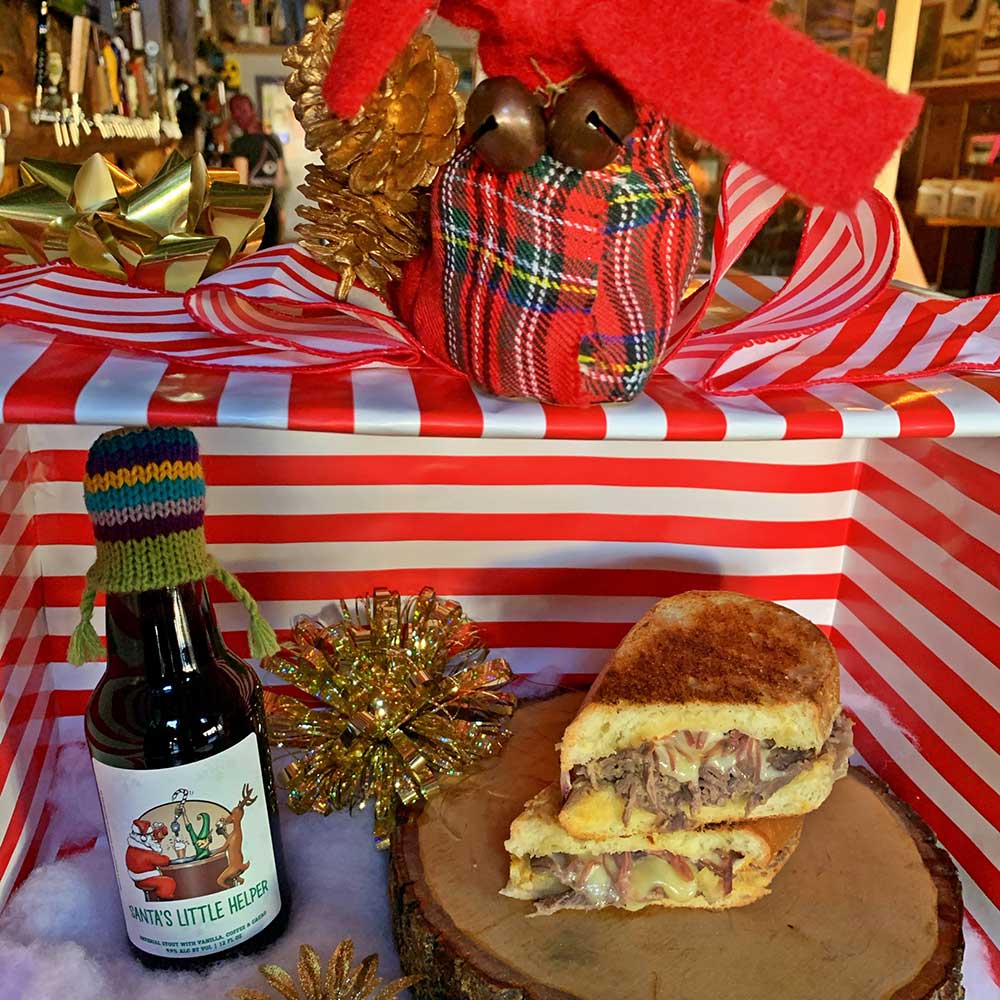 Peaks and Pints Adventwiches Beeralendar: Roast Beast
During the Christmases of our childhoods, Peaks & Pints always enjoyed advent calendars and the daily ritual of opening a little door to reveal a new surprise for each day of December until the 25th. Taking the advent calendar as inspiration, we present the Peaks and Pints Adventwiches Beeralendar — a monthlong pairing our daily sandwich special with a winter beer. In a sense, Peaks & Pints opens a door to a daily dose of sandwiches and craft beer to get you through the end of the year (and who could blame you, honestly). We're ho-ho-hoping you're ready to eat and drink your way to the big celebration.
First up is the Roast Beast and Port Brewing Santa's Little Helper. Peaks & Pints Kitchen Claus-et whipped a Roast beast sandwich special with roast beef, caramelized onions, Provolone, Dijon and mayo on French bread. We're pairing it with Port Brewing's "winter warmer" for those who just want a dark, strong Russian imperial stout with hazelnut and coffee and not "holiday spices." This is one seriously thick, rich, naughty but nice beer with sweet hazelnut flavor, 9.9%.
Order the sandwich special ahead at 253.328.5621, and we'll have it ready for you when you grab Santa's Little Helper, or any of our 800-plus other craft beers, cider and wine.
Holiday and Winter Beers in the Peaks & Pints Cooler
Anchor Christmas Ale
Bosk Krampus Bock
Deschutes 2020 Jubelale
Guinness Gingerbread Stout
Hair of the Dog Doggie Claws Barleywine
Huyghe Delirium Noel
Maritime Pacific Jolly Roger Christmas Ale
Pelican Bad Santa Cascadian Dark Ale
Port Brewing Santa's Little Helper
Reuben's Holiday Gose
Reuben's Reuben Claus Peppermint Porter
Saint Bernardus Christmas Ale
Silver City Old Scrooge Christmas Ale
Spoetzl Shiner Holiday Cheer
LINK: Peaks & Pints Cooler list
---