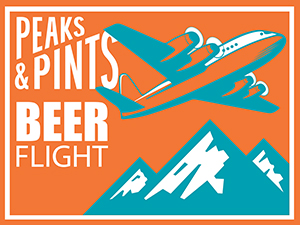 The Proctor District launches their fourth annual "Meet Me At Proctor's Peppermint Place" today. Through Dec. 25, the Proctor District will wrap the North Tacoma business district's light posts to resemble candy canes, light a Christmas tree, host a Proctor merchant holiday window contest voted on by the public, offer a coloring contest for kids with fun gifts donated by local business, and load up the calendar with holiday events. Enjoy hot or cold beverages at the restaurants, browse the shops, and enjoy the Saturday Farmers' Market. It's been a difficult year for everyone, and the Proctor District hopes it can, in some small way, bring you a smile and a pleasant memory of holidays past. Peaks & Pints has several holiday events planned, including a holiday-themed to-go beer flight every Sunday, which kicks off today. Stop by our Proctor District craft beer lodge, bottle shop and restaurant and grab Peaks and Pints Proctor Peppermint Place Flight 11.6.22.
Peaks and Pints Proctor Peppermint Place Flight 11.6.22
Bosk Krampus Bock
6.1% ABV, 21IBU
Krampus, the goat-demon of Central European folklore, traditionally precedes Santa Claus' arrival to scare naughty children into being nicer. He is the raging yang to Santa's jovial yin, and his work is never done. Bosk Brew Works brewed an amber colored bock for Krampus that tastes like liquid gingerbread. Expect star anise, cinnamon, cardamom, ginger, allspice, orange peel, cloves, and no presents if you're not nice.
Maritime Pacific Jolly Roger Christmas Ale
9.2% ABV, 50 IBU
A Christmas beer with pirate skull and crossbones donning the bottle? This one is for you, Jack Skellington! George and Jane Hancock founded the ma-and-pa Maritime Pacific Brewing Company in an old transmission shop in 1990 in Seattle's Ballard neighborhood. In 1997 they opened the Jolly Roger Taproom named, as they say, "in honor of our most popular holiday brew": Jolly Roger Christmas Ale. A beer fridge staple, Jolly Roger English Strong Ale combines rich malt character with a blend of fresh Northwest Chinook and Cascade hops.
St. Bernardus Christmas Ale
10% ABV, 28 IBU
Brouwerij St Bernardus is famous for both their beers and their heritage. The brewery used to brew the famous Westvleteren beers before the monastery returned all production back to within the abbey's walls.  Their Abt 12 quad represents what Westvleteren 12 used to be before the abbey changed their yeast strain. St. Bernardus' Christmas Ale is brewery's Abt 12 offering, but gussied up with rich malt, dark dried fruit, fig, hints of anise, nutmeg, cinnamon, brown sugar … basically a fruitcake.
Brasserie Dubuisson Scaldis Noel
12% ABV, 21 IBU
Brasserie Dubuisson introduced Bush de Noël in 1991 to respond to consumer demands for the ideal beer to add luster to their end-of-year celebrations. Americans know it as Scaldis Noël — a name change to avoid confusion with Busch. Its bouquet is impressive, with smooth alcohol, honey, and cracked pepper notes that all vie for attention. The flavor sinks deep into the tongue with toffee and honey sweetness, followed by raisin, plum fruitiness, peppery spice, and assertive bitterness. It's so easy to drink you don't realize it's around 12 percent alcohol until you ask.
Schloss Eggenberg 2021 Samichlaus Classic
14% ABV
Samichlaus is a super-strong dark lager produced by Schloss Eggenberg in Austria. It was originally brewed by the Hürlimann Brewery in Zürich, Switzerland (the name means Santa Claus in Swiss-German). For decades, this holiday specialty has been brewed once a year, always on Dec. 6. It's stored and matured for more than 10 months before being bottled. It went hiatus in 1997, but Schloss Eggenberg revived the tradition in 2000, using the original recipe — a variation on the full-bodied Bavarian doppelbock style. The first sips are almost sticky-sweet and cloying, but they mellow out with a long, warm, alcoholic finish. There's no hop flavor or aroma whatsoever. Caramel, candy apple, maple syrup, coffee, raisin, and toffee aromas and flavors dominate. It's a sipping beer with complex malt character.
LINK: Peaks & Pints Pilot Program
---
Category:
Beer Line Blog
,
Craft Beer
,
Critical Drinking
,
Events and Festivals
,
Peaks and Pints Christmas Beer Flight
,
Peaks and Pints Pilot Program
,
Proctor District
,
Shop
,
South Sound
,
Specials
,
Tacoma events